Many know that with the passing of labor day comes the feeling of fall, regardless of what temperature it is in your region. With the welcoming of fall and the excitement of Halloween, we all know it's time to take the kiddos to the apple orchard and celebrate the coming of the new season. The next question is, what does one do with all those apples? Make 1000 apple pies and freeze them for the year to come? Well, that is a option, but why not try some of these delicious apple recipes instead? From drinks to dinner recipes, I'm sure you'll find your new favorite apple recipe today.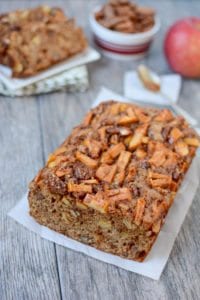 Studded with sweet cinnamon apples and pecans, this Caramel Apple Bread makes the perfect snack.
This recipe is a winner for breakfast, lunch or after dinner! It also tastes just as just as good, if not better, after a few days. Feel free to top this one with a warm caramel sauce to emphasize that yummy caramel apple flavor.
Healthy Apple Cinnamon Pancakes full of fresh apples, whole grains and delicious cinnamon make the perfect weekend breakfast!
This recipe is a fun healthy twist on traditional pancakes that you and your kids will absolutely LOVE. Made with whole grain oats, whole wheat flour, and no added sugar, this recipe is easy to make with only 136 calories. This apple recipe is sure to become a fall staple for you and your family.