With the New Year fast approaching, "New Year, New You" becomes your mantra. You promise yourself you're going to eat out less and cook more. But the same question comes from any new home chef, "where do I start?" Have no fear, as we've put together a list of most loved 2017 recipes from some of our favorite food bloggers. From tacos to desserts, we've got you covered. Bring on 2018 with the most loved recipes of 2017.
This recipe is perfect for you out there that love Chipolte, but know it's time to start cooking at home. Use this delicious recipe and make your very own burrito bowl at home. This recipe is perfect as tacos, over rice, or even over a bed of lettace. Add all the toppings and mix ins you want to make this recipe your own. Plus, you'll have enough for the entire family or leftovers. Meal prep, complete ✓
This orange chicken recipe delivers mouthwateringly juicy flavor without a frightening calorie count. Tender cubes of chicken are cooked until lightly golden, and coated in a tasty mixture of bbq sauce, freshly squezed orange juice, and soy sauce. With 100% clean ingredients and a protein-packed profile, this awesome recipe puts takeout dishes to shame!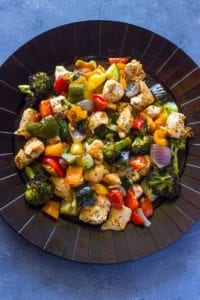 Okay, you've hit the boiling point. It's 7pm on a weeknight, you just got home, and you DO NOT want to cook a thing. Here is your savior! This recipe is so easy and so much better than calling take out. Pop these healthy veggies and chicken in the oven and I'm positive they will be ready faster than your takeout will arrive. Plus, they are 1000x healthier and tastier. Serve these veggies with a side of rice, quinoa, or bread.