We all know all the expenses of a festival add up, from tickets to festie outfits, it's not a cheap endeavor. Now in no way are we condoning sneaking booze into your next festival… but time and time again the internet has provided us with creative ways to get your hooch past the front gate. Instead of wasting your time googling all the different ways, here's a comprehensive list on how to get your drank into your favorite festival and save some money.
1. The Baby Flask
I can hear your thoughts now, "what the heck is a baby flask?" It is indeed the most genius way to bring your hooch into the festival. Now I know a lot of us question those parents who brought the children to the festival, but if you look close that "child" probably has a straw coming out of it's head. You can get the Baby Flask here.
2. Re-sealed Water Bottles
Typically festival goers know there is one thing they're allowed to bring in no matter what, a sealed water bottle. With the right tools, you can turn your sealed water bottle into a bottle of clear liquor. Simply buy a sealed water bottle, drink the water, and fill with your clear liquor of choice. Now for the hard part, how the heck do you re-seal it? To re-seal the bottle you can DIY it with a pair of pliers, screwdriver, knife and a pot of boiling water. For those less handy you can also purchase reusable sealed caps on Amazon.
3. The Freedom Flask
The Freedom Flask is a flask is worn around your waist and underneath your pants. You might freak some people out by pouring drinks out of your crotch, but it's leak proof so you don't have to worry about having a little accident. Just pay close attention to what you're pulling out once you get properly sauced.
4. Speakeasy Briefs
So the speakeasy briefs are a pair of men's boxer briefs with a secret stash pocket. You might need to pair these with the disposable flask down below to get past the pat down you'll likely receive at the gate. They're quite sylish and will probably make you appear to be a little more endowed which is a win win all around.
5. The BeerBelly or The WineRack
For a festival or just a night out at the bar these items work really well and allow you to bring whatever type of libation you prefer. The BeerBelly fits snugly under any T-shirt and can hold up to 80 oz. of your favorite drink. The WineRack can hold up to 25 oz. of fun. Each have a straw which you can slip up through your shirt. I've actually used the WineRack in the past and it works quite wonderfully. The only hard part is the cleaning afterwards.
6. In Your Hair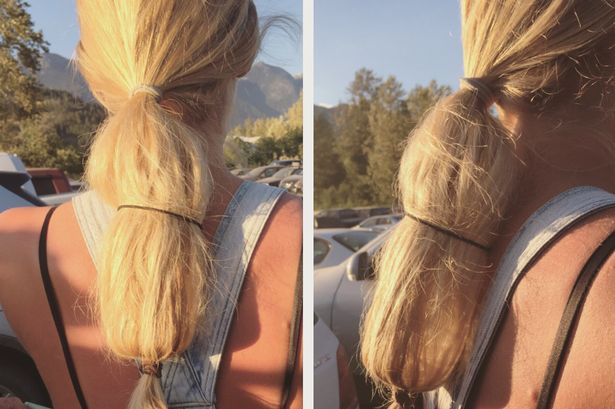 Now this is really only a solution that will work for the ladies. Depending on the length and fullness of your hair you can either buy sealable cigar tubes and fill with liquor (think of it as tube shots) or purchase mini bottles of liquor. Then, simply roll your hair around the bottles and fold into a bun. An alternative is to fold the cigar tubes into a sock bun then apply the sock bun regularly. Once you are free from security let the hair down and go wild.
7. Smuggle in Tons of Mini Bottles
These suckers come in all shapes and sizes and can be taped to the inside of most any part of the body. In the bra, in the elastics of the underwear line (not guaranteed if they are patting you down), in your socks, basically anywhere you can fit one. Make sure to load yourself up so even if security finds a couple you still have a whole bar smuggled in.
8. The Flask Tie or FlaskScarf
Unless you're festing in the north, you likely won't be needing a scarf. Likewise, no one wears ties to a music festival. But sometimes these things must be done in the name of fun. The FlaskTie is a real necktie, designed to conceal your favorite beverage around your neck. Likewise, the FlaskScarf is uniquely designed for both fashion and function, with a hidden bladder inside a stylish scarf.
9. The Disposable Flask
A boxy, plastic flask isn't a wise way to be discreet with your libations. Opt for a compact, inexpensive, collapsible and disposable flask you can just toss once you're sauced. It's light and flexible for easy stashing in your secret pocket, down your pant leg, or just about anywhere else.
 10. The Tampon Flask
Let's be real. No one wants to inspect your tampon. That means your tampon shot holder will likely never be questioned by security. Just don't bring a whole bag full of these things, because that will certainly raise a red flag. Get it? A red flag.