Entering Starbucks for the first time is like a rite of passage, exciting yet intimidating, and most of the time requiring a certain amount of guidance. It is akin to stepping into a secret society of impatient coffee drinkers whose propensity to lose their temper is directly proportional to how far along they are from getting their first meal of the day, aka a cup of coffee. There are three goals that all Starbucks noobs must accomplish on their first visit: 1) walk away triumphantly with order; 2) receive a smile from the barista; and 3) earn the respect of everybody else in line – and if you're able to do all three without giving away the fact that you were a Starbucks virgin, you deserve an extra pat on the back.
It's easy to spot a Starbucks newbie; there are foolproof telltale behaviors, all of them annoying. Now, don't be that kind of Starbucks noob. Really, just don't.
1. Announce it's your first time at Starbucks
When you announce it's your first time at Starbucks, what exactly do you expect the barista to do with that information? Roll out the red carpet? Pull out a Starbucks for Dummies guide? Give you a run through of every drink on and off the menu? Relax, every Starbucks customer went through the newbie experience; you're going to be just fine.
2. Pointing out that Starbucks is more expensive than any other coffee
That Starbucks is expensive is a fact that is embraced all over the world. The baristas know their coffee is expensive. All the Starbucks bosses know their coffee is expensive. Heck, even the homeless do! If you're going to launch into a tirade about how a venti frappuccino a day for a whole year is equivalent to a secondhand car, feel free to show yourself the door.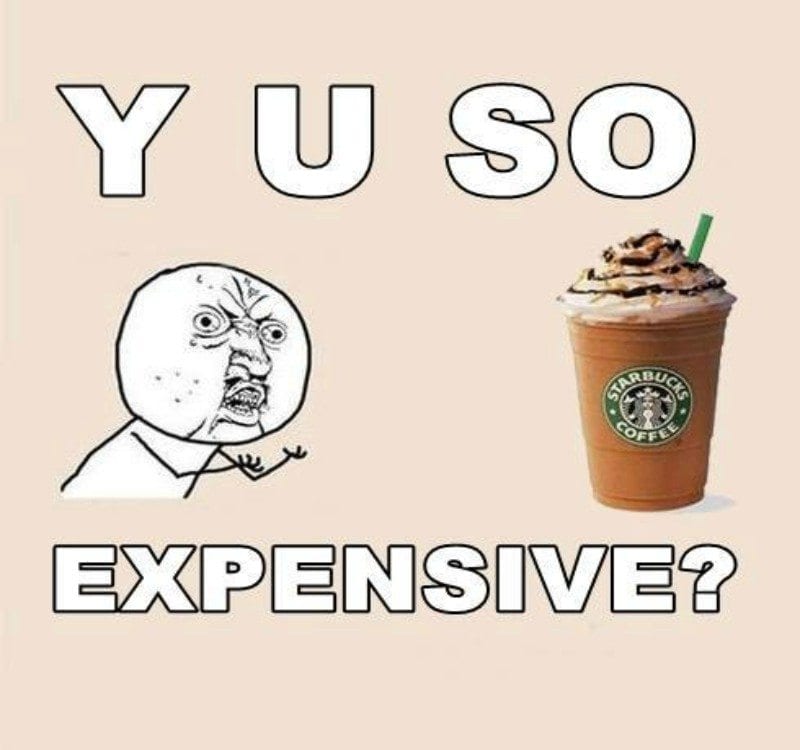 3. Getting into a cup size fiasco
There is only a finite number of times that a Starbucks barista can give a lesson on the sizes of their cups, so read closely: tall measures 12 ounces; grande, 16 ounces; venti, 24 ounces; and trenta, 31 ounces. Save your confusion for somebody who cares and is not in a rush to take orders.
4. Reaching the counter and still not knowing what you want
Dillydallying at the counter holds up the line, which is annoying to both customers and the barista. There is a menu board up for everyone to see, make good use of it while you're in line. It's your first time at Starbucks, fine, but it's not your first time to read.
5. Starting with a joke
So you're a bit nervous and think that starting off with a little joke will help break the ice. Well, as far as the barista standing in front of you is concerned, there is no ice to break. Save yourself the embarrassment of receiving an obviously fake smile and get on with your order.
6. Pointing out that the barista spelled your name wrong
Congratulations, getting your name misspelled on your cup makes your first Starbucks experience 100% legit!
7. Disturbing the barista to ask the title of the song in the background
This would have been okay if the barista were working in a booth with headphones on while spinning a pair of vinyls instead of mentally recalling all the steps needed to make a triple, venti, half sweet, nonfat, caramel macchiato during frappy hour. Listen to the lyrics and search it on Google – yup, that still works.
8. Ordering your Starbucks "to go"
Unless you're ordering more than one drink "to go", your beverage is good to go as it is. See that cup? See that cap? See that straw? See that sleeve? See that extra sheet of napkin? Okay, keep going.
9. Asking where the condiments are
There is no Starbucks store too big that you can't find where the condiments are. If you can locate Starbucks inside Target, you sure can spot the condiment station inside the coffee shop. Get your eyes looking, not your mouth.
10. Striking up a conversation with the person next in line
The Starbucks crowd is not a particularly friendly group of people. To tell you the truth, at any given time, majority of the Starbucks population are caffeine-crazed zombies who are out on an errand to get their dose.
11. Not knowing how to use the WiFi
Okay, so using the WiFi at Starbucks is not as easy as connecting to your WiFi at home. It needs a tiny wee bit of effort and an extremely little amount of tinkering on your phone. No, you don't need to cut the line to the counter and have the barista give you a blow-by-blow. Just remember to click "Accept & Connect".
12. Asking about all the beverages on the menu and ordering a Pike Place Roast
It generally takes a Starbucks barista 10 muscles to force a smile, and a few more to stop himself from rolling his eyes as he takes you on a tour of their drink menu. Reward that effort by ordering something less simple.
13. Taking too long at the food display and not ordering any
This is a lot similar with the previous item. The idea is that the longer you take to figure out your order, the more you spend at Starbucks. When that does not happen, it makes the barista really unhappy. That also annoys the queue of customers behind you.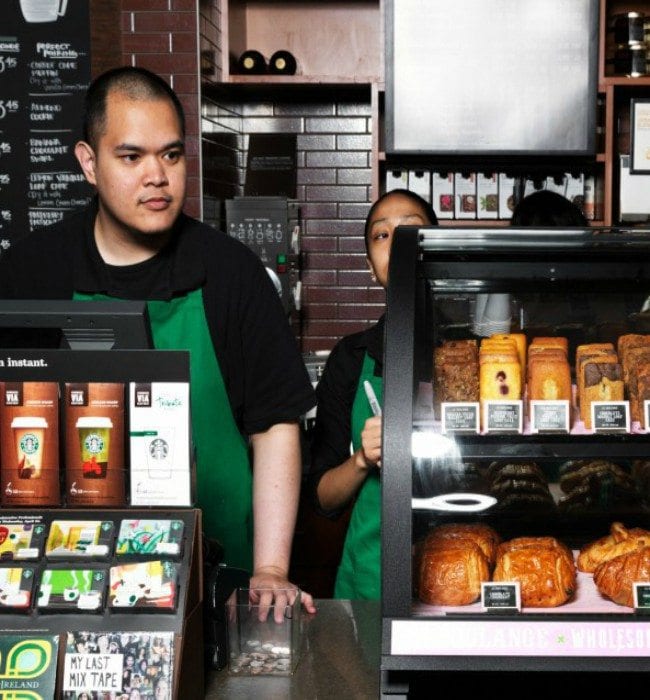 14. Cutting in line for any reason
A queue exists because in this grand scheme of things, there has to be order. You are not to cut in line for any reason – not to just buy a gift card, not to ask for an extra shot of espresso because you changed your mind, not unless you want extra hot coffee thrown at your face.
15. Asking, "What's good?"
Unless you're Nicki Minaj and the barista is named Miley Cyrus, don't ever use that line again.
16. Saying, "Uhmm, so I can't have coffee…"
One, look at all those non-coffee options; and, two, what's a person like you doing at a place called "Starbucks Coffee"?
17. Impatiently asking, "What's taking too long?"
You want your coffee fresh or nah?
18. Holding up your index finger while on the phone when you get to the counter
If the barista broke your finger – or your phone – that would have probably been okay. Manners, people.
19. Paying in coins like you just emptied out your piggy bank.
If you were an eight-year old who sold lemonade in the summer, that would have been too adorable. Otherwise, pay like every adult would.
20. Staring at the barista as she does her business with the whipped cream.
Perv alert! Perv alert!
21. Leave without tidying up your table
At most, it's a cup, a couple sheets of napkin, and a stirrer; Come on Pedro, how hard would it be to dunk them in the garbage bin?