Finding savings used to be about laboring through dozens of periodicals and clipping coupons.
Now, the world of bargains is inside your pocket. Millions of dollars in savings are a few taps of a smart phone away. Apps can save you money on everything from groceries and gas to plane tickets and hotel stays. Some even reward you for watching TV or eating healthy.
Read on to learn about 20 Top-Rated apps to get the best deals on the items and services you buy on a regular basis.
[adinserter block="3″]
[adinserter block="8″]
1. Shop Savvy
No 21st Century bargain hunter is complete without Shop Savvy.
Use it to search a product or scan any barcode, and it'll show you where you can find the item at the cheapest prices either online or at a nearby store. You can also browse millions of deals from more than 40,000 retailers including Best Buy, Walmart and Amazon.
By setting wish lists, Shop Savvy will track products and notify you when their prices drop.
[adinserter block="7″]
[adinserter block="2″]
2. Walmart Savings Catcher
Some businesses claim to beat their competitors' prices. Walmart is willing to bet on it.
You can use the Walmart app's Savings Catcher feature to scan your Walmart receipts. If the app finds local retailers with better deals on the products you bought, you get the price difference on a gift card.
Valid receipts can be scanned within seven days of being printed.
[adinserter block="3″]
[adinserter block="8″]
3. Ibotta
Rather than offering you traditional coupons, Ibotta rewards you with cash for buying items at more than 300 retailers including Walmart, Target and Walgreens.
Here's how it works: Unlock deals by completing simple tasks such as watching a short video. At the time of this writing, for example, I found a $3 cashback deal on an 18 pack of Bud Light that I can use at dozens of partnering stores.
Then, buy the product and redeem your rebate by using a synced store-loyalty card at the register (you'll need to connect one to get started) or by snapping a photo of the receipt and uploading it onto the app. Once you reach $20, you can cash out via PayPal or load it onto a gift card.
Ibotta boasts hundreds of 5-star app ratings and claims to have given more than $1 million in cash-back rewards.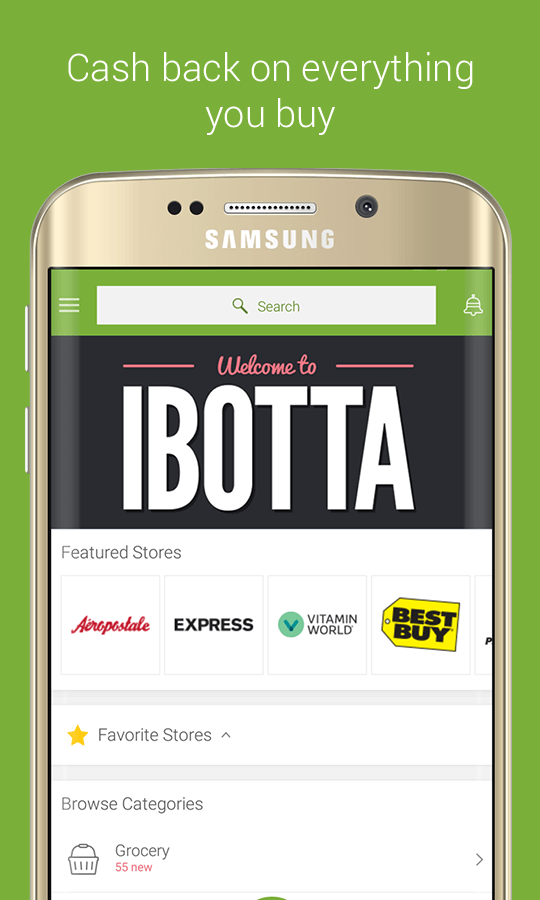 [adinserter block="7″]
[adinserter block="2″]
4. Saving Star
This is  another useful tool for your shopping-app arsenal.
Saving Star offers cashback on groceries purchased at dozens of retail chains like Sam's Club and Costco. Rebates can be redeemed by using your store loyalty card, uploading a receipt photo, or by entering a code when shopping online.
Once you reach $5, you can cash out via your bank account, Paypal or Upromise account. You can also convert your rewards to coupon codes for Starbucks, iTunes and AMC Theaters.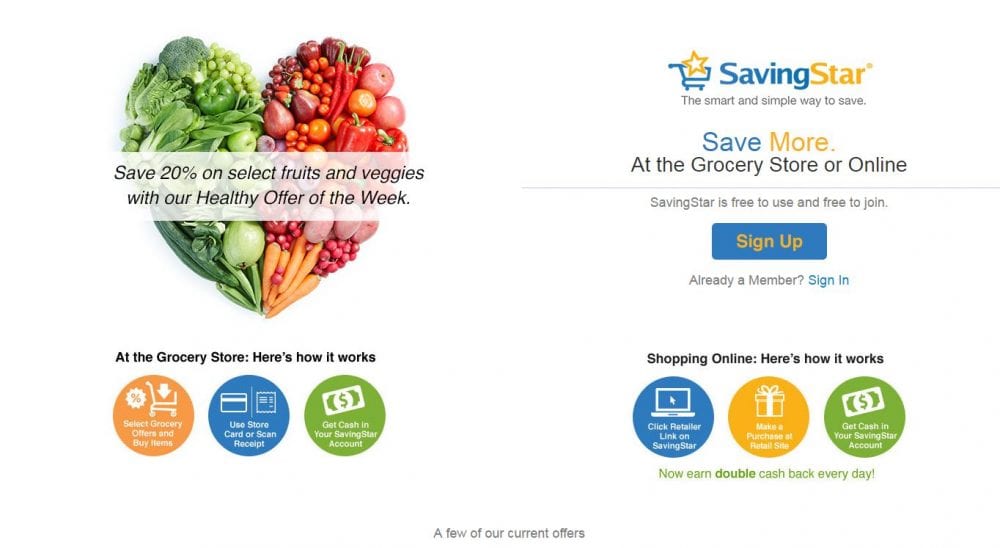 [adinserter block="3″]
[adinserter block="8″]
5. Berry Cart
Think you can't eat healthy on a budget? Think again.
Berry Cart gives you cash back for buying healthy products. You can browse the app for rebates and use them at stores like Whole Foods and Sprout, as well as Wal Mart and Target. You can redeem points by uploading receipt photos or screenshots of invoices. Rebates can be cashed out via PayPal or added to gift cards.
Cash-strapped hippies rejoice: Berry Cart promises to offer deals on only "organic, gluten-free, and non-GMO" foods with no high-fructose corn syrup or artificial flavors.
[adinserter block="7″]
[adinserter block="2″]
6. Groupon
Perhaps the most buzz-worthy coupon app, Groupon is great for finding local deals. It offers thousands of coupons on everything from audiobooks to Zumba classes. Consider this app especially if you're exploring a new city or if you want to venture out on a budget.
[adinserter block="3″]
[adinserter block="8″]
7. Snip Snap
If you find great deals on paper but you don't want to lug them around in an an envelope or booklet like your grandma, Snip Snap has you covered.
This app lets you snap photos of printed coupons which you can store on your phone. It also reminds you when coupons are about to expire and notifies you if you have relevant deals when you step into a particular store. You can also connect with friends to see what they are saving.
Snip Snap is currently working on features that'll let you digitize "manufacturer coupons" like the kind you find at grocery stores.
[adinserter block="7″]
[adinserter block="2″]
8. Krazy Coupon Lady
New to the coupon game? Take some advice from the Krazy Coupon Lady.
This app has a section for "Beginners," which teaches you how to stack coupons and shop strategically. The app also collects thousands of offers from major coupon-aggregators like Ibotta and Checkout 51.
[adinserter block="3″]
[adinserter block="8″]
9. Military Cost Cutters
This Veteran-run app helps you find local businesses offering discounts to vets. Military Cost Cutters can pull up everything from local retailers and restaurants to dentists and auto-repair shops. You can also get future deals on the businesses you visited through the Loyalty Rewards Program.
If you'd like your business to be listed, you can register on the website. MCC currently offers more than 3,000 discounts and is expanding into areas throughout the U.S.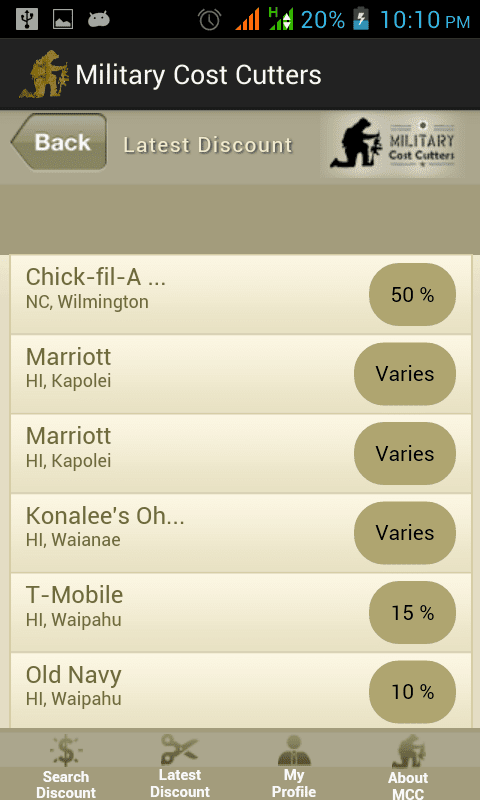 [adinserter block="7″]
[adinserter block="2″]
10. Viggle
This one is perfect for all you TV addicts out there.
With Viggle, you can earn Perk Points by letting the app "listen in" when you're watching your favorite shows or listening to popular music. Points can be redeemed for gift cards at businesses like Amazon and Starbucks.
You can also earn points by playing games like real-time trivia. Points can be multiplied up to 15 times by "checking in" on "featured" programing. Points can also be used to enter sweepstakes for prizes like tablets and headphones. You can also use the app to donate to more than 1,000 charities including Wounded Warrior Project and the American Cancer Society.
This app is best for the committed couch potato though. You must earn one Perk point every 30 days to maintain your balance.
[adinserter block="3″]
[adinserter block="8″]
11. Sky Scanner
This app travels the Web to bring you the best deals on flights, hotel bookings and car rentals. Once you make a decision, Sky Scanner directs you to the airline website or travel agent to finalize the order without charging you any service fees. Time magazine recently ranked it among its Top Five Money-Saving Travel Apps.
Along with Momondo and Google Flights, Sky Scanner ranked among the top three best sites to find bargain airfares in a comprehensive study by travel site Frommer's.
[adinserter block="7″]
[adinserter block="2″]
12. Booking
This app is perfect for the frequent traveler.
It gathers info from all the major hotel-booking sites like Priceline and Expedia to bring you the best deals on hotels, B&Bs and more. Researchers with Time magazine tested the app and found up to 50 percent off the list price on same-day reservations.
You can also narrow your search by preferences such as WiFi access and review scores. An offline map helps you get to your destination without Internet access.
Booking also extends to cruises, car rentals and other travel services to find you bargains.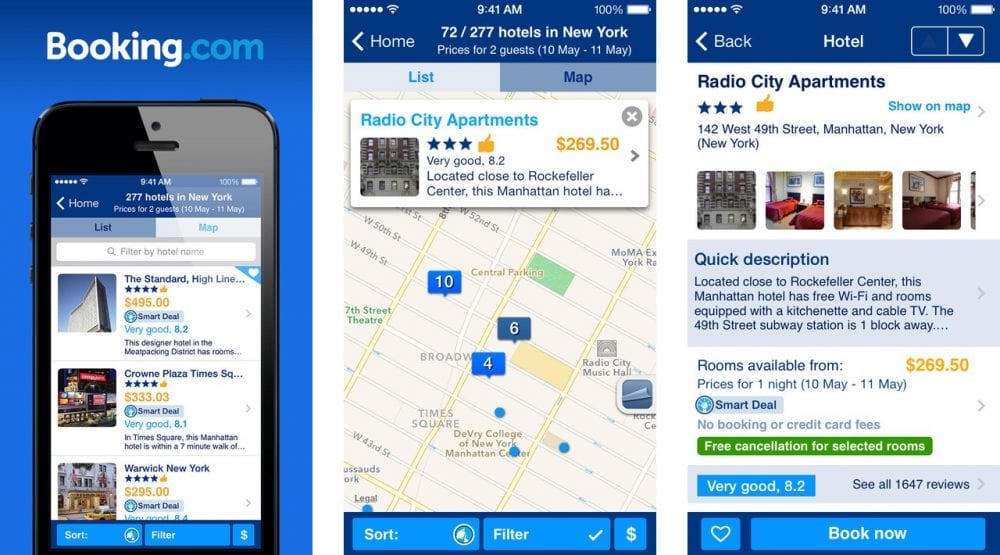 [adinserter block="3″]
[adinserter block="8″]
13. Hotel Tonight
This app can come in handy when you have an unexpected layover or whenever you feel like taking a spontaneous trip—or anytime you need a hotel room ASAP.
Hotel Tonight helps you land bargain deals on hotels around the world at the last minute. You can arrange same-day bookings until 2 a.m. Hotel Tonight also offers 24/7 customer service.
[adinserter block="7″]
[adinserter block="2″]
14. Gas Buddy
Gas prices can be a nightmare. With Gas Buddy, you can find the best deals in your area based on user-provided data.
Gas Buddy also rewards you for reporting local deals. You can win sweepstakes like daily $100 giveaways, and compete for prizes with other users. Researchers with Time magazine recently tested the app and found "average differentials of 41 cents per gallon at five metropolitan areas"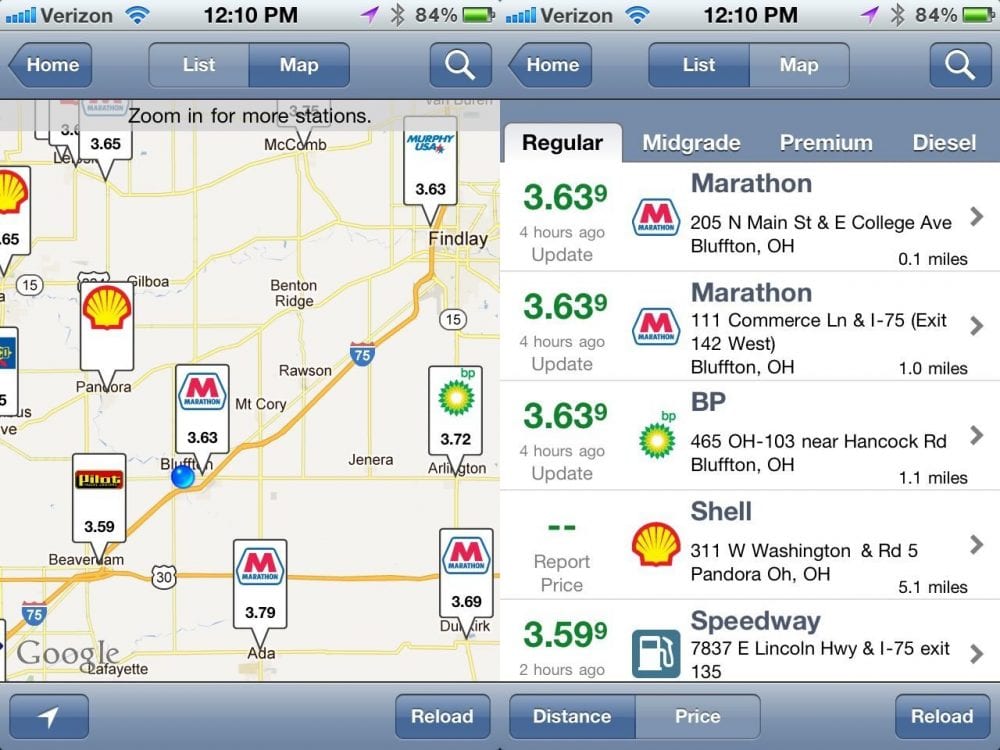 [adinserter block="3″]
[adinserter block="8″]
15. Best Parking
This app helps you find the cheapest parking options in more than 105 cities and 115 airports across North America. It also provides details such as hours of operation and phone numbers for local lots and garages.
Best Parking says it provides "the most accurate data of any parking application." And it's willing to back up that claim with a $5 Starbucks gift card for reporting inaccurate information.
The app has been featured on the Travel Channel as a "life saver."
[adinserter block="7″]
[adinserter block="2″]
16. Swork It
Stop giving your wallet a workout at the gym and keep it fat instead.
Swork It provides you with free workout videos focusing on stretching, aerobics, yoga and strengthening. Each video lasts five to 60 minutes and requires no equipment. Every course is instructed by a certified personal trainer, and you can create custom workouts.
According to a recent study by researchers at the University of Florida, SworkIt was the only tested fitness app to meet the American College of Sports Medicine's guidelines for physical activity. It has been praised by multiple publications from Army Times to Gizmodo and Mashable.
17. Onavo Protect
Don't gamble with your data.
Apps like Onavo compress your data usage to steer you away from overage charges. Onavo can notify you when an app is using too much data. It can also limit certain apps to WiFi and block apps from using data in the background.
Onavo uses VPN technology to monitor your phone's data usage and protect your personal information.
[adinserter block="7″]
[adinserter block="2″]
18. Big Oven
You pay hard-earned money for your groceries so why not get the most out of them?
Apps like Big Oven can help you turn leftovers into new dishes. You can enter up to three leftover items at a time, and Big Oven will scour the Internet to bring you recipes. You can also browse the app for more than 350,000 recipes which you can categorize into "favorite" or "try" sections.
[adinserter block="3″]
[adinserter block="8″]
19. Expensify
This is perfect for the busy traveler who wants to keep track of all expenses but doesn't have the time to crunch all the numbers. Expensify tracks and organizes all transactions from your credit card and checking accounts. You can also upload receipt photos and measure time-related values like mileage expenses.
Expensify even automates a detailed expense report, which you can submit from the website.
[adinserter block="7″]
[adinserter block="2″]
20. Mint
There are tons of budgeting apps out there, but none crunches the numbers like Mint.
A life saver for the budgeting illiterate, Mint connects to all your financial accounts from checking to retirement. It organizes all your expenses and earnings to create a detailed budget complete with graphs and charts.
It can also send you bill reminders and offer you customized tips on reducing expenses and saving money. On the website, you can set savings goals such as paying off debt or saving for a trip, and Mint will  give you advice on how to meet them.
Worried about syncing your financial information? Mint uses 128-bit encryption and it comes from the makers of Turbo Tax and Quicken. You can also disable your account via the website if your phone gets lost or stolen.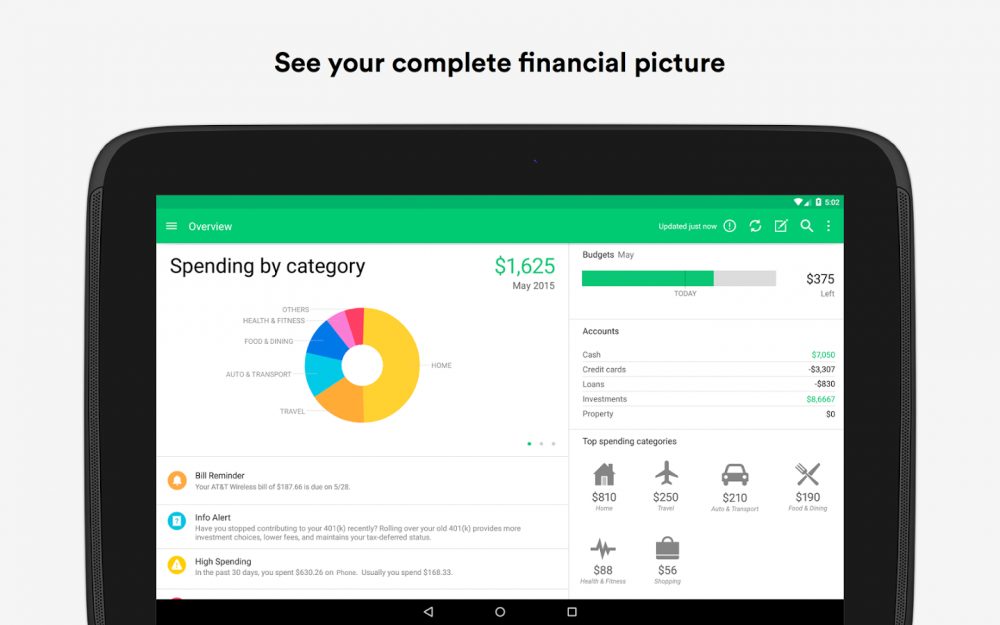 [adinserter block="3″]
[adinserter block="8″]