Everybody loves fried chicken. That statement may not exactly be a fact, but the truth is that try as you might, it's an almost impossible feat to find a person who doesn't love fried chicken. What's not to love? It's easy to eat – you can eat it with your hands, with a fork and a knife, even with chopsticks. It can be paired with waffles, veggies, fries, pasta, or rice. It can be dressed up in different rubs, coatings, and spices, but it's delicious in its most basic form, too. Fried chicken is popular across the globe that possibly every country has its own well-loved traditional fried chicken recipe. Here are a few of the world's top favorites:
[adinserter block="3″]
[adinserter block="8″]
1. Skillet Fried Chicken (Southern USA)
Skillet fried chicken is a staple in birthdays, Sunday lunches, and big family gatherings in the Southern parts of the USA. There is much debate on which is the authentic Southern fried chicken recipe as it can vary from one home to another, but what characterizes  Southern fried chicken is marinating it in a bath of buttermilk and spices such as garlic salt, black pepper, and paprika. Southerners love their skillet fried chicken with a generous siding of mashed potatoes, vegetable salad, pickles, and/or potato salad.
[adinserter block="7″]
[adinserter block="2″]
2. Kozhi Porichathu (Kerala, India)
Kerala fried chicken or kozhi porichathu is known for the generous use of intense, flavorful spices such as turmeric, ginger, garlic, chili, coriander, and garam masala. In some homes, the intensity of these spices is complemented by a drizzle of rich coconut cream and flash-fried curry leaves.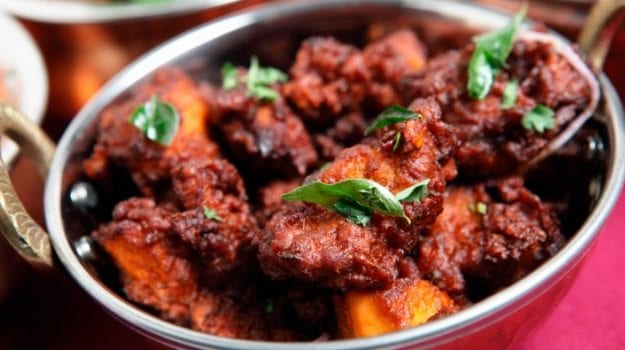 [adinserter block="3″]
[adinserter block="8″]
3. Pollo Fritto (Italy)
Good pollo fritto starts with marinating chicken pieces in lemon, olive oil, garlic, and rosemary. The recipe follows a rather traditional way of cooking fried chicken: dredging in flour, dipping in egg bath, and dredging it back again in flour. What sets pollo fritto apart from the other fried chicken recipes in the world is its accompaniment – flash-fried battered artichoke hearts. A final drizzle of lemon juice on cooked pollo fritto seals the deal.
[adinserter block="7″]
[adinserter block="2″]
4. Tori Karaage (Japan)
Sushi may be Japan's best-seller but its succulent tori karaage doesn't lag too far behind. Japanese fried chicken utilizes bold Asian flavors such as ginger, scallions, sake, and soy sauce. Probably because the Japanese love their bento boxes, tori karaage comes in bite-sized, boneless pieces and with a tangy honey mustard dip.
[adinserter block="3″]
[adinserter block="8″]
5. Korean Fried Chicken
Korean fried chicken was one of the recent food fads that took the US by storm. The crispy paper-thin skin, sweet and sticky glaze, and flavorful meat easily captivated American foodies. The glaze is a delectable marriage of sweet and spicy – a mix of garlic, ginger and gochujang. The distinctive texture of the skin is achieved by double frying in hot oil.
[adinserter block="7″]
[adinserter block="2″]
6. Milanesa de Pollo (South America)
Milanesa de pollo is a traditional dish eaten in different countries of South America. The piece of chicken is pounded until it is flattened to about a centimeter thick. The fillet is then dreged in flour, dipped in beaten egg, and coated with panko crumbs. Milanesa de pollo is served warm, with a wedge of lemon, and often, a generous siding of greens.
[adinserter block="3″]
[adinserter block="8″]
7. Ga Chien (Vietnam)
The Vietnamese flavors incorporated into ga chien include chili, fish sauce, lime, cilantro, fresh mint, and garlic. Fish sauce and garlic are combined with a little sugar to create a glaze that is sweet, sticky, and flavorful. Vietnamese fried chicken is often served with a side of vermicelli noodles and vegetables.
[adinserter block="7″]
[adinserter block="2″]
8. Thai Deep-Fried Chicken
Commonly found on the streets of Bangkok and Chiang Mai, deep-fried chicken is a popular street food in Thailand. What makes Thai deep-fried chicken special is the crispy skin that is so light and yet is packed with the sensational flavor of soy and fish sauces.
[adinserter block="3″]
[adinserter block="8″]
9. Hot Chicken (Nashville, Tennessee)
Nashville loves its chicken so much that it has dedicated a festival entirely in honor of their signature delicacy, the hot chicken. The festival is called "Music City Hot Chicken Festival" and it is where chicken junkies come out in their full glory. As the name suggests, hot chicken is hot, hot, hot! The chicken pieces are drenched in hot sauce and then doused with a heaping of cayenne powder before being thrown into hot oil.
[adinserter block="7″]
[adinserter block="2″]