For all the sweet tooths out there, this article is for you. Even if you don't like cake or sweets, you have to at least give credit where credit is due for these amazing cakes.
Olga Noskova is a baker extraordinaire. While it is not certain where she is exactly located, the language on her Instagram account is Russian. Translated from Russian, Noskova takes European orders via What's App.
Her Instagran is followed by over 100,000 at the time of publishing and growing every minute. Be warned: do not look at her account if you are hungry or likely to be hungry at the sight of delicious looking cakes.
Just look at these cakes. All of these look like they came off a "food porn" blog. Look at the glazes on these cakes. These cakes are so shiny that you can see your reflection in them. In this one, you can actually see Noskova in the reflection taking a picture of the cake.
Take a look at this one. Galaxy themed everything is huge on the Internet right now. This cake looks like the Milky Way, and it needs to be in my belly right this minute.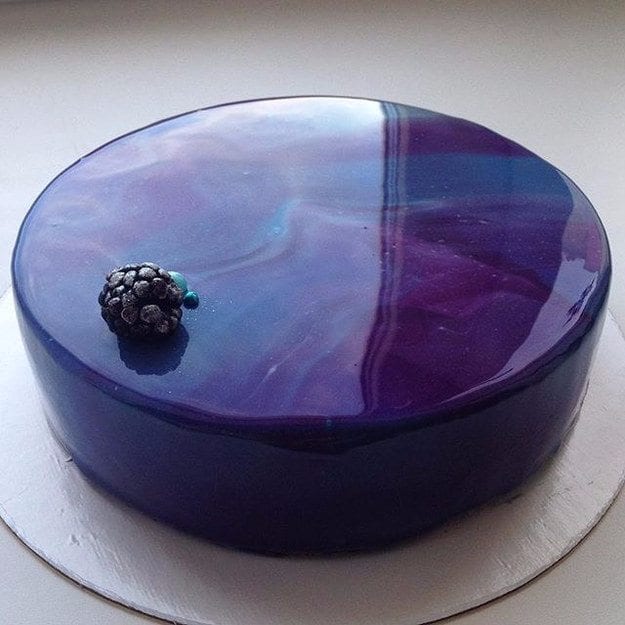 Even note the utter simplicity of Noskova's cakes. There is something so modern yet simplistic about her cakes. Even the touches of fruit on top are absolutely perfect.
She even experiments with different shapes of cakes like donut-hold cakes and other fun shapes.
Regardless of what shape she chooses, her cakes look absolutely amazing. If you happen to be in the general European area, hop on quick. Her Instagram is going viral. That likely means that her services will be in high demand pretty soon. Then again, it may be worth the wait to get a chance to sink your teeth into one of these beauties.
[adinserter block="7″]
[adinserter block="2″]