After an eventful homecoming trip to the Philippines, Miss Universe Pia Wurtzbach is now in San Francisco, all geared up for her first "job" after winning the controversial Miss Universe crown in December.
She has signed up with popular US magazine TV show Inside Edition, with her first gig being a correspondent for Super Bowl 50 happening on Sunday, February 7.
The highly-anticipated Super Bowl 50 will determine who between the Denver Broncos and the Carolina Panthers will reign champion in the 2015 season of the National Football League. As part of the activities leading to the football holiday, the 26-year old beauty queen has been spending time with both teams, doing interviews and acquainting herself with the players and the well-loved American sport.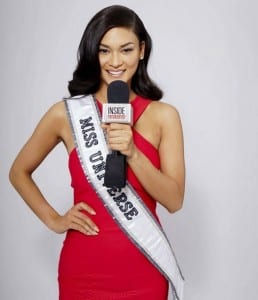 Earlier this week, Pia Wurtzbach posted to her Instagram account a picture of her on the opening night, her first day on the job. Holding an Inside Edition mic and wearing her Miss Universe sash over a blue jumpsuit that accentuated her curves, she was, indeed, an image of beauty and confidence. The Filipina stunner is no stranger to the camera as she has been acting since the age of 14. Prior to joining the prestigious international beauty competition, she has already established a career as an actress, model, host, stylist, makeup artist, and writer in her motherland.
On the videos posted to the Miss Universe Facebook page, Pia can be seen having fun with Kenny Anunike of the Denver Broncos and some guys from Carolina Panthers as she learns some sick moves from the football stars. Her candid spirit has gained her even more fans from different parts of the world, making her one of the most likable Miss Universe titlists.
In one of her interviews when she was in the Philippines, Pia was vocal about being single, claiming that "her crown is her boyfriend". Can this Superbowl 50 correspondence stint pave the way for romance – with a Bronco or a Panther, perhaps – just in time for Valentine's Day?
[adinserter block="2″]
[adinserter block="7″]