Caution: Vegetarians, look away.
In the northern province of Ilocos in the Philippines, there is a gem that can rival the place's turquoise beaches, colonial architecture, and awe-inspiring rock formations. This treasure is called bagnet, and it comes in the form of a sinful, majestic deep-fried slab of pork.
Bagnet is a product of the locals' – called Ilocanos – ingenuity, tracing its roots to the early days when food storage was not as sophisticated as it is today. Back in the day when refrigerator was unheard of, the Ilocanos came up with ways to effectively preserve pork meat whenever a pig was slaughtered. They boiled large parts of meat in water seasoned with salt, peppercorns, garlic, and bayleaf. Boiling in water was only the first step; next was boiling it in lard for 2-3 hours. Once cool and the fat had been drained from the meat, they would fry it another time before they served it. This process, called bagnettin, was the locals' way of preserving pork for long periods of time.
Now that almost every household is equipped with a refrigerator, locals and travelers alike still have a hankering for bagnet – and it's easy to see why; every bit of this native delicacy is a thing of perfection. The bagnet experience starts with the delicate crisp of a perfectly crackled skin, and as the teeth sink a tiny bit lower to the greasy layer of fat, you close your eyes and savor the deliciousness that is both sinful and heavenly. You then move on to the well-cooked flesh that is the just right balance of crispy and flaky, the kind that makes you wonder how something so crispy can melt in your mouth so flawlessly. A native kind of salad composed of tomatoes, onions, and anchovy sauce makes the experience even better.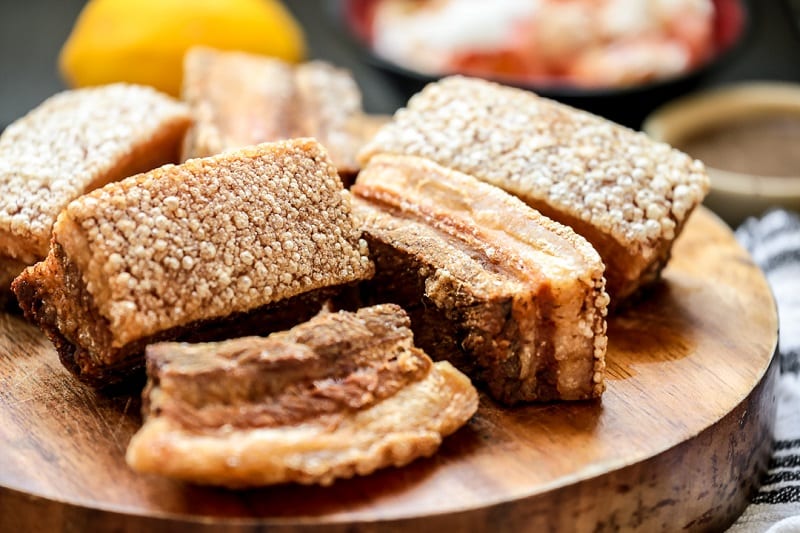 Bagnet will remind you of a forbidden love story, one that is constantly characterized by unbridled waves of desire, that leaves you with profound feelings of guilt and yet yearning for more.
[adinserter block="2″]
[adinserter block="7″]