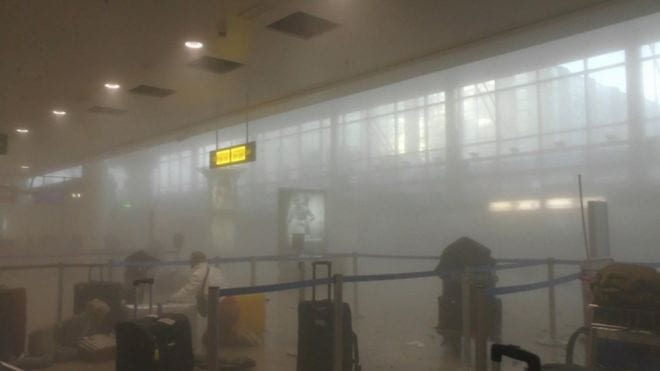 Brothers Khalid and Brahim el-Bakraoui were two of the suicide bombers who killed at least 31 people and injured more than 300 in Belgium this Tuesday, according to Belgian Federal Prosecutor Frederic Van Leeuw.
European authorities told the Associated Press that a third bomber Najim Laachraoui also died at the airport.
Brahim detonated one of two bombs at Zaventem airport. Khalid then attacked the Maelbeek train station. Both were Belgian nationals with criminal records "not linked to terrorism," according to Leeuw.
Turkish President Erdogan said his country had deported Brahim back to Belgium and warned officials that Brahim was a "militant." Erdogan said Belgian authorities released Brahim after finding "no links with terrorism."
On Wednesday, anti-terror police arrested an unidentified man during a raid in the Anderlecht area of Brussels. The prosecutor denied earlier media reports that this man was Laachraoui.
Laachraoui is also believed to have provided material support to the terrorists who attacked Paris in November.
A Belgian police official told the Associated Press that Laachraoui is believed to have built the nail-laden suitcase bombs used in the Brussels attacks.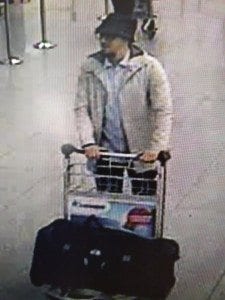 The man in white, who was seen on CCTV footage depicting three suspects at Zaventem airport, is unaccounted for.
Leeuw said all three men had hidden explosives in the luggage they're seen pushing in the photo. One of the suspects' bombs didn't detonate as intended and was later safely disposed of by authorities.
Leeuw said that police raids in the Schaerbeek area of Brussels recovered explosive devices, chemical substances, an Islamic State Flag, and a note left by Brahim on a computer.
The note read, "Being in a hurry, I don't know what to do, being searched for everywhere, not being safe, if it drags on it could end up with me in a prison cell next to him."
The note raised speculation that Brahim was referring to Salah Abdeslam, the main suspect of the Paris attacks. Abdeslam was captured after a raid on a flat in Brussels last Friday. He is scheduled to appear in court on Wednesday.
RBTF quoted police in saying that Khalid used a false name to rent a flat in Brussels. A raid there last week led to the discovery of Abdeslam's fingerprints. Laachraoui was also in the flat at the time but escaped.
Police also searched for Khalid and his brother while raiding a home Khalid had rented for Paris attacks ringleader Abdelhamid Abaaoud.
Intelligence officials believe Abdeslam was part of an ISIS cell in Belgium that had hideouts throughout the capital. This cell apparently was planning to attack Belgium on Easter. Its perpetrators may have moved that attack forward out of fear that Abdeslam would blow their cover. According to police, Abdeslam was cooperating.
Raids are expected to continue throughout Wednesday.
[adinserter block="7″]
[adinserter block="2″]