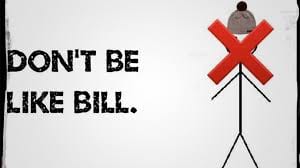 Unless you've been living under a rock these past few weeks, you've seen the "Be Like Bill" memes clog up your social media news feeds. Although Bill may seem like a harmless stick figure, a police department in the Tri-Valley is warning residents to not be like Bill.
Bill is bad news.
Shannon Revel-Whitaker, the community services officer with the Pleasanton Police Department, says agreeing to the meme's terms and conditions may put your online privacy at risk.
"On a personal level, I went through the 'Be Like Bill' meme and you take it and it gives you a warning and a policy. I didn't end up sharing the meme on my Facebook page because I didn't like what the warning and policy stated," Whitaker told the Danville-SanRamon newspaper.
Bill is a stick figure caricature that mocks typical social-media behavior while encouraging you to do the opposite—like Bill.
According to the terms and conditions of Blobla, makers of the Be Like Bill meme, creating and sharing their meme "will allow us [Blobla] to use, edit your content with our service permanently, no limit and no recover."
Whitaker says the policy may leave your computer vulnerable to a virus that can attempt to steal your bank account and credit card numbers online.
"Although the memes are fun to see, it is not worth the security risk. Read the fine print and make sure you are OK with the terms. To share a chuckle is not worth the frustration," Whitaker suggests.
Still, not all Bill supporters are seeing the risk – at least not yet.
Brooke Silva, an alumna from Amador Valley, told Danville-SanRamon she created her own Be Like Bill meme from Blobla, but decided not to share it. She cites general social-media etiquette rather than a potential online security risk.
"I heard about the security risk a day after I generated the meme," Silva said. "I don't know much about the potential threat. I didn't share it on my page because the meme is dumb. It has 10 stock answers that it cycles through for everyone. Although I was curious, I didn't see the point in posting it to annoy others on Facebook," Silva said.