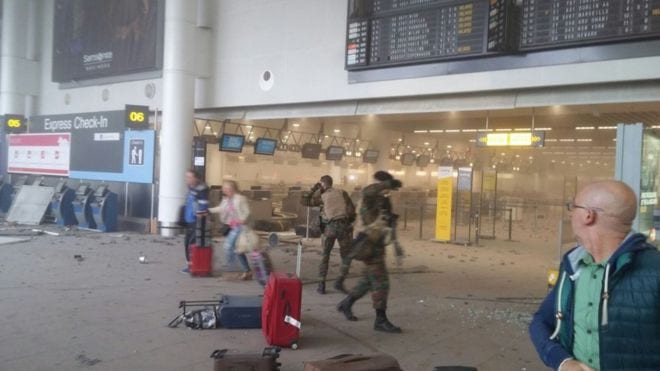 At least 30 people are dead and more than 100 injured after terrorist attacks struck an airport and a metro station in the Belgian capital of Brussels Tuesday morning.
Two explosions tore through the check-in area at Zaventem airport shortly after 8 a.m. Those attacks killed 11 people and wounded about 30, according to Belgium's Health Minister Maggie de Block.
About an hour later, an explosion went off in the middle carriage of a train at the Maelbeek station as it was pulling away from the platform. Brussels Mayor Yvan Mayeur said that blast killed 20 people.
The provincial governor of Brabant Flanders confirmed reports of a third bomb being found at Zaventeem airport before being safely detonated.
Belgian media circulated CCTV footage of three men believed to be behind the airport attacks. RBTF reported that two of them may have blown themselves up and one is still at large.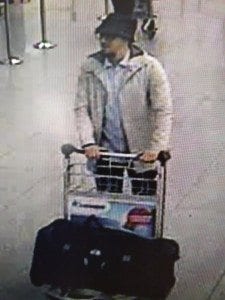 Belgian authorities have confirmed the photo's authenticity. Police are searching for the third man in the white jacket.
Zaventem Mayor Francis Vermeiren said the men in the photos placed bombs inside their luggage. He said the third suspect's bomb failed to detonate.
Belgian Federal Prosecutor Frederic van Leeuw said raids at the Schaerbeek area of Brussels recovered a nail bomb, chemical products and an Islamic State flag.
ISIS claimed responsibility for the attack via social media channels known to be officially linked to the group.
Leeuw also said several "controlled explosions" of suspect packages have taken place throughout the day.
According to the state-run news agency Belga, shots were fired and shouts were made in Arabic shortly before the airport explosions. Public broadcaster VRT reported that an assault rifle had been found next to an attacker's body.
Belgium raised its terror alert to its highest level and deployed troops to the streets of Brussels. Police activity in Schaerbeek was reported well into the night.
Following the attacks, officials shut down public transportation for hours. Flights to Brussels Airport were diverted.
This afternoon, US journalist Shannon Butler at Orlando Sanford airport in Florida reported that a plane arriving from Brussels was "met by cops after landing".
Security was also beefed up at transportation hubs in Britain, France and US cities including New York and Boston. This evening, US European Command said a US service member and his family were "caught up in the attacks," but gave no further details.
Witnesses of the Belgian attacks described scenes of utter chaos.
Zach Mouzoun had arrived on a flight from Geneva before the airport explosions went off.
"It was atrocious," he told the BBC. "The ceilings collapsed. There was blood everywhere, injured people, bags everywhere. We were walking in the debris. It was a war scene."
Antoine, a 15-year-old student, was following a crowd of hundreds being escorted to a sports hall that's now a makeshift reception centre.
"People were running over others that had fallen, I couldn't breathe," Antoine told the BBC. "I can't believe I'm alive."
News footage showed people being evacuated from stalled trains in underground tunnels.
Ángela González, who lives near an underground station in Brussels, described the atmosphere in her city to USA Today.
"Schools are closed; no one is allowed to leave. In fact, no one is allowed out of wherever they are," Gonzáles said. "All you can hear is sirens and streets are completely deserted."
Garry Rowley, who lives near the Maelbeek train station, described a similar situation.
"There has been a huge amount of activity since," he told the BBC. "There were bomb squad and commandos and there has been another bomb scare in the area since. There are helicopters circling overhead and the area is still cordoned off. We have been told to stay indoors."
Belgian hospitals are treating survivors for physical and mental trauma, burns, and wounds from flying debris.
"This is a day of tragedy, a black day," said Belgian Prime Minister Charles Michel. "I would like to call on everyone to show calmness and solidarity."
The attacks come four days after Salah Abdeslam, the main suspect in November's Paris attack that killed 130 people, was captured after a raid on a home in Brussels.
French President Francois Hollande said the war on terror must be fought "in cold blood."
[adinserter block="7″]
[adinserter block="2″]