The Islamic State is now seeking fighters to staff its "Police Forensics Department" based in al-Furat Province, Iraq, according to the Middle Eastern Media Research Institute.
A photo essay posted by ISIS on a jihadi forum depicts the terror group's "CSI" team investigating the mock robbery of a pharmacy. Pictures show gloved hands using a magnifying glass and dusting for finger prints. One features an ultraviolet light being used to identify evidence. Another depicts a lab-tech comparing prints and using a microphone.
The report closes with the photo of an ISIS agent handing the pharmacy owner a reimbursement check after solving the "crime."
The post published Saturday is the latest example of ISIS portraying itself as a legitimate governmental body complete with functioning municipalities.
"Previously ISIS has displayed its police vehicles, uniforms, stations, and more," said Steve Stalinsky, executive director of MEMRI, in an interview with The Washington Times. "The launch of its 'Islamic police forensics department' is only one part of the group's efforts to show the world that, like any other state, it has a modern and advanced police department, while at the same time, sending a direct message to its opponents, who it labels as 'spies,' on the ground that it has the capability to come after anyone who goes against it."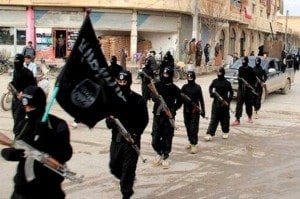 The Pentagon estimates ISIS has at least 25,000 fighters in its ranks. However, the terror group has its eyes on more than just fanatical supporters willing to pick up arms to expand its Islamic caliphate.
"ISIS has always called on and recruited experts with scientific backgrounds for various purposes and the 'Islamic police forensics department' is no exception," Stalinsky said. "There is even a group on Telegram [messaging app] that was created about a month ago called 'Islamic State Scientists & Engineers.' The channel administrator stressed that members of the channel must have a degree in a scientific or mathematics field such as chemistry or aeronautics and that it has numerous goals such as to 'exploit some channel members' situation to do research for the military benefit of the caliphate.'"
Last week, a former chemistry student from Mississippi pleaded guilty to trying to provide material support to ISIS. Jaelyn Young, 20, faces up to 20 years in prison.
She is one of more than 100 Americans who have tried joining ISIS, according to the National Counterterrorism Center. Charles Kurzman, a sociology professor at the University of North Carolina who tracks Muslim-American terrorism suspects, put that number at 250 as of March 2016.
[adinserter block="7″]
[adinserter block="2″]