How Sanders Did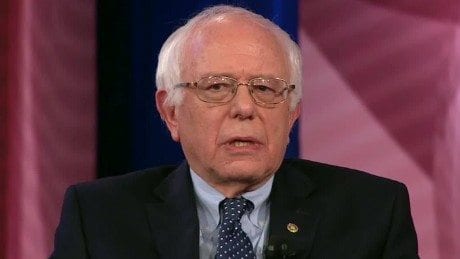 Vermont Senator Bernie Sanders had to again answer how he intended to pay for his social plans, despite having already done so on a number of occasions. CNN Moderator Chris Cuomo also asked Senator Sanders if he would be willing to release transcripts to speeches he gave, which Sanders said he would be willing to do. The questions he received were nowhere near as harsh as those from MSNBC last week, however they did not mirror the light treatment Anderson Cooper gave Republican Candidates last week as well.
Sanders did not pander to the crowd like Secretary Clinton, yet he was able to go gaffe free and delivered his message without any hiccups. His performance probably will not be enough in order to swing the South Carolina to his favor on Saturday, yet it may help close the gap to change the mainstream narrative. His best moment came when he delivered a populist message, stating that if he is President he will stand up with citizens of the United States to fight for change and the fight would continue after the election.
No matter how establishment media decides to pain Sanders' probable loss in South Carolina, his chances on securing five or six states on Super Tuesday are pretty good. The election map going past March 1st actually favors Sanders if the demographic trends and polling trends tend to stay in his favor.
How Clinton Did
Former Secretary of State Hillary Clinton was very careful to not do her campaign any harm going into the South Carolina Primary. It was clear that she was aware of her double digit lead and was nowhere near as panicked as she was during the Nevada Town Hall. When confronted with tough questions from the audience she did not raise her voice or respond in a condescending tone towards potential voters.
While her responses were long she did not give many specifics when asked to comment on her policy ideas if elected. Instead of using substance on her policy ideas, she played to
emotions mentioning the names of family members that fell victim to police brutality. She also alluded that Senator Sanders proposal of tuition free college would hurt historically black Universities, many of which are in South Carolina. Data shows that isn't necessarily accurate, yet it will stick in the memory of older South Carolina voters.
The most contentious portion of the Town Hall came when Chris Cuomo pressed Secretary Clinton on releasing the transcripts of speeches she gave to corporations of Wall Street. She altered her position and stated that Republican Candidates would have to release transcripts as well, pivoting since Senator Sanders stated he would release transcripts  for paid speeches. While the poor moment will probably not hurt her in South Carolina, it will continue be an issue nationally and will continue to be a black cloud over the Clinton campaign.
[adinserter block="2″]
[adinserter block="7″]