Have you ever ordered a dress from an online retailer and said a silent prayer that it would fit? What if you received the dress, but it was the wrong size, fabric, and color?
This is exactly what is happening to thousands of angry online shoppers.
The Facebook Fashion Fiasco
It all starts out perfectly idyllic. You are setting up for your prom. All the websites have beautiful prom dresses that your friends will envy. Everything is wonderful until you see the $500 price tag on your favorite, so you head to Facebook to vent.
Suddenly your perfect prom dress is listed as a Facebook advertisement for a fraction of the cost. That happy feeling will likely be short-lived.
Dozens of groups have sprung up to warn buyers to beware of such sites that promise cheap fashions. According to many posts on Facebook, the companies go by names like Choies, Zaful, DressLily, RoseWe, and dozens of others. All sites promising beautiful clothes at a discounted price.
If the clothes arrive at all, beware. Customers are reporting that these companies are sending clothes to them that are not at all what was advertised.
Consumers report clothes that are made out of cheap fabric, even plastics. Everything from wrong size, color, or length are being reported.
Hundreds of reports are flooding into the Better Business Bureau about these scams. Facebook groups and chain post have been warning buyers to beware. Review sites like TrustPilot and SiteJabber are full of complaints about these online fashion retailers.
What is not full of complaints are the Facebook groups dedicated to these fashion websites.
How the Scam Works
These cheap fashion sites are notorious for deleting negative reviews off their sites. They also have a habit of buying fake subscribers, reviews, and likes.
Another common trend: these sites are all operated in China. Choies for instance has been reviewed by Youtube personalities in recent years. The clothes themselves are inexpensive. Most clothes are sold for a few bucks.
The shipping price is the killer. To ship from China to the United States is usually quite expensive. That is where many of these companies rack in the money.
And who is to stop them? China has very lax rules on things like copyright, labor rights, and trade. It is very easy to exploit the labor force in China to produce low cost products.
In order to get around copyright laws on social media, fashion companies will list products under generic terms. A designer dress will be listed under "gray shift dress" or "flower pattern maxi dress".
It is not just the price that is attractive to buyers. These sites routinely use stolen images to sell their products. These beautiful images attract the eye and draw in buyers.
Mostly, these fashion sites use images from company websites. Other times, they will use Instagram pictures from prominent accounts. Even if the picture has a watermark, these sites will use software to get rid of them. Sometimes, they will cut the face off an individual to just showcase the clothes.
The Companies Behind the Scene
If you have even seen knock off purses or designer clothes for sale at a flea market, chances are they came from China. In fact, most of these sites – 8 to be exact- are all owned by the same umbrella company based in China. Global Egrow is a multi-million dollar business run by a man who got his start from peddling socks on the street 20 years ago.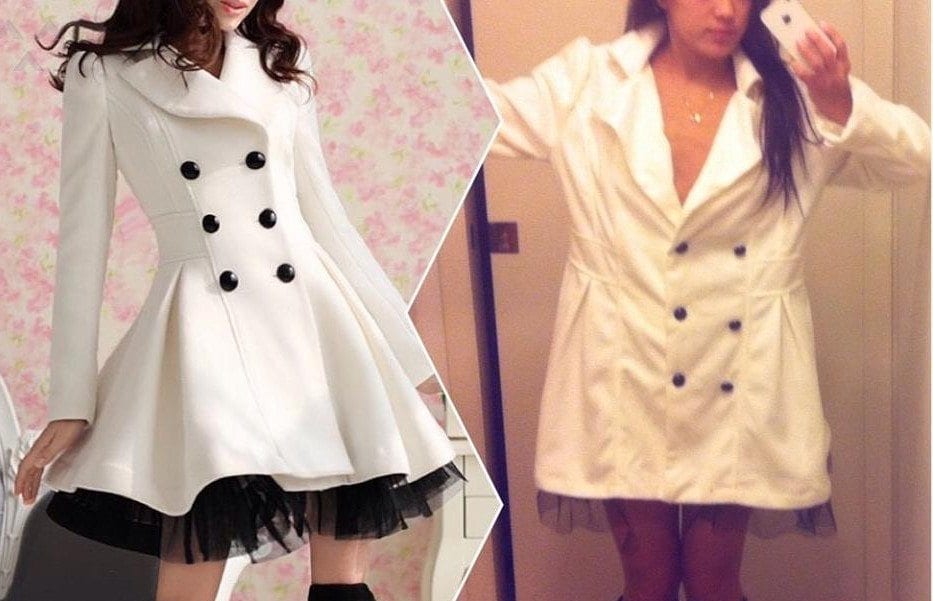 Fashionmia.com is another site with a bad reputation. In an interview with Buzzfeed, a representative claimed that all the negative outshone the positive. It is hard to imagine this is true when the Better Business Bureau gives the site an F rating. Other review sites rate the fashion seller very poorly.
Then again, not all the reviews are negative. Not all consumers are as furious. They accept what they pay for, especially products from China. This mentality makes it easier for these companies to manipulate the online market.
Facebook's Efforts to Stop the Madness
Critics are quick to cite that Facebook is barely lifting a finger to solve the problem. Facebook's ads are inexpensive. This cheaper ad space is ideal for companies to meet their targeted audiences. It is also for these fashion companies thanks to Facebook's policies.
Facebook only looks for obviously counterfeit ads or ads leading to spam external sites. Since they are delivering product, albeit to unhappy customers, Facebook is seemingly lax.
Naturally, the problem is not solely on Facebook, however Facebook ads are extremely cheap when compared to air time on television or radio. Even Google ads are not economical enough for sites that prefer to cut corners to make an extra buck.
Advertisements are not the only cheap thing on Facebook. Many consumers and critics are accusing these fashion websites of purchasing their likes on Facebook.
Most of them have several million followers with no negative reviews. Facebook has reportedly refuted these claims after looking into it, but critics are not buying it.
To combat the fashion retailers, there are several groups popping up on Facebook to inform the public of potential scams. These groups post regular pictures and reviews that are often taken down on the Facebook pages of these fashion sites.
It seems to stand that for every system, there will be someone who seeks to game it. For critics, it has become apparent that education of the alleged scams are the only way to effectively stop the companies.