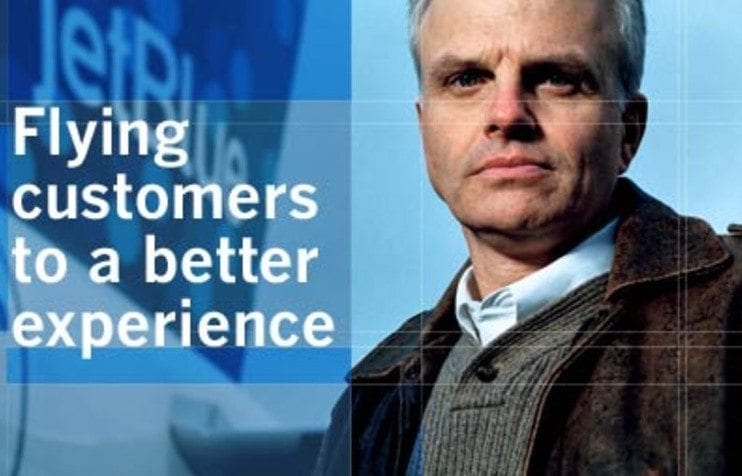 In 1999, the founder and CEO of Jet Blue Airlines, David Neelman, pledged to provide a first-class travel experience for economy passengers. He focused on top-notch comfort and service, aiming to "bring humanity back into air travel." Neelman delivered on his promise and stayed true to his mission, consistently raising the bar on customer service. As a result, Jet Blue became the 5th largest U.S. airline by 2012.
New Astounding Jet Blue Cabins
Jet Blue prides itself on providing more leg room and meal options than the competition, while keeping ticket prices to a minimum. Over the years, the airline introduced countless revolutionary concepts – such as live XM Radio, Satellite TV and unlimited snacks – to change the way people think about air travel. Jet Blue boosted numerous industry standards to new heights, not to mention majorly improving their passengers' experience. Yet, their new cabin design will totally redefine flying.
Here's what we know from last week's cabin overhaul announcement:
Fly-Fi
Free high-speed connectivity will now be accessible during flights. Simply connect any device to the free WiFi network and enjoy the same stable, high-quality browsing experience you get at home. The connection even works during takeoff and landing.
Power
Jet Blue clients won't need to minimize screen brightness and volume on their devices because low battery isn't a problem for them. Each seat features a 110v power outlet, in addition to a USB port.
Direct TV
Previously, Jet Blue customers enjoyed 36 channels over Satellite. Now they get 100 of the most popular Direct TV channels.
Space
Seating is now even more roomy. The 38-inch wide chairs are the largest economy-class seats in the industry. And thanks to the reduced boarding time, customers can get to their seats earlier then ever before.
State-of-the-Art Entertainment System
Each passenger has access to a 10″ HD entertainment system. It's basically a high-definition Android tablet with a twist. Besides using it to browse the internet or use Apps, you can connect the screen to any other device, use it to stream live TV, or watch one of 300 freshly released on-demand movies.
Though the first Jet Blue flight landed just 17 years ago, the company took off faster than anyone had expected and it continues to gain altitude to this day. In its first year of operation, Jet Blue's 40 mid-sized air crafts flew over a million customers to 32 domestic destinations. Today, it services 93 destinations worldwide and has a fleet of 216 crafts, and counting.
[adinserter block="2″]
[adinserter block="7″]