Belgian authorities have charged a man in connection with Tuesday's twin attacks in Brussels. The attack killed 28 people and injured 237.
Faycal C, as he was named, was arrested on Thursday in a police raid.
The deadly terror attacks killed 14 people at the city's airport while 13 people were killed by explosion on the metro. The Islamic State (ISIS) claimed responsibility for the attack.
The prosecutors confirmed that Faycal C was being detained outside the prosecutor's office in Brussels since Thursday. Police conducted a search of his home but found no weapons. The authorities didn't say if they found anything of interest, such as propaganda literature or communication devices.
According to a statement by Belgian prosecutors, "Faycal C was charged with participation in the activities of a terrorist group, terrorist murders and attempted terrorist murders,"
The video evidence
Airport's CCTV footage clearly shows three men carrying bags that are apparently full of explosives. The three men have been identified by the Belgium media as Najim Laachraoui, Brahim el-Bakraoui and Faycal Cheffou, a freelance journalist. The authorities have not confirmed their identities.
The Belgian media claims that the man charged is the third man in the video, Faycal Cheffou. The third man can be seen in the video carrying suspicious bags. However, after investigation it was revealed that he had fled without detonating his device.
It has been revealed that Brahim el-Bakraoui's brother Khalid el-Bakraoui carried out the Maelbeek metro bombings.
Co-ordinated efforts
Belgium, France and Germany police have carried out extensive raids after sharing intelligence. On Thursday the respective police departments arrested 12 people in total in their countries. Faycal C was amongst them and was arrested in Brussels.
A link to Paris attacks?
Four days before Brussels bombings, Salah Abdeslam the mastermind of the Paris attacks was arrested. Initially it was reported that he would co-ordinate. However Belgian Justice Minister Koen Geens said yesterday that Abdeslam is "not talking" after Brussels bombings.
Also read, why did ISIS target Belgium?
Future plans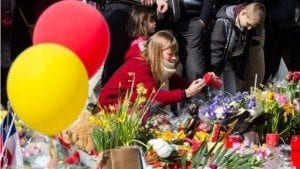 Whilst the prosecutors and police are busy with charges and raids, the Belgian government is working on a new future plan: revised security. The airport will have new security measures. The technician will be given access to the airport on Monday, for the first time since the attacks.
Meanwhile the French, German and Belgian authorities say they will continue their join operations and intelligence sharing.
Presidents of United States Barack Obama paid rich tributes to the victims. He also highlighted that the efforts to malign and harm US Muslims will be rejected and dealt-with severely.
[adinserter block="2″]
[adinserter block="7″]