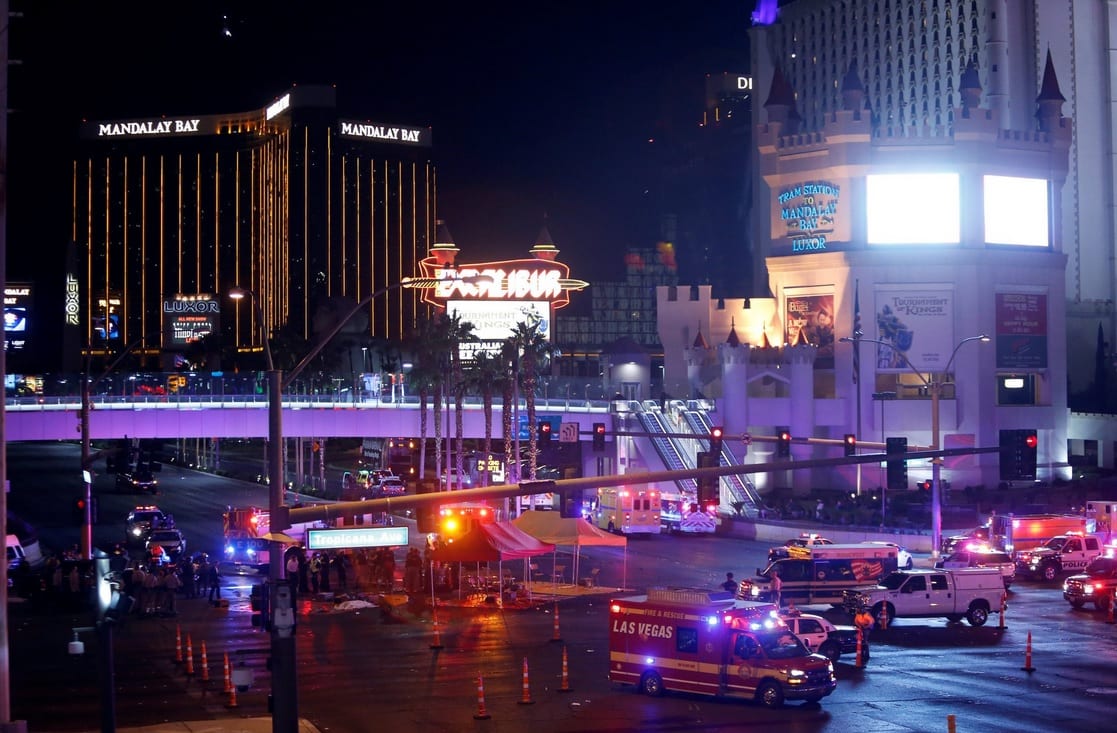 A gunman opened fire Sunday evening on the Route 91 Harvest Festival in Las Vegas, Nevada from the 32nd floor of the Mandalay Bay Resort and Casino. At least 58 people are reported dead and over 515 were wounded during this incident. It has been reported as the worst mass shooting in modern U.S. History. Previously, the deadliest mass shooting was the attack in Orlando, Florida on a nightclub that killed 49 people.
Route 91 Harvest Festival
The Route 91 Harvest Festival is billed as "three days of country music on the Vegas Strip." Sunday was the final day in this three day festival. The terrifying incident happened during the final performance by Jason Aldean. The site of the festival was the Las Vegas Village and Festival Grounds which is run by MGM Resorts. It sprawls over 15 acres and has a capacity of 40,000 people. The festival was sold out and at capacity when the shooting happened.
"Nonstop Gunfire"
A video of the shooting captured nine seconds of continuous bursts rapid-fire. This was followed by 37 seconds of silence from the weapon and panicked screaming. The gunfire then began again in at least two more rounds, both shorter than the first.
The "nonstop gunfire," according to one witness, sent more than 22,000 attendees of a country music festival across the street from the hotel ducking for cover and scrambling for their lives. Police say the suspect, who was found dead, had over 10 rifles.
Concertgoer Adam Payne said, "The initial string of gunfire sounded like a small chain of fireworks, like firecrackers. By the time the second string hit, it got a little bit louder, a little bit deeper and everybody started turning around, running around. The performer even ran off stage, him and his band. Everything hit the fan."

One video showed the aftermath as the injured lay on stretchers or on the ground with responders and bystanders surrounding them to give aid. Bystanders made makeshift stretchers out of police barricades, plugged wounds with their hands and used their clothing to try to stop the wounded from bleeding.