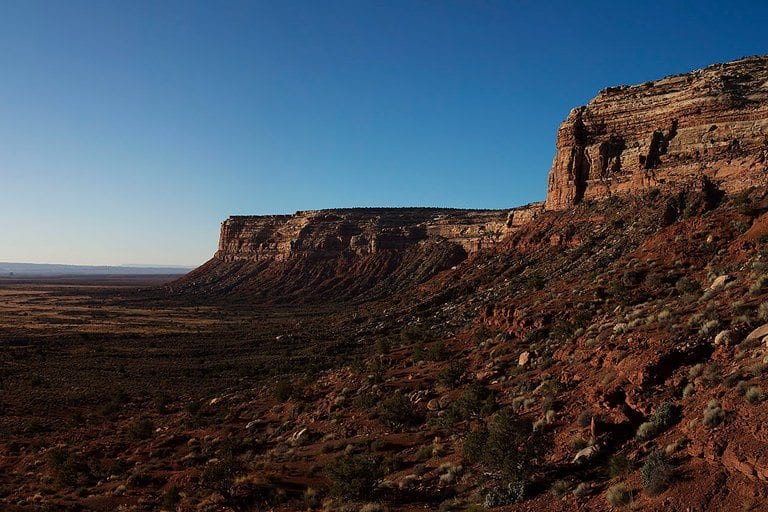 Bears Ears National Monument stretches into the distance in San Juan County, Utah. President Trump announced a plan to shrink the monument by 85 percent. Photo: New York Times
On Monday, President Trump drastically scaled back two national monuments established in Utah. This is the largest reduction of public-lands protection in U.S. history. Patagonia, REI and other outdoor clothing and equipment retailers are speaking out against President Trump's plan to slash the size of two national monuments in Utah by some two million acres.
Three lawsuits have been filed that challenge the president's decision.
Patagonia
This is the largest elimination of protected land in American history.
Take Action: https://t.co/biZPxo7PHh#BearsEars pic.twitter.com/OqW9FHPk3Q

— Patagonia (@patagonia) December 4, 2017
Patagonia has been at the forefront of the outdoor recreation industry as the sector becomes increasingly politicized by the actions of Mr. Trump this year. On Tuesday, the company's general counsel, Hilary Dessouky, said through a spokeswoman that the company planned to file a lawsuit on Wednesday challenging the president's shrinking of the national monument.
"The administration's unlawful actions betray our shared responsibility to protect iconic places for future generations," Ms. Dessouky said. "We worked to establish Bears Ears National Monument and will now fight to protect it."
Rose Marcario, Patagonia's president, has previously warned that the company would take legal action to protect public lands, particularly after Mr. Trump in April ordered the secretary of the interior, Ryan Zinke, to review 27 national monuments. In response to the president's remarks on Monday, she said the company would "continue that fight in the courts."
Other companies in the outdoor retail industry have also criticized the move.
REI
REI said it would continue to pursue bipartisan support to protect public lands and "prevent death by a thousand cuts."
"We just lost millions of acres of protected land but we remain united as a community."
Burton
In an Instagram post, Burton Snowboards encouraged riders to get out there and make a call to their representatives and senators. See post below.
The North Face
If you'd like to support the creation of the Bears Ears Visit with Respect Center, you can take part of the kickstarter here: https://t.co/AvE7aqWzMy #MonumentsForAll pic.twitter.com/MMPNmlXqRm

— The North Face (@thenorthface) December 4, 2017
North Face, citing federal lawsuits that were filed in anticipation of Mr. Trump's decision, said it was donating $100,000 to an education center for Bears Ears. They also posted a series of videos to their Instagram, which together forms an image that says "Protect Bears Ears". The videos go into details on the money they plan to raise and donate to support the creation of an education center outside Bears Ears National Monument.