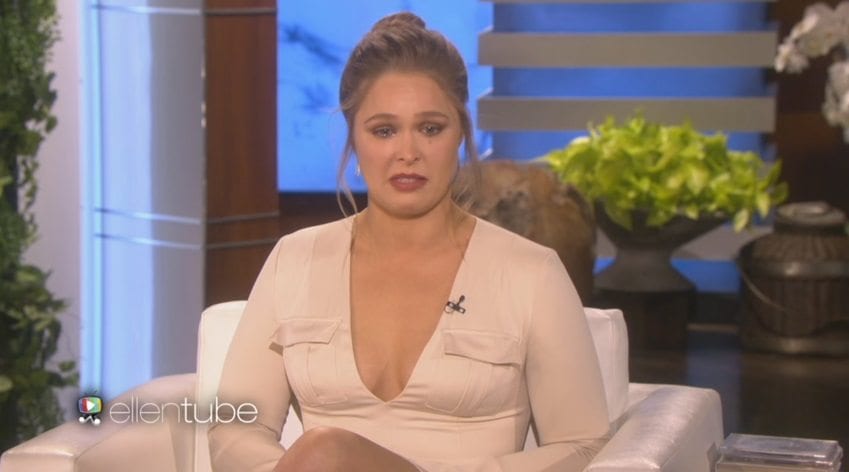 On November 15, 2015, the world was shocked to see "MMA's Most Unstoppable Force" Ronda Rousey lose to Holly Holm by knockout at UFC 193 in Melbourne, Australia. After that historical loss, not much was heard from the former UFC champ. At The Ellen De Generes Show on Tuesday, Ronda confessed something she has never admitted before – that her immediate thought after losing to Holly was committing suicide.
Since Ronda started her UFC career in 2011, she had never experienced a loss up until she encountered Holly Holm. Breaking down in tears, she intimated thinking, "What am I anymore if I'm not this?" That was the question she asked herself as she was going through one of the lowest points in her life. What saved her from doing the unthinkable was the sight of her boyfriend Travis Browne, also a UFC fighter and the prospect of building a future together, "I need to have his babies. I need to stay alive."
Ellen De Generes, who has always been vocal about being a big Ronda Rousey fan, expressed an even deeper admiration for the MMA superstar. "You just did a lot of good for a lot of people," Ellen said as she commended Ronda's display of humility and vulnerability.
The interview, which is now on Youtube, has already received more than 1.5 million views in just 18 hours upon being uploaded. Commenters have divided opinions on Ronda's confession. As one could expect, comments of admiration and sympathy have poured in, but there are some who are not impressed. One user by the name of Andrew Walker said, "Please get over yourself Ronda, fighters lose all the time, and they don't bitch about it like you do."
Talks of a rematch have been circulating since January, and Ronda has voiced out that she is looking forward to facing Holly in the ring again. Ronda Rousey closed the interview with a triumphant statement, "I really do believe I'm still undefeated because being defeated is a choice. Everybody has losses in their life, but I choose to always be undefeated."
[adinserter block="2″]
[adinserter block="7″]