Apparently, the world's first waterproof smartphone isn't leak-proof.
Samsung released photos of it's next flagship phone months ago, yet none revealed as much as yesterday's accidentally leaked Galaxy S7 Edge commercial. The unlisted YouTube video, which was first found on the tech giant's Indonesia channel, confirms rumors of Samsung's new waterproofing technology and standard wireless chargers. Though the phone's name isn't mentioned within the ad, it was tagged with #TheNewGalaxy, so it's safe to assume it's about the S7.
Here's the full teaser, featuring Indonesian Olympic archer Dellie Threesyadinda.
The Wireless Charger Isn't The Coolest Galaxy S7 Accessory
The charging pad highlighted in the commercial may only come standard with Galaxy S7 Edge, though we're sure it'll be compatible with all of Samsung's latest devices. Apple is rumored to enable the same feature soon but, unless they give the iPhone 7 battery a major upgrade, it'll take almost three hours to go from 0% to 100%. Meanwhile, even the Galaxy S6 fully charges within an hour and a half.
Aside from a wireless charger, everyone who pre-orders the phone will get a Samsung Gear virtual reality headset with their S7. As of today, the company hasn't specified whether this will be a brand-new line of smartphone-compatible VR accessories or the current Gear, which doesn't quite live up to the standards set by the $800+ Occulus Rift. But we'll know soon enough – Samsung is set to reveals the full specs to their new flagship phone on February 21.
Effective Water Resistance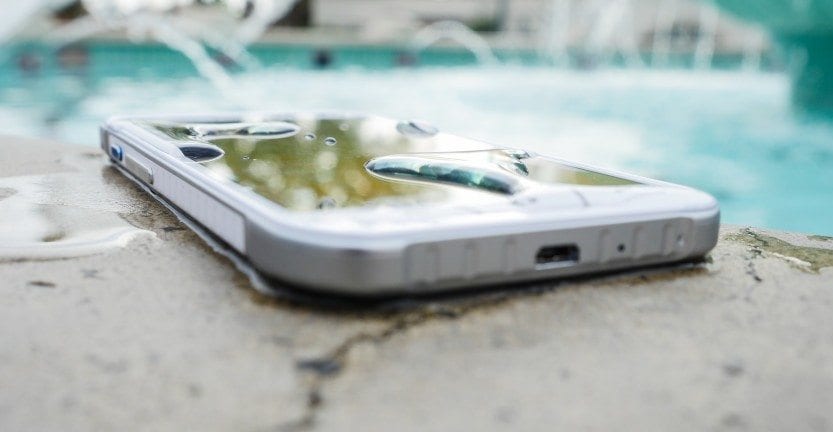 The Galaxy S5 had IP67-rated water protection but it wasn't as effective as users expected, so it was dropped from the S6's design. Judging from the ad, their upgraded water resistance technology will be more then enough. Plus, it also means the S7 will be dust-resistant, so no more fingerprints on the screen. And, even if it's not, you can just wash them off in the sink.
Price Cut & New Color Variations
Evan Blass, who was the first to receive photos of the S7, recently Tweeted a picture revealing three new color variants – black, silver and gold. Later, he added that white and emerald models will likely be added to the list as well. The teaser also gave some insight into the new Galaxy's design, showing curved edges all around and an aluminum back-plate.
According to Tech Radar, Samsung's new Galaxy phones will cost $50 less then the S6 and S6 Edge did when they first hit the shelves. If that's the case, a basic (32 GB) S7 will have a retail price of $629.99 – at least $120 less then an iPhone 7's projected cost.
Most experts agree that Samsung is eyeing Apple's U.S. market. As of 2015, 31% of Americans use a Galaxy S, while 40% are iPhone owners. And, considering the price cut, Samsung's recently-intensified ad campaign, and an early (mid-March) release, even Apple will have a hard time matching the hype around the Galaxy S7.
[adinserter block="2″]
[adinserter block="7″]