Earlier this week, South Dakoda senators passed a bill that bans transgender adolescents from regular public-school locker rooms and bathrooms. If the law is signed, schools will need to provide "special facilities" for students who identify their gender differently then their "sex at birth."
Advocates claim the Gender Bathroom Bill is necessary to protect the privacy of their kids. Opponents say it violates the rights of North Dakota's most vulnerable teenagers. Furthermore, the bill will likely be followed by other legislature aimed to undermine the gender equality movement.

Technically, no one is banned from the boys' and girls' rooms. But the law states that use of male and female restrooms must be restricted based on one's 'original' gender. Of course, female trans-sexual students can't be expected to walk inside the men's room (and vice-versa), so they'll be forced to use the separate ("special") one.
Hidden Significance of 'Gender Bathrooms'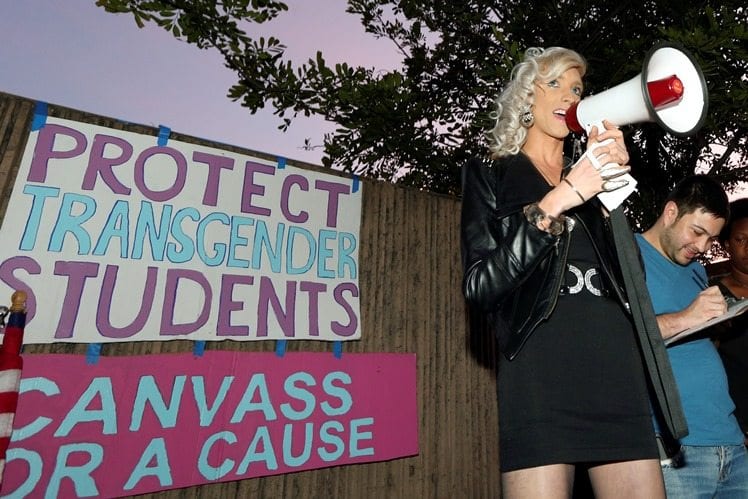 Trans-gender community leaders warn that the law can eventually lead to widespread discrimination. They cite almost a dozen similar bills, including one that would require all state ID's to include "sex at birth." Four of these are already pending a vote at the senate.
Activists are convinced this set of laws would eventually become "the Jim Crow of trans people." It's hard to deny that it's a fair comparison – before the Civil Rights Act, minorities were restricted to separate bathrooms.
Yet, Senator David Omdahl, the bill's biggest sponsor called the analogy "totally ridiculous". He claims that this is about "preserving the innocence of our children," and denies that the law is a violation of the Civil Rights Act.
Like most other Republican senators, Omdahl maintains that the Gender Bathrooms bill doesn't target a minority group. Meanwhile, some of his recent comments suggest otherwise.
"I'm sorry if you're so twisted that you don't know who you are….I'm telling you this is about protecting the kids. And I don't even understand where our society is these days."
North Dakota Governor Stalls For Time
If Gov. Dennis Daugaard approves the bill, thousands of public school students will be singled out. But, while the governor was always a vocal supporter of 'Gender Bathrooms', he is in no hurry to sign it into law. Apparently, he'll need time to "research the subject and listen to testimony." Clearly, the governor wouldn't be voicing strong support for an issue he never researched. Here's a testimony conservatives just don't seem to comprehend:
The truth is – Daugaard is just a cynical career politician. He wants to make a decision based on what the voters people think. With all the media attention he's receiving, Daugaard's choice can determine the future of his career.
If protests continue to grow, Gov. Daugaard will either propose major changes to the bill, or deny it altogether. He can then run for any office as the Republican "people's candidate." On the other hand, if public opinion coincides with the senators' decision, he'll gladly sign 'Gender Bathrooms' into law. In this case, his campaign will sound something like: "a true conservative with a proven track record of standing by his beliefs."
Daugaard will try to delay until the choice is clear. Either way, as long as he doesn't 'jump the gun' a winning campaign slogan is guaranteed.
[adinserter block="2″]
[adinserter block="7″]