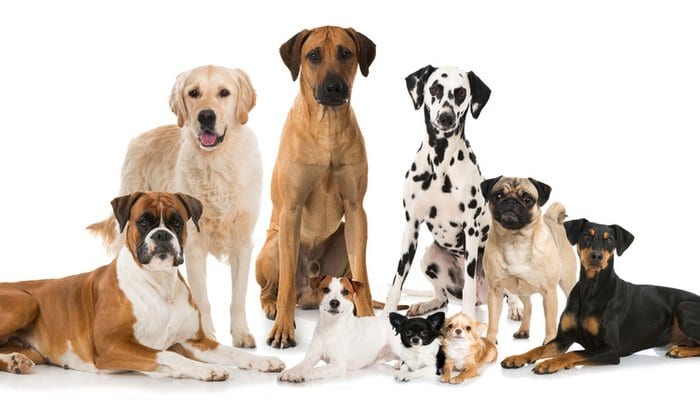 A common question among potential dog owners is whether there is a difference in the health between pure breed and mixed breed dogs. It is often accepted that pedigree dogs generally have poorer health than mixed-breed dogs. This is due to the lack of genetic diversity in pedigree dog populations in order to maintain standard breed characteristics.
What makes this complicated is that there are many purebred dogs that live long, happy lives, and others that do suffer from an inherited disorder, and of course the same can be said of the mutt of mixed heritage. To get beyond the anecdotes, what we need are data, and a recent study provides them.
Getting to The Bottom of The Data
To get to the bottom of this question, researcher Dr. Thomas Bellumori and his colleagues conducted a study examining cases of 24 genetic disorders among over 9,000 dogs. Surprisingly, the difference in purebred and mixed-breed health may not be as significant as originally thought.
The study concluded that there was no difference in the prevalence of over half (13) of the genetic diseases between mixed-breeds and pedigree dogs. This similarity in genetic disorder prevalence could be due to several factors.
One of the factors may be that the genetic predisposition to these disorders was inherited early in the domestication of dogs from an early ancestor common to most or all dogs. It is also possible that genes for characteristics that were more favorable during the domestication of dogs were linked to harmful genes that also leave dogs more susceptible to specific disorders.
Another source of the poor health of pure-bred dogs compared to mixed breeds is the enhancement of specific aesthetic breed characteristics over several generations by breeders. This artificial selection has resulted in physical traits that reduce the welfare and health of the dog. For example, English Bulldogs were bred to have large flat-faces, bowed legs and broad chests.
Breeding For Failure
The augmentation of these features has gotten to the point that pregnant Bulldogs cannot give birth naturally, because the heads of the puppies are too large to pass through the female's pelvis. Pregnant Bulldogs typically have to undergo a Caesarean to deliver the litter. Caesarean deliveries are also common in dogs bred to be small, called "teacup" or "toy" breeds.
Bulldogs and other flat faced dogs (Pug, Boston Terrier) typically suffer from a respiratory disease called brachyacephallic airway syndrome. These dogs are also likely to have shallow eye sockets or bulging eyes, which leaves them vulnerable to eye injury, ulcer development and eye displacement.
Changes in dog size have also had a tremendous impact on dog health. Recently, there has been a trend for smaller and smaller dogs.
These teacup or toy dog breeds suffer from several conditions associated with their size, including fragile bones and stunted bone growth. Some breeds even have soft spots, because their skull bones stop developing before the top of the sculls can fully close.
Large dogs also experience growth related complications, such as orthopedic conditions. Larger dogs live for a shorter amount of time than smaller breeds as well. Larger dog breeds can experience rapid accumulation of free radicals due to rapid bone growth during development, which can lead to premature aging.