Being a pro footballer is a dream shared by many a million youth. Everyone wants to become an athlete at some point in their childhood. Despite intense desire, very few people make it to the big league. Pro football is reserved for only the very best. In fact becoming a pro footballer is beating the odds and numbers stacked up against you. Many middle-class or non-elite kids dream of the money and lavish lifestyles NFL players have. However, NFL stars don't always end up on the right track.
[adinserter block="3″]
[adinserter block="8″]
Heroism, tense games, fans, five star hotels, and rich lifestyle it may not be for everyone who plays in the NFL. According to a study conducted by Sports Illustrated in 2009, more than 78% of pro NFL players end up having financial troubles. The most shocking part is that study was conducted on players within the two years of their retirement. Furthermore around 60% of NFL players go completely bankrupt within five years of retirement. This is insane. This is not the picture painted when you see them travelling with an entourage of fans, coaches and players at their glory time.
Here are 19 NFL stars who end up completely broke and took regular jobs. Some of these names, you will really find hard to believe.
19. Ray Rice
Ray Rice was a promising talent. But in 2014, a video of him hitting his wife in an Atlantic City casino went viral. The blow appeared to have knocked his fiancée Janay out. He later dragged the unconscious woman out of the casino. It caused NFL to change policies of how it handled domestic abuse cases.
The fallout that followed was deadly for Rice. He lost remaining $10million from his five-year $35million deal with Ravens. He lost his contracts with Nike and EA Sports. He has never received any endorsements since. The craziest part of the story is that Ray Rice and Janay got married a year later. At least there was some sort of happy ending for Ray, we cannot say that about Janay though.
[adinserter block="7″]
[adinserter block="2″]
18. JaMarcus Russell
JaMarcus Russell was an NCAA starter who signed a whopping $61million contract with the Raiders. Unfortunately he never materialized as an NFL player. According to Steve Wyche, the editor of NFL.com, Russell was the "biggest draft bust in the history of NFL". Not making it as a successful player doesn't mean you have to go broke or get in controversy, but Russell did.
[adinserter block="3″]
[adinserter block="8″]
Russell was fined $223,180.05 for falling behind mortgage payments and taxes. In 2010, things got from bad to worse. He was arrested at his house in Alabama for possession of codeine syrup without a prescription. After realizing he won't have a career in NFL, Russell decided to appear in a commercial for a dish network company.
[adinserter block="7″]
[adinserter block="2″]
17. OJ Simpson
OJ Simpson is the most celebrated "celebrity" on this list. We are all too familiar with the infamous murder charge and media trial. OJ Simpson has fallen a long way. His life has seen a coveted sports star to suspected murderer and ultimately a convicted felon. He has been in jail for the last eight years in relation to an armed robbery and kidnapping of a sports items dealer in 2007.
[adinserter block="3″]
[adinserter block="8″]
Simpson was tried for the murder of Nicole Brown, his ex-wife in 1994. He was controversially acquitted. A bank is pushing for a foreclosure on Simpson's house for nonpayment. In 2015, IRS filed a lien of $179,437 on his income from 2007-2010. Again, in 2016, they filed another lien, this time for $17,015.99 against his 2011 income.
[adinserter block="7″]
[adinserter block="2″]
16. Michael Vick
Michael Vick is best known for his illegal dog fighting scandal. He was charged and jailed in 2007. But his troubles with money started before that. In 2006 he was earning $25.4million annually. However, poor financial management and bad investments crippled his finances. Almost certainly lawsuits always follow financial troubles. Vick suffered from an incinerating lawsuit with his sports agents.
[adinserter block="3″]
[adinserter block="8″]
When he was jailed for dog fighting, things got from bad to worse. Vick filed for bankruptcy in 2008. He was more than $50million in debt. At that time he was working in prison as a janitor at 12 cents per hour. Admirably he covered and went on to play football again once he got out of jail. He seems to be doing fine now but his glory days are well behind him.
[adinserter block="7″]
[adinserter block="2″]
15. Charlie Batch
If you had seen Charles D'Donte Batch in his premier days, you wouldn't have thought in a hundred years that one day he will go bankrupt. He played for Detroit Lions and Pittsburgh Steelers and accumulated a decent wealth.  Upon retirement he decided to go into real estate. It didn't work out. Charlie Batch failed to become a Donald Trump.
[adinserter block="3″]
[adinserter block="8″]
In 2010 Batch's real estate company defaulted on a $1.15million mortgage with Dollar Bank. He filed for bankruptcy. He had $3million worth of assets but a debt of $8million. Bankruptcy court made a ruling that his creditors can sell some of his personal property.
These days Batch is a studio analyst on The NFL Today. He is also a registered speaker for National Speakers Association.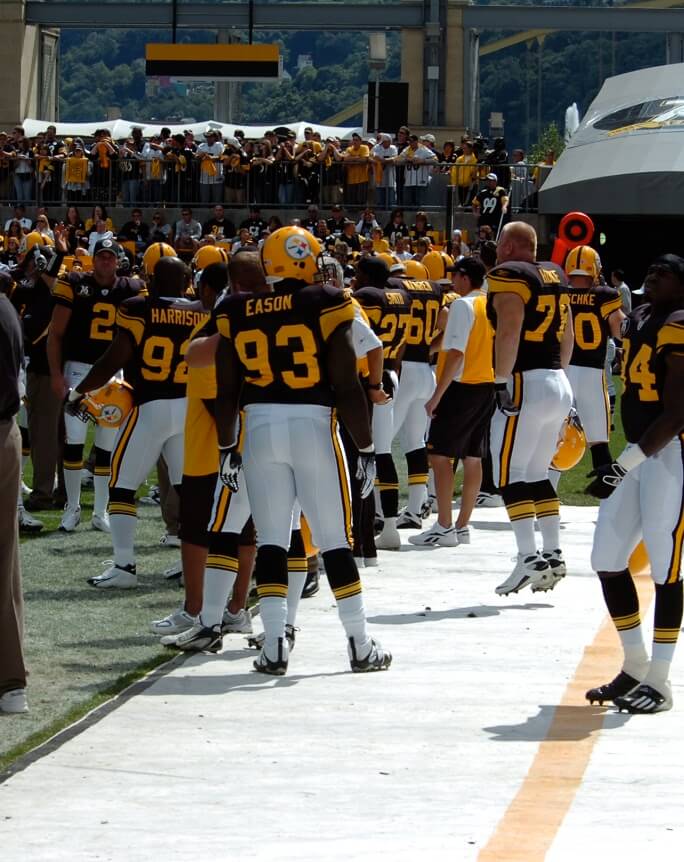 [adinserter block="7″]
[adinserter block="2″]
14. Bernie Kosar
Bernie Kosar had earnings of more than $19million. He is one of the most heartbreaking entries on the list. He was a squanderer, he didn't waste his money on drugs and gambling. On the contrary he is a very nice guy – too nice in fact. He was "taken for a ride" by people he loved and trusted; such as his owner father, ex-wife, friends and financial advisers. He filed for bankruptcy in 2009.
[adinserter block="3″]
[adinserter block="8″]
Falling real estate market, divorce settlements, bad advice and the inability to say "NO" to friends and family all contributed to his downfall. Kosar's debt fell between $10million and $50million and his assets were worth $1million and $10million.
[adinserter block="7″]
[adinserter block="2″]
13. Andre Rison
Andre Rison once boasted earnings of $20million in salaries and endorsements. Life was perfect until he lost his way. He had a knack for luxurious lifestyle. He spent his money extravagantly. He flung his wealth away on parties, mansions and cars etc. At one point in his career, he travelled with an entourage of 40 people with more than 10 cars.
[adinserter block="3″]
[adinserter block="8″]
Rison was the boyfriend of late singer Lisa Lopes. To add insult to injury Lopes burnt down Rison's $800,000 Atlanta mansion in 1994. In 2007, Rison was forced to declare bankruptcy. He was ordered to pay $323,000 after failing to pay for child support on two occasions. Rison applied for various coaching roles, he was turned down from many. In 2014, Rison took a coaching position in Skyline High School, where he led them to a 0-9 record.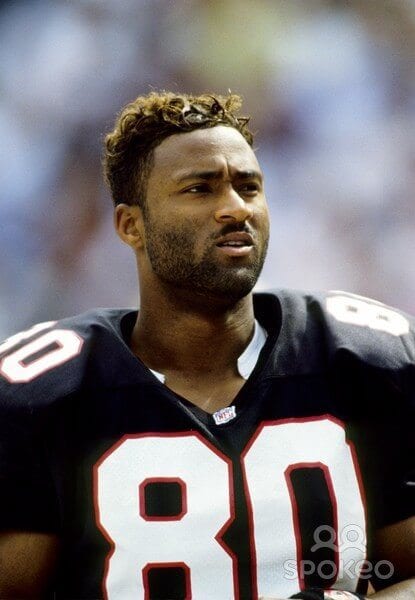 [adinserter block="7″]
[adinserter block="2″]
12. Vince Young
Vince Young played for notable teams like Tennessee Titans, the Philadelphia Eagles, and the Buffalo Bills and then he turned into a pro freelancer. During his time, he whopped $26million in earnings. However, despite a promising career Young filed for bankruptcy in 2014. This happened only two years after he was on NFL regular-season roster. So what went wrong?
[adinserter block="3″]
[adinserter block="8″]
According to Brian Kilmer, Young's attorney, the trouble was caused as the quarterback became a spendthrift. Once he spent $6,000 in a single sitting at T.G.I Fridays. He'd often do $600 shots of Louis XIII de Remy Martin at Morton's. In 2013, his assets were between $500,001 and $1 million, but his liabilities ranged between $1,001,000 and $10 million. Thankfully, Young found a position at University of Texas, his previous school.
[adinserter block="7″]
[adinserter block="2″]
11. Lawrence Taylor
Lawrence Taylor is a legend according to many followers of the game. He is a true NFL Hall of Famer as a defensive player. At the top of his game, he was at times unbeatable on the field. He gathered $50million in earnings and yet he has declared bankruptcy. Taylor has been arrested for drugs possession and filing a false tax return.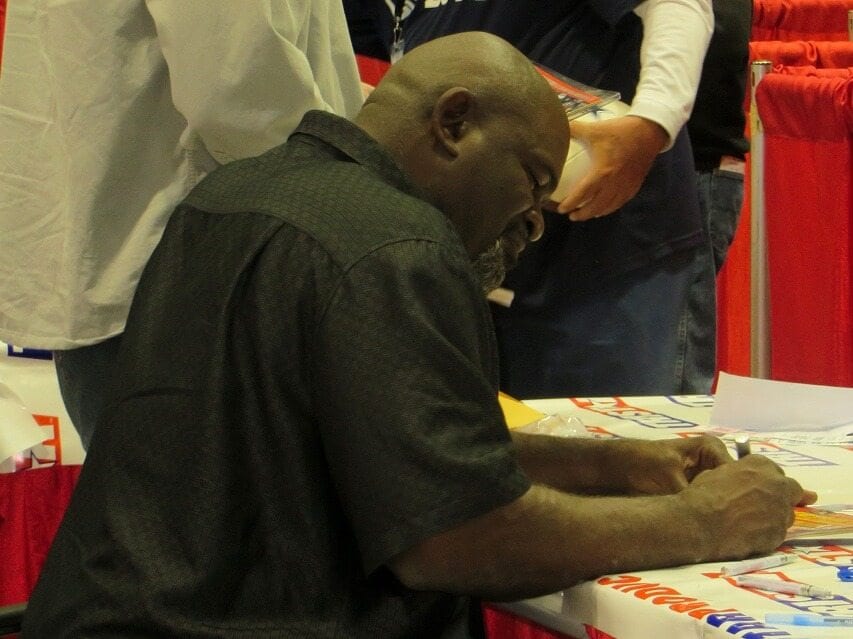 [adinserter block="3″]
[adinserter block="8″]
It is believed that he messed up his wealth and status by diving into drugs. His cocaine addiction cost him dearly. He also developed a partying lifestyle. Since then, he has worked as commentator and as a small time actor. He has appeared in movies like Any Given Sunday and When in Rome.
[adinserter block="7″]
[adinserter block="2″]
10. Raghib Ismail
Raghib Ismail starred in both CFL and NFL and somehow he could never shake off his financial troubles. He once withdrew a handsome $4.55 million annual salary with the Argonauts. Yet he lost his money as quickly as he earned it. Speaking at a public gathering he once said, "I looked at my bank statement, and I just went, 'what the…!'"
[adinserter block="3″]
[adinserter block="8″]
Unlike so many entries on our list, Ismail didn't succumb to drugs or partying. Instead his doom was due to poor investments and financial management. He started many businesses such as phone card dispensers to cosmetics but none of them worked out. He turned his life around though, these days he works as a motivational speaker. He gives speeches about money proficiency and the value of investing properly.
[adinserter block="7″]
[adinserter block="2″]
9. Muhsin Muhammad
Muhsin Muhammad appeared in 14 years as wide receiver in NFL. He earned millions of dollars. He once said that football is an alpha male sport and that he thinks he "will stay on top forever". However, he discovered it wasn't the truth by a long shot. He didn't plan his finances very well and paid the price.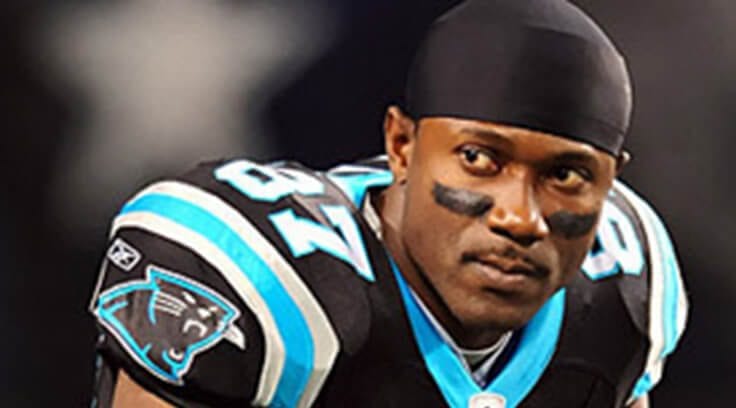 [adinserter block="3″]
[adinserter block="8″]
In 2009 he was sued by Wachovia for $25,000 for unpaid credit card bills. This wasn't an isolated incident. Muhammad didn't keep a lid on finances and continued to lose money. He was forced to sell his luxurious house in the Southwestern U.S. Muhammad currently works as a commentator for Fox and NFL network.
[adinserter block="7″]
[adinserter block="2″]
8. Luther Elliss
Luther Elliss was a star defensive played for Denver Broncos and Detroit Lions. He was a two-time Pro Bowler. He earned more than $11 million during his ten year career at NFL. Despite his stellar career, things didn't go at planned after retirement. At one point he ended up getting financial assistance from his friends, family and even the local church.
[adinserter block="3″]
[adinserter block="8″]
Elliss said that he made bad financial investments along the way. He said he got involved in some businesses and provided them with financial guarantees. When the businesses didn't come through he ended up paying a lot on their behalf. Elliss said he lost all of his savings like that. In 2016, Elliss joined the Denver Broncos as their team chaplain.
[adinserter block="7″]
[adinserter block="2″]
7. Dermontti Dawson
Dermontti Dawson was a Pittsburgh Steelers player and earned more than $25 million. After retirement he lost his cash quickly and didn't have much left. He started off as a real estate developer after his NFL career. His investments didn't pull through. Dawson ended up filing bankruptcy in 2010. His liabilities were a staggering $69.659 million versus assets totaling at $1.417 million.
[adinserter block="3″]
[adinserter block="8″]
Dawson is now one of the owners of Washington Wild Things, they are a member of the East Division of Frontier League. It is a private baseball league that is not affiliated with MLB. He did some coaching roles for Steelers and Cincinnati Bengals. Currently he works as a sales executive for a promotional products company.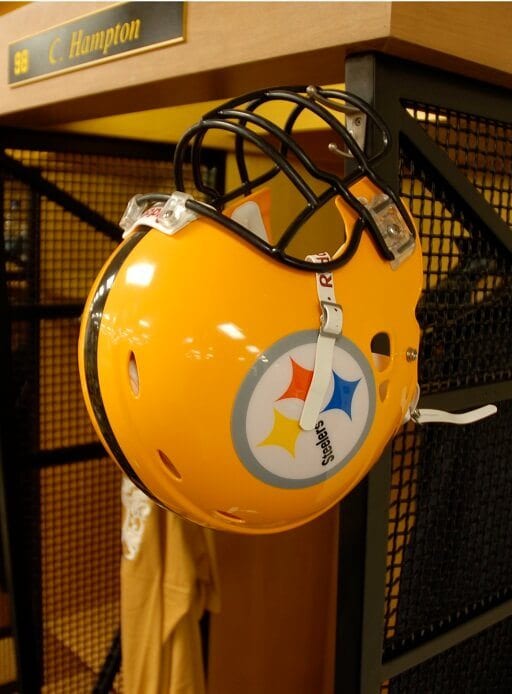 [adinserter block="7″]
[adinserter block="2″]
6. Tiki Barber
Atiim Kiambu Hakeem-Ah more commonly known as "Tiki" Barber made $35 million with the New York Giants. In 2010, Barber stated that he is on the verge of bankruptcy. He cited a divorce settlement with his ex-wife as the primary reason.
[adinserter block="3″]
[adinserter block="8″]
After his retirement Barber was working as a contributor on NBC's The Today Show with a hefty contract. However Barber left his pregnant wife for a 23-year old understudy. Unbeknownst to Barber he had violated an ethical clause in his contract. NBC terminated his contract. With no source of earning and a divorce settlement, Tiki Barber found himself in deep waters.
[adinserter block="7″]
[adinserter block="2″]
5. Mark Brunell
Mark Brunell has a career as stellar as they come. His was a three-time Pro Bowler. He has played with Jacksonville Jaguars, Washington Redskins, New Orleans Saints and New York Jets. He earned more than $50 million during his stardom. He was in businesses as late as 2009. Yet in 2011, he filed for bankruptcy.
[adinserter block="3″]
[adinserter block="8″]
Brunell made plenty of bad investments and then some more bad investments. He financed nine businesses, five of which failed immediately. Failed businesses include a Whataburger franchise and a real estate company called Champion LLC. These two failures alone cost him $ 20 million. Michael Huyghue, Commissioner of the United Football League says Brunell's financial troubles are due to his being a nice guy, apparently he is too nice to say no.
[adinserter block="7″]
[adinserter block="2″]
4. Chris McAlister
Chris McAlister was a corner back for Baltimore Ravens. He had amassed $50 million. As is the case with many stars, he had developed a liking for extra lavish lifestyle. Incredibly, it was only one year after his retirement that he filed for bankruptcy.
[adinserter block="3″]
[adinserter block="8″]
He went to the court to appeal for a decrease in his child support payments. There he claimed he was living with his parents. His parents covered all his living costs while he arranged a stipend with them. In 2013, McAlister took a job as a mentor for understudies with Buffalo Bills. He worked with the team during preparation camps and minicamps.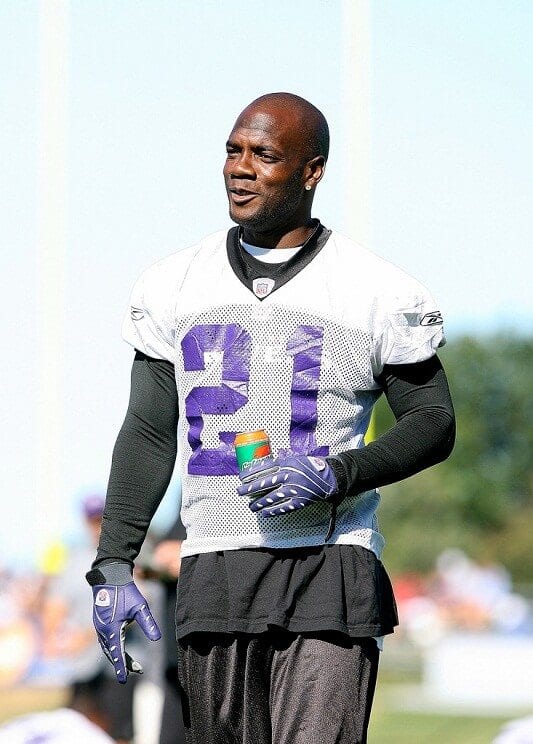 [adinserter block="7″]
[adinserter block="2″]
3. Warren Sapp
When things started to go in the wrong direction with Warren Sapp, they didn't go by foot, they took a sports car and speed across. Sapp was an All-Pro defensive NFL Hall of Famer. He earned $82,185,056 during his NFL career. However, after a couple of years after his retirement, he ended up having $826.04 in his bank account.
[adinserter block="3″]
[adinserter block="8″]
Warren was a shopaholic and a spendthrift. He filed for bankruptcy in 2012 after his account had less than $1000. Sapp become involved with NFL as an analyst but he was fired after getting into the controversy regarding domestic battery. He also arrested on suspicion of helping with prostitution and assault.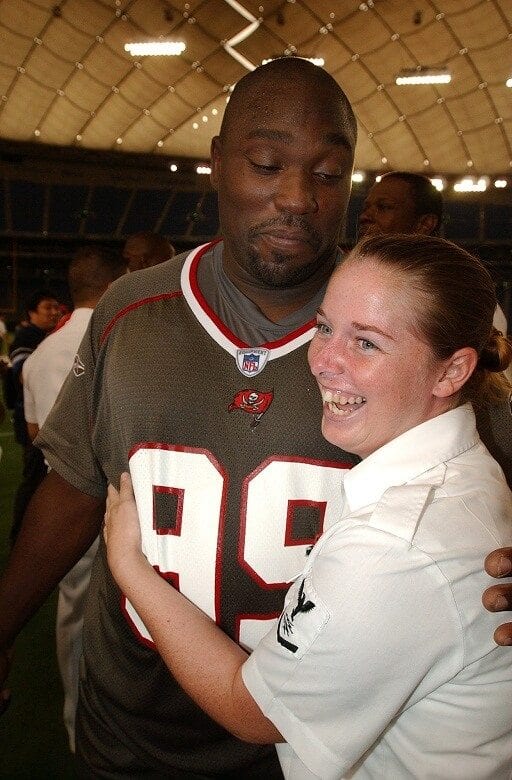 [adinserter block="7″]
[adinserter block="2″]
2. Deuce McAllister
Deuce McAllister was a lovable star with excellent athletic ability with the New Orleans Saints. He was a promising running back. He didn't show a lot of capability when it came to handling his finances. After his retirement McAllister setup a Nissan dealership that drowned his money… a lot of it. Nissan and McAllister got involved in a series of lawsuits which further worsened the situation.
[adinserter block="3″]
[adinserter block="8″]
Despite having a $7 million debt, he got up to his feet very quickly. He started getting odd jobs as commentator for various broadcasts. In June 2016, Saints radio broadcasts hired him as a permanent analyst. McAllister currently runs Catch 22 Foundation, a charity focused on underprivileged youth.
[adinserter block="7″]
[adinserter block="2″]
1. Terrell Owens
Terrell Owens is the winner of this list and you will find out why…
Terrell Owens played 15 seasons in the NFL. He is seen as a Hall of Famer by many. He amassed a fortune worth $80 million (more than anyone else featured on this list). Yet he has no money today. Reason? That is a series of misfortune, blunders and bad decisions.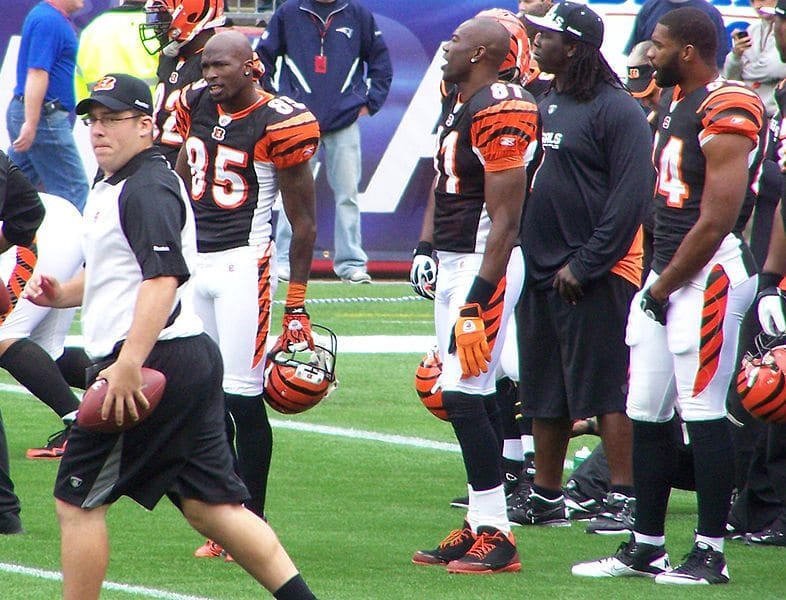 [adinserter block="3″]
[adinserter block="8″]
Let's begin with his personal reasons first. He has fathered four children with four different women. In 2012, he was paying more than $50,000 monthly on child support. That coupled with a partying lifestyle and a series of bad investments caused the NFL star to fall flat. He has tried getting coaching and commentating roles since 2012, but to no success.
[adinserter block="7″]
[adinserter block="2″]