Everyone wants to belong to something.
For many, this notion takes on a spiritual level. Just think about how influential the world's major religions are, and how they've shaped human history. But, some find divinity in less-accepted beliefs. Some would call these "cults."
[adinserter block="3″]
[adinserter block="8″]
Throughout history, people have looked beyond ancient scripture to find God in places as vast as outer space. Some have also pulled in the opposite direction. Instead of looking to the skies, they've looked down below and found their savior in the darkest corners of their souls.
Still, others find salvation in a charismatic man or woman who walks the Earth among them, yet seems to occupy a higher plane.
Just like major religions, cults can attract the most devoted following. These are people who not only will refuse to question their beliefs, but would do everything in their power to preserve them. Many have proved they're ready to die for these beliefs. Others have killed for them.
The following article will take you on a journey exploring the most extreme cult followers in history. Prepare for true stories of murder, suicide, mutilation and other gruesome horrors.
Here's 15 of the Most Dangerous Cults in History
16. The Church of Euthanasia
Overpopulation is a serious issue. To offset its consequences, some promote safe sex. Others encourage raising small families. Members of this cult think it's time to kill yourself to protect Mother Earth.
The Church of Euthanasia cites suicide, abortion, cannibalism, and ceasing procreation as proper measures for population control.
Founded in 1992 by software developer Chris Korda, one of the church's infamous slogans is "Depressed? Kill Yourself."
In 2003, a Missouri woman was found dead next to a print-out of the church's "suicide instructions" posted on its website.
The church seemed to fade in the early 00's following several death threats and beatings of church members.
Hmmm. I wonder why.
[adinserter block="7″]
[adinserter block="2″]
15. Children of God
Founded in 1968, this cult is known for advocating pedophilia and encouraging sexual experimentation.
Its leader David Berg wrote in a book that he let his toddler stepson watch and engage in sex acts with adult women. The child grew to kill his nanny before shooting himself.
[adinserter block="3″]
[adinserter block="8″]
Berg believed that pedophilia acts would prove their "love of god." Numerous members faced accusations of abductions and child abuse.
Before joining, females had to promise sex to potential male recruits. This was called "Flirty Fishing." The cult also had celebrities in its ranks. Actor Joaquin Phoenix was a member as a child when his parents joined. It exists today as Family International.
[adinserter block="7″]
[adinserter block="2″]
14. The Movement of the Restoration of the 10 Commandments of God
If you're reading this, you probably survived several Doomsday prophesies. This cult from Uganda wasn't so lucky. The Commandments followers formed a doomsday cult that, like many others, orchestrated its own Apocalypse.
[adinserter block="3″]
[adinserter block="8″]
The Commandments cult started in Uganda in the '80s. Members predicted Armageddon would begin at the dawn of the year 2000. When it didn't, leaders crunched some more numbers and predicted the end would come in March that year.
For many, it did.
Members gathered for prayers at their headquarters in Kanungu. A fire was set there killing more than 500 people. Reports indicate leaders set the fire and even boarded up windows to prevent escape. After all, members had given up belongings and property to leaders ahead of the apocalypse.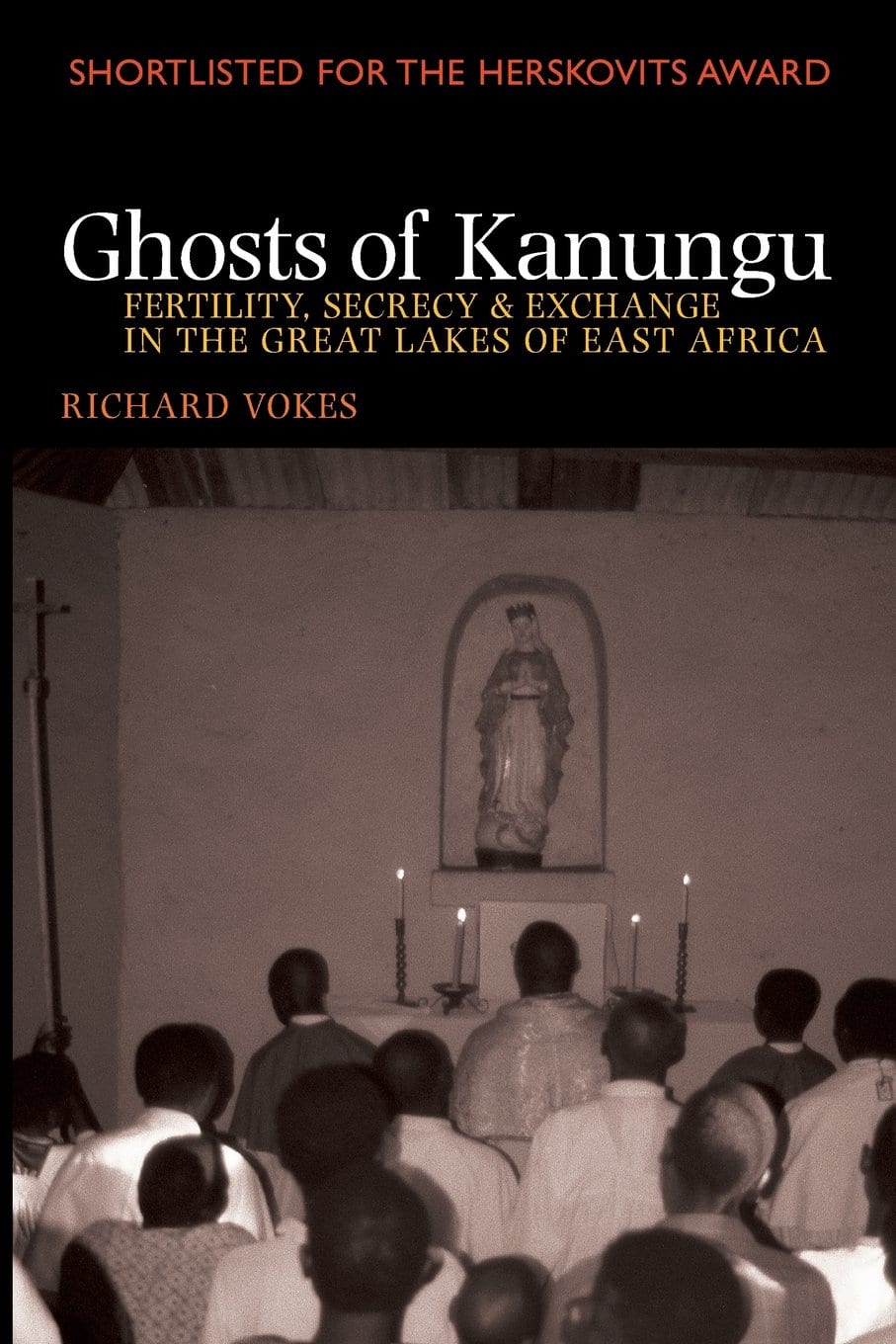 [adinserter block="7″]
[adinserter block="2″]
13. The Order of the Solar Temple
The Order of the Solar Temple
This cult was founded by spiritual leader Joseph Di Mambro in Geneva in 1984. Its beliefs blended Christianity, astrology and medieval lore.
[adinserter block="3″]
[adinserter block="8″]
Di Mambro nurtured a powerful influence over his followers. He even decided which female cult members could have children.
In 1994, he convinced members at an OST chalet in Quebec to murder the couple of an infant child, whom he believed was the Anti-Christ. About that time, followers believed the world would soon face catastrophe, and the only means to being reborn on another planet was through fire.
In October 1994, members gathered at two OST chalets in Switzerland before they were set ablaze. Police found 54 bodies. Some had bags over their head, while others had been shot or poisoned. Di Mambro was among the dead.
More member suicides would follow in the coming years.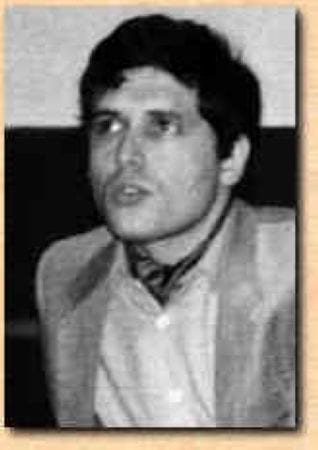 [adinserter block="3″]
[adinserter block="8″]
12. The Students of the Seven Seals
This cult was a sect of the Branch Davidians.
David Koresh, their leader and self-proclaimed son of God, was accused of polygamy and pedophilia. He persuaded his followers to arm themselves to defend each other against the forces of evil.
[adinserter block="3″]
[adinserter block="8″]
The group's final stand began February 1993, when federal agents surrounded the militia's compound in Waco, Texas. A 51-day standoff ensued. After agents launched teargas into the building, a fire erupted killing more than 80 people including children.
Most reports indicate cult members started the fire with some shooting others in mercy killings.
[adinserter block="3″]
[adinserter block="8″]
11. Heaven's Gate
This cult sounds like something out of the "X-Files," but it was all too real for the 39 members who committed suicide for their beliefs.
[adinserter block="3″]
[adinserter block="8″]
Heaven's Gate was founded in the '70s by Marshall Applewhite. Its members believed they were alien "walk-ins" inhabiting human bodies, and that the Earth would be "recycled" by alien forces in the late '90s. To survive the apocalypse, members believed they could reach new levels of existence by surrendering their souls to a UFO boarding the Hale-Bopp comet. The first step, however, was suicide.
In March 1997, Applewhite and 38 followers went through with it.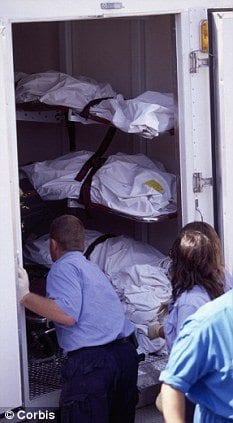 [adinserter block="7″]
[adinserter block="2″]
10. Peoples Temple
This cult is best known for a mass-suicide/murder ritual that killed 909 people in 1978. It was founded in 1955 by Jim Jones, who preached Christian Socialism. The group had several compounds including the infamous "Jonestown" in the jungles of Guyana, where Jones ruled with an iron fist.
[adinserter block="3″]
[adinserter block="8″]
Reports of human-rights abuses coming out of the compound caught the attention of Congressman Leo Ryan.
On Nov. 17, 1978, he led an investigation into Jonestown, where several Americans were residing. The next day, Temple members gunned down Ryan at a local airstrip as he tried to rescue a group of defectors. Jones then ordered compound residents to drink poison-laced juice.
The Guyanese army found their bodies the next morning.
[adinserter block="7″]
[adinserter block="2″]
9. Aum Shinrikyo
While several cults are monitored by authorities, not all are deemed terrorist organizations. That's not the case for Aum Shinrikyo.
[adinserter block="3″]
[adinserter block="8″]
This Japanese cult stole headlines in 1995 after unleashing sarin gas into the Tokyo subway system during rush hour. The attack killed 13 people and injured thousands. More than 192 people were charged in connection to the attack including leader Shoko Asahara, who received the death sentence.
Asahara considered himself the first "enlightened one" since Buddha, and he sought intelligent university students to fill his ranks. Often, these followers came from elite families.
The cult exists today as two factions called Aum and Aleph.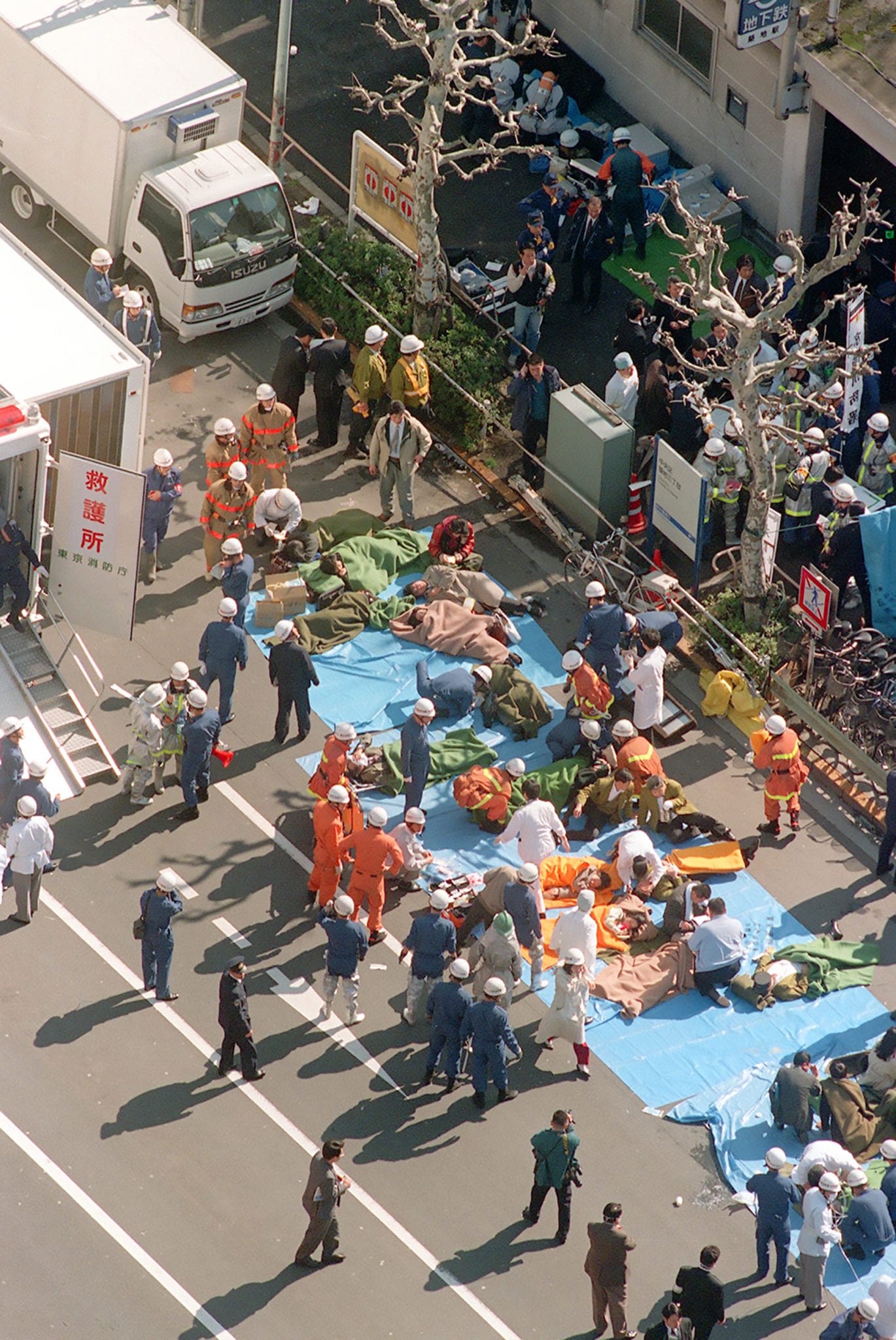 [adinserter block="7″]
[adinserter block="2″]
8. The Vampire Clan
This cult was led by a self-proclaimed hundred-year-old vampire named Vegaso. He was actually a 16-year-old named Rod Ferrell.
[adinserter block="3″]
[adinserter block="8″]
He founded the clan in Kentucky during the mid-'90s, before moving to Florida. There, he met Heather Wendorf who became intrigued by Ferrell's clan. They even performed rituals by drinking each other's blood.
After Ferrell moved back to Kentucky, Wendorf confessed to him she was miserable with her parents. So, Ferrell drove his clan to Wendorf's home in 1996.
Ferell beat Richard and Ruth Wendorf to death with a crowbar before burning a "V" into Richard's body. The clan, including Heather, drove as far as New Orleans before being caught.
[adinserter block="7″]
[adinserter block="2″]
7. The Carny Cult
It's not surprising to find creepy folk at traveling Carnivals. But, you'll be hard-pressed to find creepier carnies than those in the Satanic cult that rolled with the Dekalb County Fair in 1991.
[adinserter block="3″]
[adinserter block="8″]
The group comprised Jimmie Penick, Mark Goodwin, and brothers Keith and David Lawrence. Co-worker Anthony Ault also wanted to join. So, the cult drove him to a secluded location for "initiation."
They told him to lie on an altar before he was tied and gagged. After Keith said a prayer to Satan, the crew took turns cutting Ault's abdomen. An inverted cross was cut into his chest. Penick then used a knife to cut from Ault's neck to stomach, and slit his throat. Finally, the gang cut off Ault's head and hands before burning them.
Ault had known about a murder committed by Penick and Keith. This was their way of keeping him quiet.
The discovery of Ault's body eventually led to the cult's arrest.
[adinserter block="7″]
[adinserter block="2″]
6. The Santa Muerte Cult
Santa Muerte, or Saint Death, is a folk saint in Mexican culture that represents death. Most followers offer items such as candy and cigarettes to the saint's statue, as token for guidance into the afterlife. Some escalate offerings to human sacrifice.
[adinserter block="3″]
[adinserter block="8″]
That was the case with a Mexican cult led by Sylvia Meraz and Martin Barron Lopez. The group detained victims including children before slashing their wrists and throats on an altar. The blood was drained and gathered in bowls before being offered to Saint Death.
Police decided to investigate Meraz's property after two children and an elderly man, who frequented her house, went missing. Police had previously suspected her of running a brothel because of the amount of traffic coming in and out of her house. Meraz was also a step grandmother for one of the missing boys.
After the search, Police found the body of one boy underneath the floorboards and the other buried in the backyard.
Eight cult members including a 15-year-old girl were arrested and charged with three murders in 2012.
[adinserter block="7″]
[adinserter block="2″]
5. The Manson Family
You can't open a book on America's most infamous serial killers without finding pages dedicated to Charles Manson and his "family."
Manson rounded up a cult of youngsters through drug-induced sex parties in the '60s. But as the decade of peace and love came to an end, Manson unleashed a bloodbath that forever stained American history.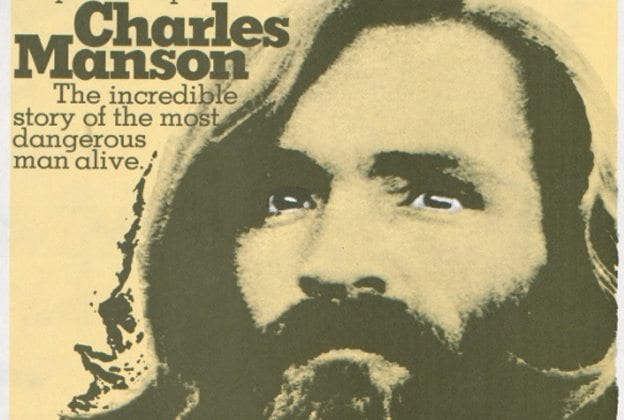 [adinserter block="3″]
[adinserter block="8″]
Manson convinced his "family" that the world was in for the ultimate race war, which he named Helter Skelter after his twisted interpretation of a Beatles song.
To launch this war, the cult committed five grisly murders which it blamed on blacks in 1969. Among their victims was actress Sharon Tate. Pregnant at the time, she had been stabbed at her home 16 times.
The words "Pig" and "War" were written on the walls with their victims' blood. The cult was then arrested. Manson is serving a life sentence in California.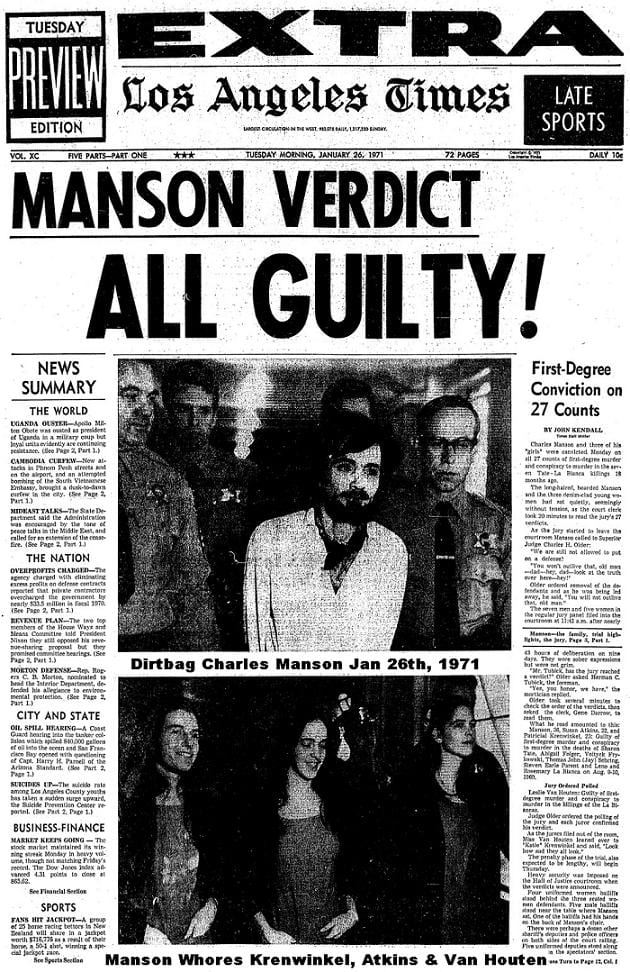 [adinserter block="7″]
[adinserter block="2″]
4. The Fall Rivers Cult
This cult emerged from the Fall Rivers sex trade in Massachusetts during the 70s. It was led by Carl Drew, a pimp who claimed to be the son of Satan. The gang gathered in the woods for sex and drug-induced rituals. Eventually, they added human sacrifice to the equation.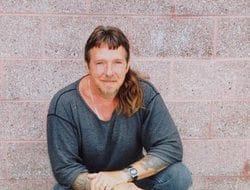 [adinserter block="3″]
[adinserter block="8″]
The group killed at least three women by beating their heads in. At least one was decapitated.
After the group's arrest, cult devotee Robin Murphy got a lighter sentence for turning state's evidence. She was released in 2011 and returned to jail in 2012 for parole violation.  A detective who led the murder investigation still believes she was actually the "mastermind" behind the crimes.
Drew is serving a life sentence and maintains he's innocent.
[adinserter block="3″]
[adinserter block="8″]
3. The Chicago Rippers
This satanic cult terrorized Illinois between 1981 and 1982.
It comprised cannibalistic ringleader Robin Gecht and Edward Spreitzer, along with brothers Andrew and Thomas Kokoraleis.
[adinserter block="3″]
[adinserter block="8″]
The gang kidnaped women and gang raped them while performing a satanic ritual at a hotel room. Gecht would then sever his victim's breast, ejaculate into the wound, and eat a part of the breast before putting it in a "trophy box."
Police suspect they killed 18 women before one, who was left for dead, survived. She then offered information that helped police catch the crew.
[adinserter block="7″]
[adinserter block="2″]
2. The Superior Universal Alignment
Members of this Brazilian cult led by Valentina de Andrade were accused of castrating children between 1989 and 1993. Only five of their 19 known victims survived. This doomsday cult believed that children born after 1981 were evil and in need of extermination.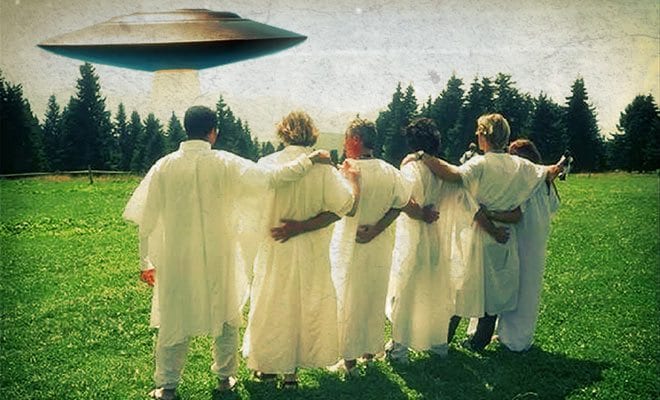 [adinserter block="3″]
[adinserter block="8″]
They also believed the world's end was approaching and members would be saved by an incoming space craft.
But no spaceship came.
Instead, five members including leader Valentina de Andrade were arrested. A boy, who was left for dead, testified on how he awoke in the woods naked and without his genitals.
Among those convicted were two physicians. Valentina was acquitted of the murders.
[adinserter block="3″]
[adinserter block="8″]
1. Satanic Teens in Russia
During the mid-2000's, Russian teen Nikolai Ogolobyak founded a satanic cult with other like-minded youngsters. The group sacrificed small animals to Satan before moving on to larger prey.
In 2008, the cult murdered four teenagers before dumping their arms and legs into a pit with an inverted cross.
[adinserter block="3″]
[adinserter block="8″]
Reports also indicate cult members ate parts of the remains, and cut off some of the victims' genitals. They're also accused of stabbing their victims 666 times.
The slain teens were three females and one male aged between 16 and 17. The cult had lured them to parties at the wooded outskirts of Yaroslavl on two separate occasions before killing them. Police suspect the devil-worshiping crew cooked parts of their victims' flesh in a bonfire before consuming them.
Police arrested 8 members after finding the severed body parts. One suspect refused to denounce his beliefs and told investigators that Satan would help him for having sacrificed "many victims." Another bragged about how the group dug up a female corpse and ate its heart.
[adinserter block="7″]
[adinserter block="2″]