Pro basketball is one of the highest paid sports in the US. The NBA has made several young and talented players become insanely rich in just a short timespan. What's better than being young and rich? Well that all depends on whether or not you STAY rich. Approximately 60% of former NBA players will become poor within five years after retirement and 78% of the NFL players become broke or face financial crisis within two years of retiring from their career. The smart and lucky players are able to save and invest their money. Regretfully the majority aren't all that smart. It's a cold hard fact that most pro athletes are not equipped with financial acumen. 34% of the pro NBA players grew up in poverty lines and never had the chance to learn financial management skills. The NBA has started making all new players take financial lessons their rookie year, but will it be enough to keep them from the fate of these 15 players? Time will tell.
Here are 15 NBA Players that went absolutely broke
→
15. David Harrison
         -cash blown: $4.4 million
His career earned him a total of 4,428,916 dollars. He played for the Indiana Pacers from 2004 to 2008. After losing all his money he got a job with McDonald's after an incident where his card was declined when trying to buy his son a Happy Meal. He was known as "the Malice at the Palace" when he was a rookie. Now he's known as that really tall guy handing out french fries.
14. Rick Mahorn
        -cash blown: $6 million
Rick Mahorn invested heavily into the city of Detroit. Little did he know that the city would not payout on those investments. His investments went down with the economy of Motown.
He made over six million in his NBA career, now as commentator of Pistons, Rick and his wife had only one thousand dollars to their name when they filed for bankruptcy. He no longer had his championship ring in 2010 when he filed for bankruptcy.
13. Dennis Rodman
        -cash blown: $27 million
Dennis filed for bankruptcy in 2014, where he claimed that he was sick and broke hence he could not be able to cater to the commitment he made to supporting his child. He made nearly twenty seven million dollars during his NBA career.
At the time he filed for bankruptcy, he owed almost nine hundred thousand dollars for child support and over fifty-one thousand dollars in back spousal support. Dennis Rodman claimed that he could not even maintain his own living expenses. Dennis Rodman was known for his love of luxurious life and partying.
12. Jason Caffey
        -cash blown: $29 million
His estimated career earnings in NBA was thirty million dollars. Surprisingly Jason Caffey was able to blow all this money and went from riches to rags. He won two championships with the Chicago Bulls. Jason is a father of ten children by eight different women.
Despite making millions in his NBA career, he was arrested in the year 2007 for failing to appear in court for a child support hearing. In August, he filed for bankruptcy in Alabama to get the court off his back for child support. He is in debt for nearly two million and has approximately 1.5 million in assets in business ventures. At least according to the bankruptcy documents.
11. Eric Williams
        -cash blown: $40 million
Eric made about forty million dollars during his career with NBA. 40 million dollars is enough money that can be used for a lifetime, unfortunately Eric Williams was not able to do so. He played for the Celtics, Nuggets, Nets, Cavaliers, Spurs, Bobcats, and Raptors during his career in NBA.
Later on, in February this year, he was taken to court by a mother of a 13 year old boy, who claimed that Eric owed her almost twenty five thousand dollars for child support. He was ordered by the court to attend a hearing on child support, but he did not appear at the court claiming that he was broke and homeless.
10. Kenny Anderson
         -cash blown: $60 million
Kenny Anderson earned around sixty million dollars during his NBA career. He married three times. Unfortunately the divorce with his first wife cost him a lot of money. Tami Akbar challenged Kenny into a prenuptial agreement that made her go with half his assets and eight thousand five hundred dollars monthly child support.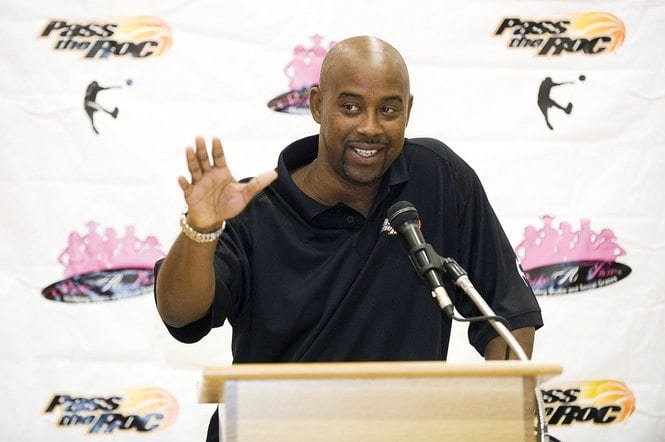 She went further and celebrated her victory and custom made a license plate that stated 'HIS CASH'. He was also supporting his six other children from the two other ex-wives and making payments on a house for his mother. He filed for bankruptcy claiming he had 41,000 dollars monthly expense to pay.
9. Eddy Curry
         -cash blown: $70 million
Curry's basketball career officially began when he was drafted for to the Chicago Bulls in 2001 NBA Draft. He even went ahead to sign a huge cash deal with the New York Knicks despite his cardiac problems. Something went wrong somewhere because his career earning at the NBA were $70 million before heading to china to play in the Chinese Basketball Association in 2012.
Curry is recorded to have numerous listed debts owing to the lavish lifestyle he had set for himself and his family. With decisions like taking up a 5 month loan at 85% interest rate, no wonder he could no longer be able to pay his bills.
8. Derrick Coleman
         -cash blown: $87 million
This ex-NBA star was drafted during the 1990 NBA Draft by the New Jersey Nets and had a successful career until his exit from the NBA in 2006. At the time of his retirement his total career earnings were just 9 million dollars shy of 100 million US Dollars.
By 2007 he was working as a private developer and entrepreneur in Detroit. His financial investments in real estate got the better of him when he was forced to file for chapter 7 bankruptcy due to a huge chunk of debt of over 2 million dollars among 50 of 100 separate creditors.
7. Shawn Kemp
         -cash blown: $92 million
Shawn raked in a staggering $92 million throughout his career so how did he loose it all? His bedroom shenanigans definitely drained up his wallet. Wherever he is now I am sure he regrets skimping out on $10 box of condoms as this would have saved him the burden of child support for his seven children of six different mothers.
Kemp's career earnings were being dished out slowly one at a time through child support checks like a really bad game of monopoly. He filed for bankruptcy back in 2003 and I bet that was a life changing decision he feels could have been avoided.
6. Vin Baker
         -cash blown: $100 million
Baker was a four-time NBA all star and within the period of his 13 year career, he had raked in a whopping 100 million dollars. It's sad to say now that the 43 year old, father of three is working at Starbucks. So where did the money go, we all wonder.
Towards the end of his career Baker developed a serious alcohol problem. That coupled with a series of misguided financial investments in the restaurant industry after his retirement in 2006 made his bank account run to zero. Vin's dependency to alcohol was not a good way to end a career.
5. Latrell Sprewell
         -cash blown: $100 million
He had an estimated career earnings of one hundred million dollars. He spent his money on yachts and an extravagant lifestyle. Currently he has approximately fifty thousand dollars and is living in a modest rental.
Sprewell was known for his altercation with coach, Carlesimo, whom he fought with and choked. This incident cost him dearly, and he was suspended from NBA for a year and his contract with Golden State Warriors was cancelled. He turned down a twenty seven million dollar, three year contract with the excuse that the money wasn't enough to feed his family. Shortly afterwards his two million dollar homes were foreclosed.
4. Gilbert Arenas
         -cash blown: $111 million
Gilbert is not yet bankrupt, probably because he is still being paid even though he hasn't played since 2012. He signed a six year contract of 111,000,000 dollars with the Wizards in the year 2008 and later on he was traded to Orlando Magic.
He still continues to live a life of luxury even though he's no longer playing for the NBA, this is all thanks to his contract. However, he's learning that money can quickly disappear. He has a personal shark, over two thousand pair pairs of shoes, massive gambling activities and a seven bedroom mansion all of which he can barely afford.
3. Antoine Walker
         -cash blown: $108 million
He won NCAA basketball championship before the age of 20. He became a basketball pro and three time All Star and then NBA Champion in 2006 with the Miami Heat. He made approximately one hundred and eight million dollars playing basketball. This money didn't last.
He's currently working to educate young athletes not to make the mistakes he made. He spent his money on cars, jewelry, and homes instead of thinking of the future. He's purportedly helped approximately thirty people move to a better financial status.
2. Scottie Pippen
         -cash blown: $120 million
Scottie earned over one hundred and twenty million dollars during his career with NBA. He then bought a Gulfstream jet in the year 2002. Actually, this is the worst mistake and investment he ever made. It made his bankroll get into a nine million dollar debt to banks and lawyers. The engine of the jet needed one million dollars worth of repairs because a missed inspection.
The jet got grounded and he sued his attorneys for misinspection, where he got a settlement of 2 million dollars. If only Scottie Pippen had made better investments and didn't waste his cash on a private jet that he couldn't even enjoy.
1. Allen Iverson
         -cash blown: $200 million
From riches to rags that's Iverson's life story. He raked in over 200 million dollars throughout his NBA career and now he is broke and 'What happened?" is the question on everyone's mind right now. Iverson was a spendthrift plain and simple. Throughout the period of his career he became accustomed to living a lavish life.
Do not get me wrong there is nothing wrong with treating yourself but know your limits especially when the checks stop rolling in. After his retirement, Iverson had no serious investments but he still continued spending his money like it was spare change.