No one ever expects to be kidnapped or taken hostage. But thousands of people find themselves fighting for their life every year and most can't do it alone. Plus, even more life-threatening situations occur due to natural disasters and human error. Regardless of the circumstances, people facing such situations can rarely do anything except hope that a rescue mission is already underway.
Sadly, life isn't anything like an action movie. Real heroes don't have supper powers, futuristic gadgets or assurances of success. Those who set out to save lives most often risk losing their own. Whether they're a member of a highly trained special-ops unit or just a good samaritan – every person who volunteered for a rescue op is a hero.
That being said, real-life volunteers and action heroes do share three things – clear objectives, admirable values and gargantuan balls a lot of courage.
[adinserter block="3″]
[adinserter block="8″]
It's impossible to objectively judge rescue efforts based on relative factors, such as their importance or level of success. So, instead, we listed the most epic, well-known rescues in modern history and ranked them according to odds of success.
Unlike Hollywood films, real-life rescue missions are complex and unpredictable. Most of these are famous, some are infamous but each story on this list teaches an important lesson, and they shouldn't ever be forgotten.
As demonstrated by #17 on our list, so-called rescuers are often the culprits behind the tragic ordeals. Yet, #1 reminds us that, in some cases, the (assumed) victims are the real heroes.
17. Moscow Theater Hostage Crisis
In 2002, Russian special forces conducted the deadliest rescue operation in modern history. It all started on October 23, when four dozen armed Islamic militants took almost 800 people hostage at Moscow's Dubrovka Theater. Led by senior Chechen operative Movsar Barayev, the group had a single demand – the withdrawal of Russian troops from Chechnya.
After three days of failed negotiations, officials ordered Spetsnaz troops to release an experimental chemical agent into the ventilation system. Apparently, the mystery gas was supposed to "subdue" the militants, allowing Russian troops to storm the theater. Less than 40 minutes later all 42 terrorists were dead. But so were 129 hostages, including 35 children. None of the civilians were shot – they died due to respiratory failure caused by the chemical.
[adinserter block="2″]
[adinserter block="7″]

16. Gilligan's Island Slingshot Rescue
In 1945, a group of 24 tourists decided to take a scenic flight over the rainforests of New Guinea. Their aircraft crashed, killing 21 of the group. The survivors' distress signals were answered almost immediately, but there was no way to land a plane or even drive a truck in the thick tropical forest.
Hiking the 40-mile stretch would be like playing Russian Roulette with a shotgun. Territorial natives aside, the stranded tourists would meet at least some of New Guinea's many venomous snakes and poisonous insects along the way.
[adinserter block="3″]
[adinserter block="8″]
Over the next three months, rescuers airdropped food and supplies but were unable to find a solution. For the three tourists, feelings of gratitude that come with surviving a plane-crash were soon replaced by a mix of desperation and fear. So, by the time someone proposed a borderline-crazy rescue plan, they were ready to try anything.
First off, the whole idea relied on the integrity of a 'Fanless Faggot' – an early motor-less air glider. If they could get it high enough, a glider may be able to carry them all to safety. It was airdropped in 16 parts and put together on the ground. And, how do you launch an offensively named, hand-assembled aircraft 20 feet into the air with 3 passengers aboard? With a giant rubber band, of course!
In true 50's-cartoon fashion, they strapped a bungee cord with a noose to the glider so a low-flying plane could hook it. To everyone's surprise, the plan worked. The "Fanless Faggot" was slingshot up into the air and proceeded to glide to safety.
[adinserter block="2″]
[adinserter block="7″]

15. Operation Nimrod
Operation Nimrod was the first military rescue mission in history to receive Live TV coverage. On April 30, 1980, six members of the 'Democratic Revolutionary Front for the Liberation of Arabistan' took 26 people hostage at the Iranian Embassy in Britain. Hours after they stormed the embassy, the terrorists demanded Live TV coverage, in addition to the release of 91 other DRFLA militants.
[adinserter block="3″]
[adinserter block="8″]
On May 5, when British officials were just about to budge, a gunman killed one of the hostages, tossing his body in the street. Since half of the world was watching, negotiating was no longer an option. But with 24 restrained civilians and six well-armed terrorists in the same room, even the best-case scenario was looking pretty grim for the hostages.
In an effort hailed as the "greatest special-op feat of the century," SAS forces executed Op. Nimrod flawlessly, clearing the embassy in just 17 minutes. A swift entry caught the terrorist off-guard and they were neutralized before harming 23 of the 24 hostages. On top of that, they captured one of the terrorists alive.
[adinserter block="2″]
[adinserter block="7″]

14. Rescue of George F. Brennan, Air-Force Cross Dresser
In 1945, the U.S. played a major role in pushing the Nazis out of Holland. The Air Force used giant cargo planes to get gliders in range of the enemy. George Brennan volunteered to be among the first to touch ground on occupied territory.
Before his glider was even released, the cargo plane carrying it was hit by German anti-air cannons. As if being shot in the shoulder, arm and ass wasn't bad enough, an armored truck exploded nearby, showering Brennan with shrapnel and propelling his aircraft outside. He managed to land the damaged glider but not without breaking a couple ribs and fracturing his skull. To sum it up, George had a pretty bad flight.
[adinserter block="3″]
[adinserter block="8″]
Luckily, Dutch resistance troops found the immobilized pilot and carried him to a nearby hospital. However, two days later, the Nazis stormed that hospital and Brennan's injuries were just starting to heal. Military training didn't prepare him for this but American sitcoms sure did.
Naturally, the injured pilot stuffed a pillow under his shirt, put on a skirt and told the Germans he was a pregnant woman in his most high-pitched voice. Really. His act held up for over a week, until Allied forces took back the hospital.
[adinserter block="2″]
[adinserter block="7″]

13. The Fall & Rise of Baby Jessica
In 1987, millions of Americans tuned in for CNN's Live News coverage of a heartbreaking drama. Just hours before the TV crew arrived, Reba McClure left her 18-month-old daughter in her sister's backyard, unaware that there was an abandoned well nearby. Baby Jessica fell down 22 feet and it took almost three days for rescuers to retrieve her. The 59-hour CNN drama touched the hearts of millions, though it still had less than half the audience of The Golden Girls. 
After the rescue, emergency responders were happy to report that they didn't find any permanent injuries. Jessica was alive and well. No pun intended.
[adinserter block="3″]
[adinserter block="8″]
Today, Jessica is a totally normal, brain-damage-free person. Sure, it must be frustrating that fans expect her to have developmental problems. But the $800,000 trust fund created by those very people eases that burden. Plus, she's (sort of) famous – Eminem has a song about Baby Jessica and she inspired an episode of The Simsons, in addition to a Bollywood movie. 
[adinserter block="2″]
[adinserter block="7″]

12. Apollo 13 Space Rescue
The 13th Apollo mission, launched in April of 1970, was supposed to study unexplored areas of the Moon over the period of four to six months. Unfortunately, just three days after takeoff, an oxygen tank exploded inside the cabin. NASA aborted the mission to focus on saving the astronaut's lives, which was even more of a long-shot then reaching 'the dark side' of the Moon.
[adinserter block="3″]
[adinserter block="8″]
The oxygen leak depleted air and water supplies, overloading Apollo's CO2 filters. With help from NASA's best engineers, the spacecraft was repaired just in time. They reentered the atmosphere on April 17, splashing into the Pacific Ocean with about four hours of air left to spare.
[adinserter block="2″]
[adinserter block="7″]

11. The Rescue of Roger Locher
Roger Locher was one of the best fighter pilots in U.S. Air Force history. He came back from Vietnam decorated with dozens of medals and volunteered for a second tour less then a year later. During one of his last scheduled flights, Locher's plane was shot down, forcing him to eject in the midst of enemy territory. When Locher made contact with a U.S. aircraft that happened to be in range, news of his survival made national headlines.
[adinserter block="3″]
[adinserter block="8″]
All over the country, analysts were arguing whether or not it would be prudent to risk dozens of other soldiers (and expensive aircraft) to rescue the stranded pilot. Meanwhile, General John Vogt decided to avoid risking Locher – he ordered all the 119 planes deployed in Vietnam to clear the perimeter and get America's star pilot home safely.
I said to myself, Goddamn it, the one thing that keeps our boys motivated is the certain belief that if they go down, we will do absolutely everything we can to get them out. So, I didn't ask anybody for permission. I just said, "Go do it! 
– General Vogt
[adinserter block="2″]
[adinserter block="7″]

10. The Great Raid on Cabanatuan
During WWII, the Imperial Japanese Army became notorious for their unusually cruel treatment of war prisoners. When Allied ground forces were defeated in Philippines, Over 3,500 American soldiers became Japan's POW. Because they could be used as bargaining chips, U.S. citizens were kept alive. But two years later, when the Allies returned in 1944, they had no intention of bargaining with Japan.
[adinserter block="3″]
[adinserter block="8″]
By January of 1945 only 1,500 or so Americans were still (barely) alive in Japanese prison camps. And that number would be down to 0 in a few weeks – less then it would take to move in position for an all-out offensive. So, instead of waiting for heavy infantry, 121 U.S. Army Rangers volunteered to take on twice as many enemy soldiers in a rescue mission later hailed as the war's "largest raid operation."
The assault was over in under 30 minutes. Losses were surprisingly small (six wounded and 11 dead). It took hundreds of Japanese Imperial troops to take out a dozen U.S. Rangers. Most importantly, over 500 Americans who were considered MIA came home that year. The mission was the inspiration for the 2005 blockbuster film 'The Great Raid.'
[adinserter block="2″]
[adinserter block="7″]

9. Operation 'Chavin de Huantar'
When the Japanese Ambassador to Peru was taken hostage inside his home, the President called upon the world's leading military expert to devise a rescue plan. The terrorists were highly trained and the ambassador's residence provided a perfect view of the surroundings. No one could get close to the building undetected and they threatened to kill a hostage each time an aircraft flies over it.
[adinserter block="3″]
[adinserter block="8″]
To gain the element of surprise, a tunnel had to be dug without the use of loud machinery. It took 122 days to prepare but, against all odds, operation 'Chavin de Huantar' was an overwhelming success. Within 20 minutes Peruvian forces eliminated all 14 culprits, losing two of their own Commandos and one hostage in the process. Japan's ambassador was evacuated right away, using the same tunnel as a safe exit.
[adinserter block="2″]
[adinserter block="7″]

8. Amiens Jailbreak
Officially, France surrendered to the Nazis two weeks after the invasion. However, the French resistance movement put up a fight to the very end. Germans had to free up Amiens Prison to fit all the captured partisans.
The Allies knew that freeing them would be the most effective step toward liberating France. But Amiens was located far from the front lines so ground forces wouldn't get there any time soon.
[adinserter block="3″]
[adinserter block="8″]
Somehow, the captured resistance fighters were able to pass along a message to Allied forces. They encouraged the idea of an air strike, which is insane considering the 1940's "precision" technology. Bombs were literally dropped from an aircraft and hitting a target was 90% luck and 10% wind speed.
To take down one of the inner walls, a pilot had to lower his plane within (literary) arm's reach of his target.
[adinserter block="2″]
[adinserter block="7″]

7. Rescue of Flight 571 Survivors & Left-Overs
Flight 571 – a private charter for Uruguay's 1972 rugby team members and their families – crashed into an icy mountain peak, 13,900 feet above ground and miles away from civilization. Though half of them died upon impact, 24 of the passengers survived the crash. However, the next few weeks of their lives were filled with more horror and gore then anyone should see in a lifetime.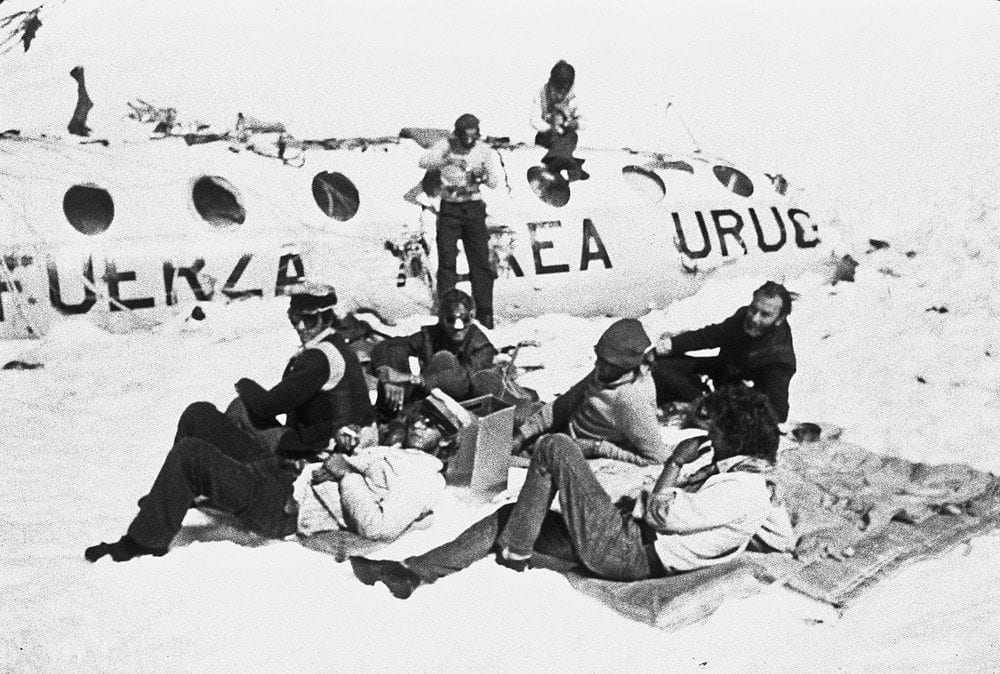 [adinserter block="3″]
[adinserter block="8″]
On October 29, eight went missing after an avalanche. On December 2, two of the survivors decided to venture down the mountain in hopes of finding help. Two weeks later, they reached a nearby village and, on December 23, the others were airlifted to safety.
At first, all of the survivors refused to discuss the ordeal, saying they just want to forget it ever happened. Years later, some finally spoke out about the cannibalism they had to commit to survive for so long. It turns out they even rationed their deceased friends and family members by un-froze one body at a time "so the flesh doesn't spoil."
Kind of makes you wonder if there was ever an avalanche, doesn't it?
[adinserter block="2″]
[adinserter block="7″]

6. Iceal "Gene" Hambleton Rescue
After his reconnaissance plane was knocked down over Vietnam,  Iceal Hambleton – a high-rank U.S. intelligence operative – parachuted down with nothing but a radio transmitter. The worst part was that he landed right in between two enemy battalions, which were getting ready to launch the largest Vietnamese offensive to date. And, though he could communicate with 'Home Base', he knew Viet intelligence was listening in.
[adinserter block="3″]
[adinserter block="8″]
There were two things Hambleton knew best – America's most classified secrets and the game of golf. And you'd never guess which one helped him escape a slow and painful death. He used "golf-talk" to communicate, which left Viet interpreters confused and allowed base to guide him out of harm's way.
They even made a movie about him, starring Gene Hawkman as Hambleton. Iceal didn't always like being nicknamed after the actor, but he's best known as 'Gene' Hambleton.
[adinserter block="2″]
[adinserter block="7″]

5. Operation Solomon
Conducted in 1991, Operation Solomon was a covert, multinational rescue that broke multiple world records. At the time, Ethiopian Jews (a.k.a. Beta Israel) were threatened by the ruling regime and a civil war that would follow. Israel collaborated with the U.S. government and Ethiopian rebels to transport 14,325 members of Beta Israel within 36 hours.
[adinserter block="3″]
[adinserter block="8″]
35 arcraft, including 12 Boeing 747s were stripped of seating and excess weight to fit as many people as possible. Each Boeing was supposed to carry 760 passengers but over 1,000 were allowed on board because all of them were at least 20% lighter then an average person. The operation set a world record for single-flight passenger load, with one 747 carrying 1,122 people. The same plane set another record – five women gave birth during the flight.
[adinserter block="2″]
[adinserter block="7″]

4. Hurricane Katrina Airlift
In September of 2005, the people of New Orleans became both the victims and the heroes of the largest rescue operation in American history. Nothing has destroyed so many of their lives as Hurricane Katrina and nothing brought them closer then the tremendous rescue operation that followed.

[adinserter block="3″]
[adinserter block="8″]
The 5,000 Coast Guard officers deployed to fly people to safety could never be as effective as they were if everyone didn't work together. The fact that the officers were armed suggests that authorities were expecting survival instincts to prevail. Instead, people put aside all their differences and made sure those who are injured get help first, followed by the elderly, pregnant women and young children.
About 51,000 people were airlifted in the first week of September. Unfortunately, the death count – 1,833 – is also among the highest in U.S. history.
[adinserter block="2″]
[adinserter block="7″]

3. The Lifeboat Pirate "Crisis"
On April 9, 2009, for the first time in 180 years, an American ship – the Maersk Alabama – was seized by pirates. The four Somalian gunmen robbed the passengers and boarded a life boat with a hostage. They have previously attacked six other ships and received millions in ransom money,though none of their hostages were American citizens. But, even when the USS Bainbridge – a 900-foot Navy warship – caught up to the pirates' 28-ft. lifeboat, they still refused to surrender.
[adinserter block="3″]
[adinserter block="8″]
U.S. Navy SEAL snipers received permission to use deadly force on April 12. Less then an hour later, they took out three of the pirates while a team of divers restrained the fourth one for questioning. The hostage, Captain Richard Phillips, volunteered to be the one taken off the Maersk Alabama.
Landing three head-shots moments after the dive team disarmed one of the pirates was quite a feat. But critics argue that saving the Captain should have been top priority, questioning why all four culprits weren't taken out without risking a hostage.
[adinserter block="2″]
[adinserter block="7″]

2. The Original A-Team Rescues U.S. Hostages From Iran
In 1978, when Iran was openly anti-American, two representatives of a U.S.-based electronics company were thrown in jail for (probably) fake bribery and money laundering charges. Luckily, their boss was Ross Perot – the insane, wealthy, incredibly influential war veteran who didn't take kindly to his employees being taken into custody. When diplomacy failed, Perot decided to break Chiapparone and Gaylorbust out of prison without government help.
Remember how we said that real life isn't anything like a Hollywood movie? Well, that is a rule but this guy is the exception. Ross Perot called in his network of old army buddies to assemble a vigilante strike team, rescue the hostages and drive off into the sunset.
[adinserter block="3″]
[adinserter block="8″]
Using intelligence he gathered by posing as a journalist, the former Commando constructed a detailed mock-up of the prison his employees were sent to. The strike team practiced storming it for weeks to plan out the perfect jailbreak. However, after he smuggled an arsenal and an armored truck into Iran, the hostages were transferred to another location.
At that point Perot could regrouped to come up with a new action plan or improvise some crazy idea and hope to beat the odds. Naturally, a few hours later, he organized a riot to distract the Iranians. Amid the resulting chaos, the team swooped in to grab Gaylord and Chiapparone.
[adinserter block="2″]
[adinserter block="7″]

1. The Presidential Rescue
All the rescue operations and excavations performed in the aftermath of 9/11 deserve their own list. Civilian volunteers and NYPD/FDNY officers who rushed to 'Ground Zero' before the dust even settled are true Heroes. But, while the most epic rescue mission in history was conducted on September 11, 2001, it took place hundreds of miles South of lower Manhattan.
[adinserter block="3″]
[adinserter block="8″]
Al-Qaeda operatives hijacked four flights that morning – one to hit the Pentagon, two aimed at the World Trade Center and another for the White House. Flight 93 never made it to Washington D.C. thanks to some of the bravest, most valiant people the world has ever seen. Everyone knows that they fought back but do you realize how symbolic their victory was?
First and foremost, they VOTED to go Bruce Willis on the hijackers. So, in a way, they defeated al-Qaeda with Democracy.
One of these glorious bad-asses used the loud-speaker system to say "Are you guys ready? Let's roll" minutes before the plane went down. A flight attendant called her husband while filling pitchers with boiling water. When she heard that it's time to roll, she told him "Everyone's running to first class, so I've got to go. Bye."
[adinserter block="2″]
[adinserter block="7″]