By now, every pub and cafe have already exhausted ways to incorporate Mason jars into their menu – exotic blend of juices in Mason jars, Mason jars with the wildest iced coffee creations imaginable, adorable desserts in ready-to-go Mason jars, salads, smoothies, and what have you. Even hipsters would be quick to tell you that mason jars just aren't that hip anymore. It doesn't mean you have to stow away your Mason jar collection just yet.
In case you didn't know: in 1858, John Mason patented the Mason jar to help homemakers preserve food for long periods of time. While bottling was not unheard of at that time, it was his creation that allowed for efficient and hygienic preservation of food. With the sophisticated refrigerators available now, food preservation is not much of a problem, but of course, you are most welcome to do it old school style. Otherwise, here are 31 creative ways to repurpose your Mason jar:
[adinserter block="3″]
[adinserter block="8″]
1. Pickling
Of course, no Mason jar DIY list must go without pickling as its numero uno, lest we offend the great Sir John Mason. Pickling is a great way to enhance and preserve the flavor of fruits and vegetables, not to mention, to extend its storage life. It is a wonderful idea for homes with a vegetable garden or plenty of fruit-bearing trees. It makes for wonderful presents, too. Pickling doesn't have to be intimidating! In fact, you can make refrigerator pickles, ready in just 24 hours. All you have to do is pick your produce, make your brine (usually just vinegar, sugar, and salt) and put in your spices (garlic, coriander seeds, black pepper, chili flakes – feel free to go wild). Pickled fruits and vegetables in Mason jars are handy for picnics and barbecues, road trips, or just munching straight out of the fridge.
[adinserter block="7″]
[adinserter block="2″]
2. Wall Organizer
A wall organizer is a fantastic way to bring your old Mason jars back to life – and also a chic way to bring order into your home. This takes minimal handy dandy skills but the rewards are amazing! To make a wall organizer, you would need a piece of wood (reclaimed wood would be perfect), metal picture hangers, and pipe clamps.
[adinserter block="3″]
[adinserter block="8″]
3. Poured Candle
A candle instantly adds drama and flair to any room. It's pretty helpful, too, when you're trying to keep the utility bill low. One of the best things about making poured candles in Mason jars is that you can just keep refilling when the wax runs out. Feel free to play with colors and scents!
[adinserter block="7″]
[adinserter block="2″]
4. Sewing Kit
Once you move out of your parents' house, it kind of makes you wonder when the right time is for you to have your own sewing kit. The thought may sound too spinster-ish but a sewing kit can prove handy in one too many occasions. Oh, and you can make it as hip as you are!
[adinserter block="3″]
[adinserter block="8″]
5. Oil Lamp
There's something that is just so utterly romantic about an oil lamp. The nostalgia brings you back to that time when men opened doors for ladies, when Tinder hasn't yet replaced handwritten letters on fragrant paper, when children still played outside instead of being glued to computer screens. To make your own oil lamp, you just need a wick, lamp oil, and scented oil if you wish.
[adinserter block="7″]
[adinserter block="2″]
6. Pendant Lights
Pendant lights lend an earthy, boho vibe – especially gorgeous in any outdoor setting, like giant fireflies glowing in the dark. It's pretty easy to make pendant lights from Mason jars. Just go to your neighborhood hardware, ask for the pendant light kit (yup, hardware stores already have them in sets), take out your jars, and assemble.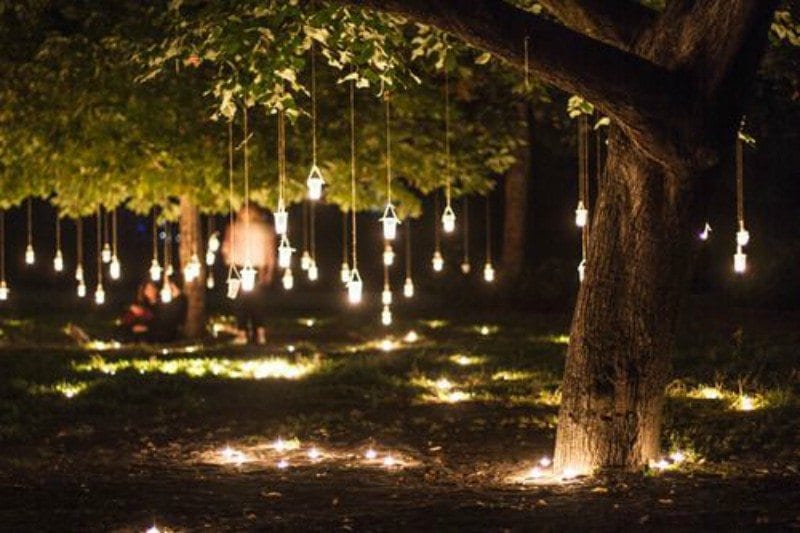 [adinserter block="3″]
[adinserter block="8″]
7. Tea Light Chandelier
Okay, if Mason jar pendant lights are easy to pull off, tea light chandelier is much, much easier. It requires practically DIY skill level zero, that's how easy it is. To make, you would need tea candles, your desired chandelier base, and your Mason jars of course. If you're feeling extra creative, you may want to accessorize each jar with sand, pebbles, or some pretty shells, or experiment with different sizes of candles.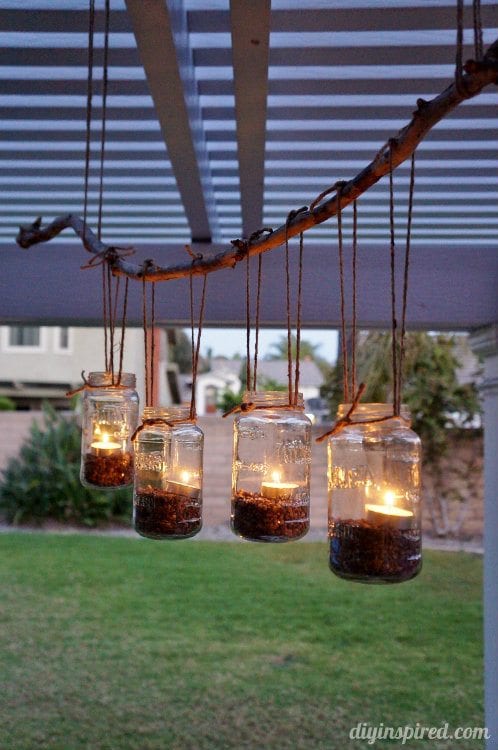 [adinserter block="7″]
[adinserter block="2″]
8. Match Holder
A Mason jar match holder makes for a really adorable giveaway. Take the top out of the lid, replace with sandpaper, and attach a cute label. It sure beats a matchbox, which becomes totally useless when wet.
[adinserter block="3″]
[adinserter block="8″]
9. Natural Air Freshener
It's always a great feeling walking into a house that smells good, and it's even better when you're smelling natural scents. Store-bought air fresheners are not for everyone, especially not for people with asthma and sensitive noses. You can make your own natural air freshener by simmering your favorite scents in water and then storing in Mason jars. Does the combination of orange, vanilla, and ginger intrigue you? What about lemon, rosemary, and nutmeg? The possibilities are endless!
[adinserter block="7″]
[adinserter block="2″]
10. Magnetic Spice Rack
How awesome would it be to not have to constantly fumble through your pantry for spices? A magnetic spice rack is a fantastic way to organize your spice collection. Glue magnets to the lids of your Mason jars, fill the jars with spices, label accordingly, and stick 'em to any stainless steel surface.
[adinserter block="3″]
[adinserter block="8″]
11. Handicrafts Station
Crafters, rejoice! You know how at times you want to immerse yourself in crafting, but the idea of making a mess and cleaning it up turns your mood around? Well, a space-efficient handicrafts station helps you minimize your mess, whilst making cleanup a bit more of a breeze.
[adinserter block="7″]
[adinserter block="2″]
12. Indoor Herb Garden
How satisfying would it be to cook with herbs that are freshly picked from your own herb garden? Herbs are fairly easy to grow, and can actually be grown right on your kitchen windowsill where the sunlight can penetrate. Allow one month from planting for you to fully reap the benefits of your herbs.
[adinserter block="3″]
[adinserter block="8″]
13. Aquarium
Ditch the old fish bowl, and transfer your pet to a Mason jar aquarium. Put in some pebbles, a water plant, and maybe a fun toy to keep your fish entertained. A Mason jar aquarium is also easy to transport, so who knows, maybe soon it will replace the dog-on-a-leash status quo?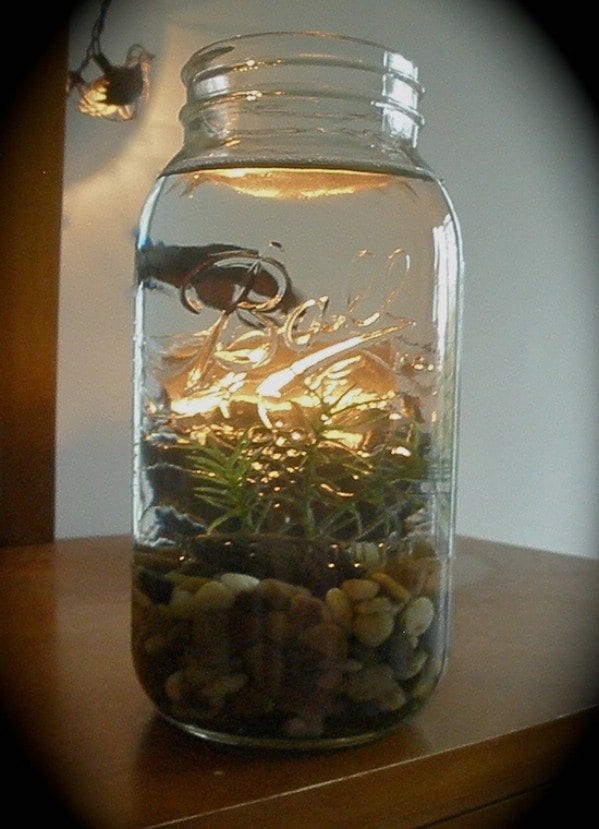 [adinserter block="7″]
[adinserter block="2″]
14. Photo Jars
Mason jars give a new dimension to photos. They give a vintage vibe to photos, especially black and white prints. To turn your Mason jars into photo frames, you will need oil (vegetable, olive, or canola will do), and photo that has been trimmed to fit. It will also be a good idea to put in some dried flowers for decoration.
[adinserter block="3″]
[adinserter block="8″]
15. Soap Dispenser
Save money on soap by making a gorgeous soap dispenser out of your Mason jar. To assemble, you will need a soap pump (you can buy in stores or reuse from your old dispenser), a drill, and decorations of your choice. You may wish to paint your jar, accessorize it with twine, glue embellishments, or what not.
[adinserter block="7″]
[adinserter block="2″]
16. Fireflies in a Jar
Turn your Mason jar into a jar of enchantment by making "fireflies in a jar". While it would be cool – and totally cruel – to actually trap fireflies in your jar, you can recreate the wonder by using glow sticks and glitter. Yes, glow sticks! Cut your glow sticks open and pour the contents into the jar. Sprinkle a generous amount of gold glitter inside. Place the lid, shake, and be mesmerized.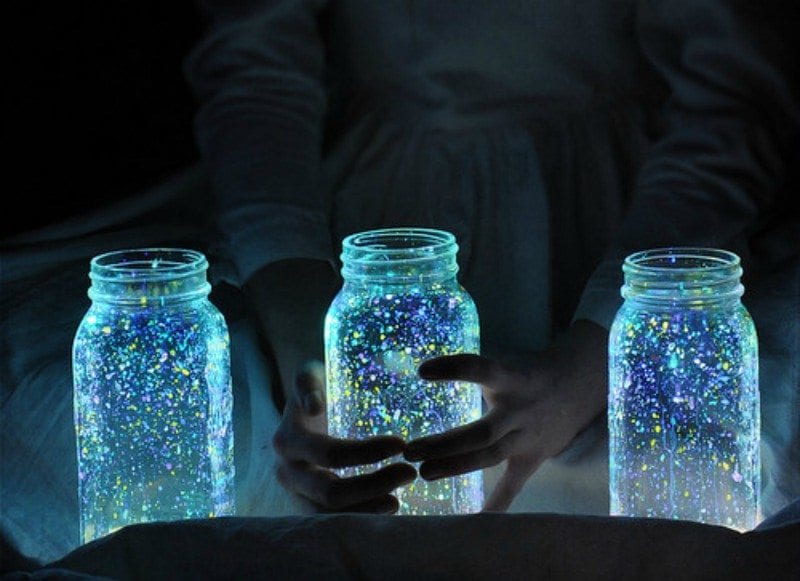 [adinserter block="3″]
[adinserter block="8″]
17. Tissue Holder
How do you turn a plain old unexciting tissue holder into something that inspires conversation? Take out your Mason jar collection, your crafts station, and get crafting! Take inspiration from the upcycled Mason jars below: paint the insides with acrylic, glue silver glitters to the bottoms, and stick something cute on the lids.
[adinserter block="7″]
[adinserter block="2″]
18. Speaker
This is possibly the coolest DIY project on this list. When your ordinary speakers just aren't loud enough, a Mason jar might be perfect for the job. A Mason jar speaker requires a speaker kit that you can buy from audio stores, and also a solder and a soldering iron. It also calls for some electrical DIY know-how, but isn't at all hard to assemble. A DIY noob can get it up and going in just about an hour. Sounds awesome, huh?
[adinserter block="3″]
[adinserter block="8″]
19. Office Caddy
Make your work cubicle neat and organized with a Mason jar office caddy that takes less than 5 minutes to assemble. Hot glue Mason jars together, wait to dry, and you're set. How impressive is that?
[adinserter block="7″]
[adinserter block="2″]
20. Snow Globe
Snow globes are fun to stare at when you're writing an important paper but cannot figure out the right words. Snow globes don't have to be just a Christmas thing. It's always snowing somewhere, right? To make your own snow globe, you will need a Mason jar of your desired size, a figurine – and other toys – of your choice, water, water-resistant glue, and glitter. Let your creativity run wild!
[adinserter block="3″]
[adinserter block="8″]
21. Salt and Pepper Shakers
This is possibly the easiest DIY project among all DIY projects! All you need is to punch holes into the lids using a nail and a hammer et voilà! You can also do this with cinnamon, sugar, chocolate powder. Good luck not wanting to put all your spices in Mason shakers!
[adinserter block="7″]
[adinserter block="2″]
22. Terrarium
A Mason jar terrarium is a quick and interesting way to liven up any home, especially city homes and condominiums where a sight of nature is hard to get by at most times. Choose a pocket of nature that you wish to keep within reach. You can make a beach terrarium, a moss terrarium, a garden terrarium; with nature, how many possibilities do you actually have?
[adinserter block="3″]
[adinserter block="8″]
23. Lamp Base
A DIY Mason jar lamp base project is that kind of DIY project that can get you smiling from conception straight up to the finished product. It may seem intimidating but really, all you need is a lamp kit, a lamp shade, and some handy dandy assembly skills. There are so many ways you can design your Mason jar lamp base – paint, stencil, applique, fabric, shells and pebbles, glitters, and the list can go on and on.
[adinserter block="7″]
[adinserter block="2″]
24. Hanging Flower Shelf
It goes without saying that you can turn a Mason jar into a flower vase, or any vessel for that matter, but look at this genuinely refreshing and creative DIY idea – a hanging flower shelf. It brightens up any drab wall in an instant. It can be hung alongside photo frames as accent. It can be an actual flower garden shelf. Wow, talk about flower power!
[adinserter block="3″]
[adinserter block="8″]
25. Cookie Jar
Okay, before you argue that you can turn just about any jar into a cookie jar, the whole idea is to dress up the Mason jar to make it more fun and appetizing. You can glue a topper to the lid, dress up the body in gingham, or put bright stickers. Another idea: a pre-cookie jar. Stuff all the ingredients to make your favorite cookie and save for future use.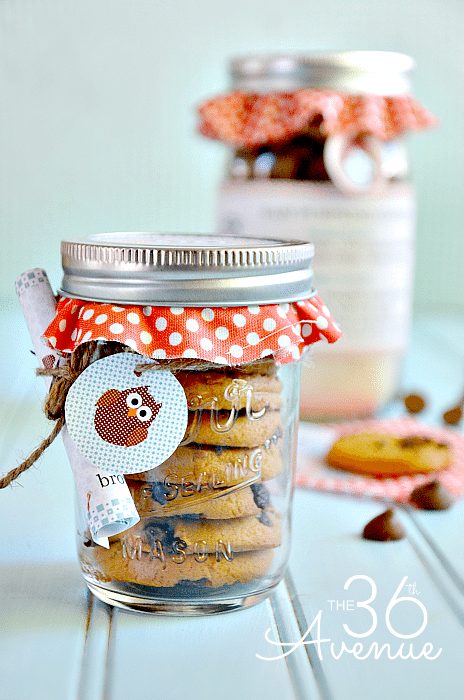 [adinserter block="7″]
[adinserter block="2″]
26. Time Capsule
Are your mementos creating a huge clutter in your room yet you can't throw them away? Instead of just retiring them to the attic, you can make a Mason jar time capsule. You can group your knickknacks according to a year in your life, or probably a vacation, or a project at work. Label each jar so it's easy once you want to take a trip back to memory lane.
[adinserter block="3″]
[adinserter block="8″]
27. Pencil Sharpener
Won't it be cute to not always have to catch pencil shavings with your hand? A Mason jar pencil sharpener is so easy to make. Just drill a hole into the lid that is big enough to accommodate a pencil sharpener. This project is perfect for students, architects, and artists.
[adinserter block="7″]
[adinserter block="2″]
28. Luminary
The prospect of turning a Mason jar into a luminary is met with a myriad possibilities. There are so many versatile ways you can turn a Mason jar into a light source. Dressing up the jar with stencil yields lovely patterns, so that is always nice to look at. You can also use puffy paint, pebbles, and foam letters. Oh, a trip to the craft store would indeed be so fun!
[adinserter block="3″]
[adinserter block="8″]
29. Bird feeder
Show your fine feathered friends your home isn't just like any others' by making an adorable Mason jar bird feeder. You only need to attach the jar to a chicken feeder, which can be bought at a pet supplies store. Another idea: you can fill the jar with jelly beans and M&M's, and you got yourself a candy dispenser.
[adinserter block="7″]
[adinserter block="2″]
30. Cupcake Holder
We totally tried to steer clear from food-in-a-jar ideas, but this is so infinitely gorgeous, we just couldn't resist!
[adinserter block="3″]
[adinserter block="8″]
31. Glam It Up
A Mason jar is one of the most versatile instruments to ever be created by man. In fact, this list can go on and on and on and there would still be a high probability that a lot will be left out. Our parting words – whatever you decide to do with your Mason jar, don't be afraid to glam it up. Use rich, metallic paints. Be liberal with glitters. Work on your typography. Matte your jar. Dress it up in lace. Dress it up in jewels. You'll thank yourself, that's for sure.
[adinserter block="7″]
[adinserter block="2″]