Intelligence is a highly sought-after quality. Especially In the wake of 2016 US elections, many Americans are depressed and questioning our collective intelligence. Trump-Hillary candidacy blunder aside, you can find smart people everywhere, even in places you least expect.
Sports is not associated with intelligence a lot, and in the cases of some players and sports that is a correct assumption. Especially when people are watching football, they think the players are all muscle but no brains. That cannot be farther from the truth. Most of these players are very intelligent. They have excellent education and some of these players spend more time studying than playing football. Don't judge a book by its cover they say.
[adinserter block="3″]
[adinserter block="8″]
Behind these beefy stars who brutally complete, there are intelligent minds. Some NFL players are so smart that they would've done well in complex sciences such as Physics and Mathematics.
Football isn't all about muscling through. You need planning, you need strategies, and you have to do paperwork. Football is an intelligent sport. Intelligence is the most underrated qualities these days. Kids love athletes who are good at their respective sport. Rarely do intelligent athletes get credit for being smart.
Therefore let's end their misery and recognize them for who they are.
Here is a list of 20 NFL players that are extraordinarily smart with exceedingly high IQs.
20. Rosey Grier
Rosey Grier was an accomplished player in his time. He played for two separate teams; LA Rams and Giants over the course of seven years. He played alongside players like Merlin Olsen, Lamar Lundy, Deacon Jones and Frank Gifford. Football was not the only thing he was good at. Grier is also known as an artist, musician, author, actor, manager, ordained minister and motivational speaker – damn!
Grier was as active off the field as he was on it. He passionately participated in local, state and national politics. He was Bobby Kennedy's personal bodyguard throughout his 1968 presidential campaign. He was later appointed on board of trustees for a non-profit education foundation.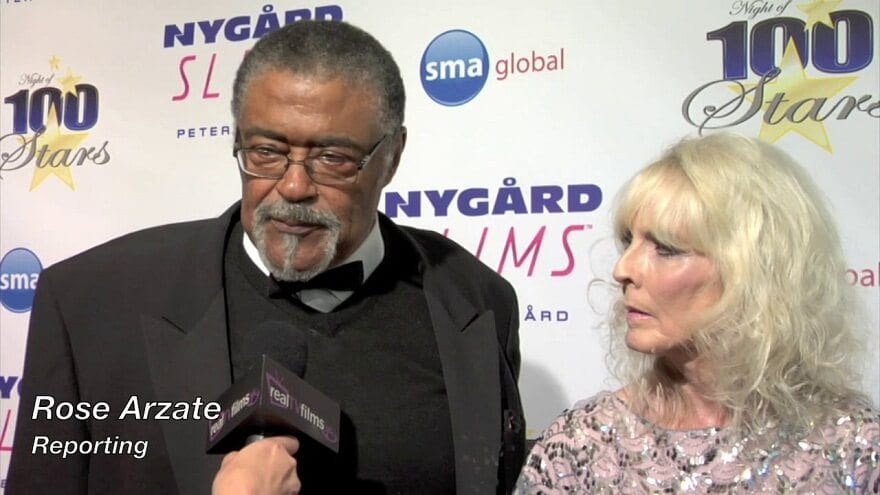 [adinserter block="7″]
[adinserter block="2″]
19. Matt Birk
Matt Birk is one of the most stellar entries on this list. Birk studied economics from Harvard University. He holds an economics major. He was picked in the sixth-round in 1998 NFL draft. Within two years, he became a regular starter and also earned a Pro Bowl spot. During his playing time, he was known for being outspoken including criticizing then NFLPA director Gene Upshaw.
[adinserter block="3″]
[adinserter block="8″]
After finishing college Birk started working on Wall Street. He has accomplished a lot as both financial adviser and investor. The Sporting News rated him the sixth smartest athlete in professional sports of all times.
In 2002 he established HIKE foundation for under privileged school and college children.
[adinserter block="7″]
[adinserter block="2″]
18. Tim Green
Tim Green is not an ordinary smart person, he is exceedingly smart. He is author of 16 book! Including New York Times best-selling novel: New York State's Senate. He also won Rhodes scholarship in 1987. He played for seven years in NFL. While playing pro football he was also studying law at Syracuse. Currently Tim Green is a licensed practicing lawyer in New York.
[adinserter block="3″]
[adinserter block="8″]
Once accomplished player Green is now a renowned attorney. He founded a law firm called Team Green Services PLLC. Their offer services regarding criminal defense. Many of his clients testify that Green gives outstanding legal advice and has quickly amassed a huge reputation.
[adinserter block="7″]
[adinserter block="2″]
17. Benjamin Watson
Benjamin Watson was selected during the first round draft by New England Patriots, then defending champions. He won Super Bowl during his very first season. During the course of his career he recorded 22 touchdowns and 207 completed passes.
[adinserter block="3″]
[adinserter block="8″]
Before he joined NFL, he did some amazing things, one of them included a Wonderlic test. Watson scored an amazing 48 on the test. He is rumored to have an IQ of 172. Apart from being author and professional football player, he has also worked as an analyst for Fox Sports. We can safely assume that he is investing his $917,000 salary quite efficiently.
[adinserter block="7″]
[adinserter block="2″]
16. Jeff Hostetler
Jeff Hostetler was a star student in Penn State in 1980s. He was fond of football and because of unfavorable playing conditions, despite with his 3.92 GPA, Hostetler decided to transfer to Morgantown. He continued his academic brilliance at his new school. He attained majors in finance and economics. He was also nominated for Rhodes scholarship, but Hostetler didn't take it up. He wanted to pursue his career in the NFL.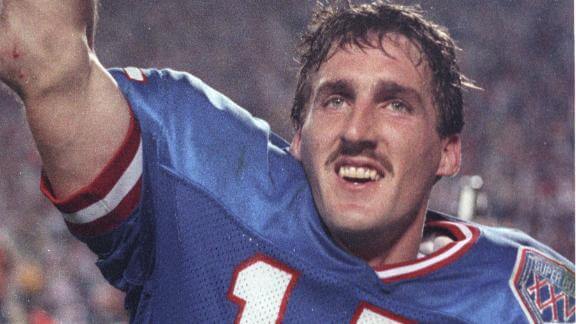 [adinserter block="3″]
[adinserter block="8″]
He played an important role in Giants' victory at the Super Bowl XXV. After the 1994 season he received a Pro Bowl. He currently makes his leaving as an investor. He invests his NFL money in different ventures and seems to be doing quite well.
[adinserter block="7″]
[adinserter block="2″]
15. Oliver Luck
Oliver Luck replaced our last entry Jeff Hostetler as starting quarterback at West Virginia. Just like his predecessor, Luck too had a gifted mind. He was nominated for Rhodes scholarship, he was twice crowned Academics All-American. His professional career didn't take up though, he only started in nine games, threw 13 touchdowns and 21 interceptions.
[adinserter block="3″]
[adinserter block="8″]
After his playing career, Oliver Luck became a lawyer. Due to his brilliant mindset he was hired by many sports organizations in managerial and executive roles. One of his sons Andrew aspires to be an NFL star one day while his daughter Mary Ellen plays amateur volleyball.
[adinserter block="7″]
[adinserter block="2″]
14. Calvin Hill
Calvin Hill who also played in the NBA, was a four-time Pro Bowler in NFL. He studied finance major from Yale University on scholarship. One of his classmates was former US president George Bush. He then went on to study theology at SMU. Apart from a stellar academia and NFL career, Hill has served consultant and adviser to several politicians such as Senator John Glenn.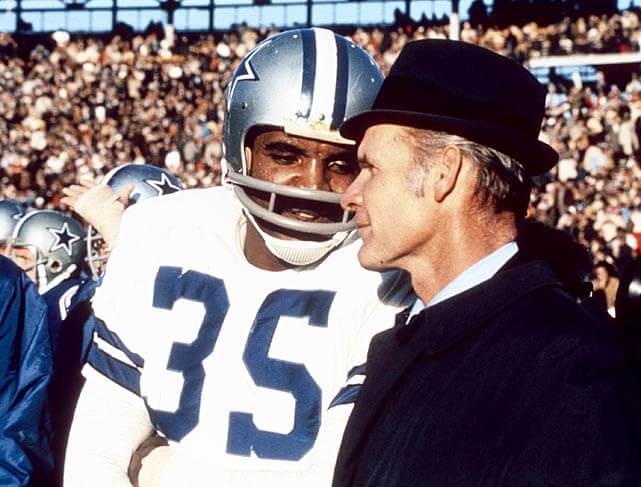 [adinserter block="3″]
[adinserter block="8″]
After retirement, he was appointed vice president of Baltimore Orioles. He currently works as chief financial consultant for Fleet Financial Services. Thanks to his amazing IQ, Hill has accomplished a lot in various fields of life.
[adinserter block="7″]
[adinserter block="2″]
13. Toby Gerhart
Toby Gerhart was a student at Standford when he was selected for Pac-10 in the All-Academic team. He was studying engineering and as well as playing amateur for Cardinals. Gerhat was the runner-up in the 2009 Heisman trophy, he lost to Saints' running back Mark Ingram in a very close vote.
[adinserter block="3″]
[adinserter block="8″]
After becoming a regular in NFL, Gerhart had his role fixed. He was to support and share the workload for Adrian Peterson. He was signed by Jaguars in 2014. He is known to have great wits and a likeably personality. In the NFL circle he is known as one of the best brains in the football community.
[adinserter block="7″]
[adinserter block="2″]
12. Sam Acho
Sam Acho had a great impact on NFL when he was picked in fourth round. While playing for Arizona Cardinals, Acho gave magnificent series of performances.  He forced four fumbles along with seven sacks. But that is not the reason why he got onto this list. Acho did his major in Business Marketing with a 3.62 GPA from University of Texas.
[adinserter block="3″]
[adinserter block="8″]
Sporting News rated Sam Acho is one of the brainiest football players. Todd Bowles, the current coach of Jets credits Acho intelligence for his success. Bowles believes that Acho strategizes himself very well and hence has become a solid defensive player. Acho is currently playing for the Bears.
[adinserter block="7″]
[adinserter block="2″]
11. Blaine Gabbert
Blaine Gabbert is considered to be a draft "bust". While his accomplishment on the field are barely satisfactory, at least he has his smartness to boast about. Gabbert recorded a whopping 42 on Wonderlic test score. Gabbert had a promising career but he threw it all away by series of poor shows in NFL.
[adinserter block="3″]
[adinserter block="8″]
He was traded to 49ers in 2014. However, after an unspectacular season he was formally signed up by San Francisco 49ers for a two year deal. The deal was worth $2 million. He has recently come into criticism for underperforming. We are sure he will have a lot of opportunities outside the NFL world given his brilliant mind.
[adinserter block="7″]
[adinserter block="2″]
10. Drew Brees
Drew Brees has had an adventurous run in his playing career to say the least. He did extremely well academically at NCAA level. He won the player of the year award Academic All-America while playing amateur for Purdue. In 2001, Brees graduated with flying colors attaining a majors in Industrial Management.
[adinserter block="3″]
[adinserter block="8″]
In 2005, his team Chargers traded him for free as they feared his shoulder injury was too severe. New Orleans snatched him and many believe it to be the greatest move ever among free agent signings. In 2010 Drew Brees was voted as the "second best IQ" in NFL by Sports News.
[adinserter block="7″]
[adinserter block="2″]
9. Richard Sherman
Richard Sherman is a more efficient strategy maker than he is a player. During an NFL game in 2014, he gave a very aggressive interview that shock the football world. Sherman later said that he had planned to make waves all along in order to create a better market around for the league in Seattle.
[adinserter block="3″]
[adinserter block="8″]
Sherman attained an impossible 4.1 GPA and was ranked second best in his class. He subsequently landed a Stanford scholarship. His extensive theoretical study has turned him into an All-Pro comerback. He says he studies every player and every team extensively. He has notes on every single receiver in the NFL on his iPad.
[adinserter block="7″]
[adinserter block="2″]
8. Robert Smith
Robert Smith enjoyed great success with Vikings. He was a Pro Bowler and ground leader of Vikings' offence in the 1990s. In 2000, he reached the peak of his career when he made an amazing dash of 1521 yards. But it seemed like his heart was set on academia not football. At only 28 years old, he took retirement.
[adinserter block="3″]
[adinserter block="8″]
Initially it was believed he retired to enlist in medical school. But that never materialized. Instead he now works as a Program Manager at a software company that provides services to health care organizations. He published his autobiography in 2004. Apart from that he likes orchestra and astronomy.
[adinserter block="7″]
[adinserter block="2″]
7. Alex Smith
Alex Smith will be best remember for his extraordinary selection. He got selected first by Bay Area team in a draft where Aaron Rodgers of California slipped to 24th. Despite his love for the game, Alex never let up on his education. He graduated from University of Utah with a GPA of 3.74. He guided San Francisco to NFC Championship in 2013.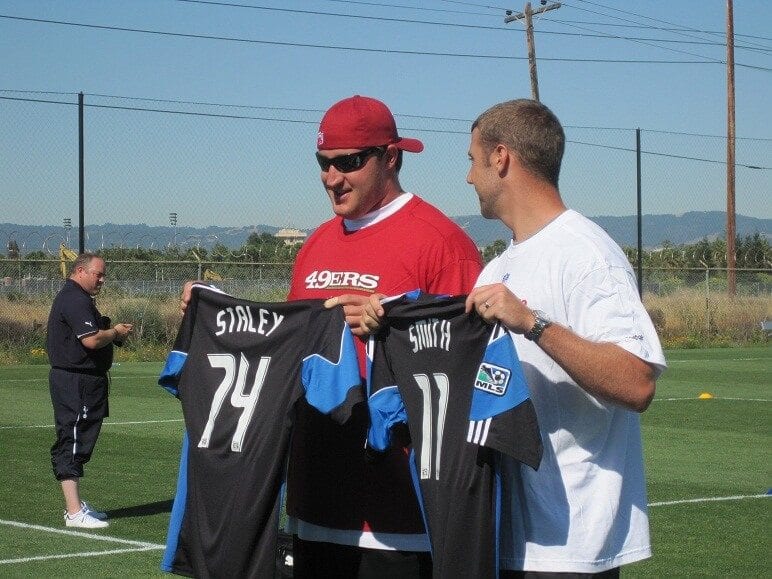 [adinserter block="3″]
[adinserter block="8″]
Smith's career in the limelight was cut shot due to Colin Kaepernick's emergence. When Kaepernick came through Smith was forced to sign a deal with Chiefs. While Kaepernick became a golden boy for 49ers, Smith continued to amaze NFL followers with his bright mind and educational credentials.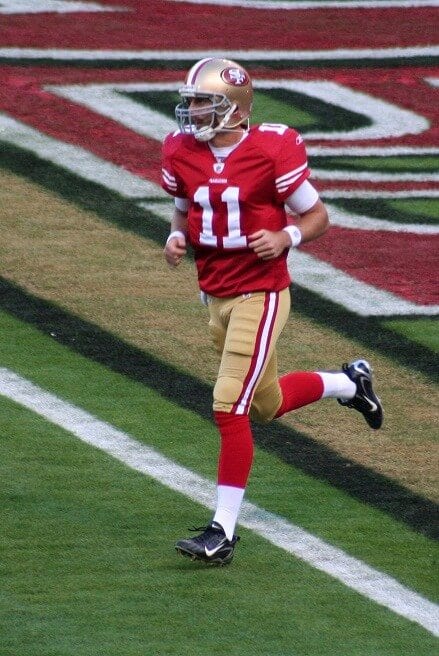 [adinserter block="7″]
[adinserter block="2″]
6. Peyton Manning
Peyton Manning played 18 seasons in the NFL. Despite falling on the wrong side of 30s before his peak, he never gave up. His strict physical regime along with a calculative mind allowed him to maintain himself as a stellar player. He graduated with an impressive GPA of 3.61.  He retired in 2015 and seems destined for hall of fame.
[adinserter block="3″]
[adinserter block="8″]
Manning is unique because he guides his team with a coordinated verbal exercises. Before each game, he gathers all the players around in a systematic way and chants slogans while giving a pep talk. He is known to have extensively read defensive strategies of all his opponent teams. This physical endurance and quick thinking has earned Manning four Super Bowl championships.
[adinserter block="7″]
[adinserter block="2″]
5. Charles Woodson
Charles Woodson has a great mind. He can think and strategize so quickly that changing position has not mattered throughout his career. Woodson made switches from various positions with ease. When he was 38 years old, he was asked by Raiders to switch to free safety from corner. Woodson didn't break a sweat and did it with ease. Sports psychologists have attributed this quality to high level of intellect.
[adinserter block="3″]
[adinserter block="8″]
Woodson is a team man, he has qualities that make him a rare breed. He has recorded 60 interceptions. He backs up his junior team mates and imparts wisdom. Also he is the only defensive player in the NFL history to win the Heisman trophy.
[adinserter block="7″]
[adinserter block="2″]
4. Desmond Bryant
Desmond Bryant lived them dream of many academics throughout the world. He graduated from one of the most prestigious schools Harvard University. Bryant played as a defensive lineman at Oakland. He joined the team as undrafted free agent. His career didn't pick up immediately though. He struggled to find footing at first.
[adinserter block="3″]
[adinserter block="8″]
After four seasons of an undesirable career, Bryant decided to take a gamble. He tested free agent market and secured a shock deal. Despite his unspectacular record, he secured a five year deal worth $34 million with Cleveland Browns. 28 players before Bryant has graced NFL from Harvard but among these players, Bryant scored the second highest score in Wonderlic.
[adinserter block="7″]
[adinserter block="2″]
3. Ryan Fitzpatrick
Another Harvard entry. We mentioned Desmond Bryant as the second highest Wonderlic scorer from Harvard. Meet the first; Ryan Fitzpatrick. Fitzpatrick wears a grizzly beard and is a starting quarterback for New York Jets. While looking more like a biker than a football player, Fitzpatrick is amazingly intelligent and is said to have IQ in access of 170s.
[adinserter block="3″]
[adinserter block="8″]
Fitzpatrick is a modest albeit a solid player. He may not make headlines for firepower but he is consistent. During his years at Harvard, he became the first player in school's history to rush for 1,000 yards. He has played for teams like Cincinnati Bengals, Buffalo Bills, Tennessee Titans, and the Houston Texans.
[adinserter block="7″]
[adinserter block="2″]
2. Tom Brady
Tom Brady isn't in this list for academic qualifications. His Wonderlic score was 32 which is considerably lower than all entries in this list. However when it comes to that, Tom Brady has one of the best football minds in game. His quick thinking and tactics often leaves opposition defenses clueless. He is rated as one of the best quarterbacks in the current line of players in NFL.
[adinserter block="3″]
[adinserter block="8″]
Brady plays for New England Patriots where he is teamed with Coach Bill Belichick. The duo have formed a brainy partnership and their combined genius has worked well for Patriots over the years. Brady has won three Super Bowl MVP (Most Valuable Player) awards.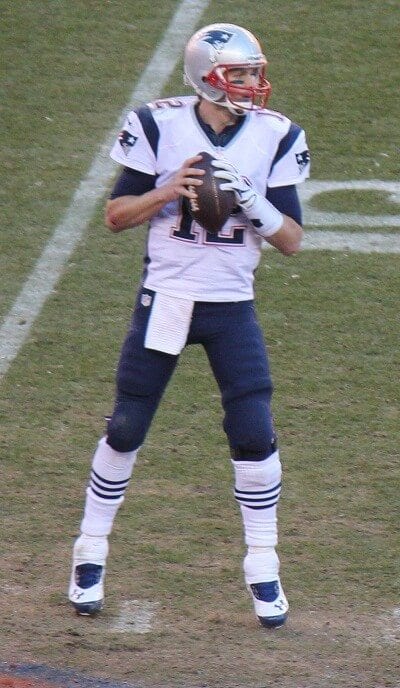 [adinserter block="7″]
[adinserter block="2″]
1. Jason Garrett
When Troy Aikman the interim head coach of Dallas Cowboys met Jason Garrett, he was impressed with his intellect. Troy stated that Garret can do anything he want, can become anything he want, "even if he wanted to become United States president" – due to his astonishing acumen and wisdom. As a player and head coach, Garrett has secured similar endorsements.
[adinserter block="3″]
[adinserter block="8″]
Garrett studied at Princeton University through scholarship. He played football for various teams from 1990 – 2004. In 2010 after various coaching stints, he was signed as a head coach of Dallas Cowboys. There are NFL retirement speculations around Garrett. But given his high IQ, it won't be a problem for him to land another job.
[adinserter block="7″]
[adinserter block="2″]