The Greatest Hitters Ever
Baseball. American's Pastime. Very few sports offer a relaxing environment where you can enjoy a sporting event and a great conversation with friends and loved ones. While the sport is not as chaotic or violent as American Football nor as fast paced as Basketball – no other sport offers the same level of statistical analysis, philosophical debate, and a range of differing opinions derived from intelligent perspectives.
People ask me what I do in winter when there's no baseball. I'll tell you what I do.  I stare out the window and wait for spring. – Rogers Hornsby

Baseball is the only field of endeavor where a man can succeed three times out of ten and be considered a good performer. – Theodore Samuel "Ted" Williams

soccerwidow.com
[adinserter block="3″]
[adinserter block="8″]
The best part about baseball is that those with objective opinions can disagree on who is considered the best players. So anyone reading this list could very well give compelling arguments as to why they feel I'm wrong about the order, who was omitted, or a number of other factors. I considered a number of factors while compiling the list and spent hours analyzing various numbers and expert opinion on the topic as well.
One of the beautiful things about baseball is the history. – James Anthony Abbott
Here is the list of the 15 Best Hitters of All Time!
15. Barry Bonds
Yes, the face of the steroid scandal and the statistical Home Run King(*) hitting 762. Before his "bulking" up Barry Bonds was well on his way to becoming one of the greatest hitters of all time. While his career (and dozens of others from the Steroid Era) have question marks around their career, it's difficult to ignore how great of a player Bonds was in his prime. He's also 14th All Time in Doubles with 601, 2nd All Time in XBHs with 1,440, 6th All Time in OBP with a .444 clip, 4th all time in RBIs (Runs Batted In) with 1,996, and is the All Time leader is Walks as well with 2,558.
What would his numbers have been without enhancement? Who knows, but he definitely was on his way to having a Hall of Fame career. Either way, Barry Bonds was a fantastic player in his prime and may one day end up in the Hall of Fame if sentiments change and he is forgiven. He would have most definitely been higher on this list without the connections.
[adinserter block="2″]
[adinserter block="7″]
14. Tony Gwynn
Mr. Padre played his entire 20 year career in San Diego. His .338 career batting average ranks 17th All Time. While not known for his power, he is known as one of the toughest outs in history only Striking Out only 4.7% of his plate appearances during his career and boasting 3,141 Hits (also 17th All Time). Gwynn put up outstanding numbers late into his career hitting .372 during the 1997 (turned 37 during the season).
[adinserter block="3″]
[adinserter block="8″]
Tony Gwynn was known as a world class human being who excelled professionally no matter the situation he was in. Few hitters throughout the history of baseball have been as skilled as the plate as Mr. Gwynn. Since Tony came into the league only Ichrio Suzuki mirrored his success in a similar fashion. For anyone that had the joy to watch Gwynn perform will never forget how special he was.
[adinserter block="2″]
[adinserter block="7″]
 13. Mel Ott
Master Melvin spent his 22 year career as a member of the Giants (New York) and accumulated 511 Career Home Runs (24th All Time). His 1,708 career walks sit 9th in the record books, while his .414 career OBP rests at 26th, and his 1,860 RBIs are 12th All Time. There is no doubting the offensive machine that was Mel Ott who is not well known among younger baseball fans, his career having spanned from 1926-1947.
[adinserter block="3″]
[adinserter block="8″]
The 12th time All Star should not be forgotten in the annuals of history. While his name is not as recognizable as some of his contemporaries his career numbers can be compared to theirs with admiration and is one of the best hitters of all time.
[adinserter block="2″]
[adinserter block="7″]
12. Honus Wagner
The Flying Dutchman was an outstanding hitter from baseball's Dead Ball Era – being active from 1897-1917. His finished his career with 3,430 Hits (7th), 640 Doubles (9th), 3,367 Runs Produced (9th), .329 Batting Average (28th). Honus still ranks highly as one of the most productive Shortstops of all time and one of the top offensive threats in the history of the game. It's difficult to not look at his career numbers and not be thoroughly impressed.
[adinserter block="3″]
[adinserter block="8″]
While we never had the opportunity to watch Honus Wagner play on the diamond, we should strive to make sure the legacy of this amazing hitter lives on as he was the first Shortstop that was dominant with his bat.
[adinserter block="2″]
[adinserter block="7″]

11. Tris Speaker
Plainly put, Tris Speaker is one of the best Center Fielders to ever play the game of baseball. His career is littered with outstanding offensive numbers that speak to how much of a threat he was when he was at the plate. He finished with 792 Doubles (1st), .345 Batting Average (5th), 3,514 Hits (5th), .428 OBP (10th) all speak to his greatness during baseball's infancy.
[adinserter block="3″]
[adinserter block="8″]
When speaking of the legends of baseball's past one almost has to include Tris Speaker if they want to be taken seriously. While another name that many casual baseball fans will not be familiar with, baseball historians will agree that his name belongs when speaking about the best hitters that ever played the game.
[adinserter block="2″]
[adinserter block="7″]
10. Hank Greenberg
Even with his World War II service, Hank Greenberg put up incredible numbers during his 13 year career. His .412 OBP ranks 28th All Time. While a definitive projection is impossible, one could fairly assume that he would have hit over 500 Home Runs if there had not been WWII. There are a number of "what ifs" that surround Greenberg's numbers, but his prowess at the plate cannot be denied.
[adinserter block="3″]
[adinserter block="8″]
His numbers were unbelievable, especially when analyzing some of his individual season totals. The Hebrew Hammer was a force to be reckoned with and made waves when he was one of the few opposing players that welcomed Jackie Robinson to Major League Baseball. His legacy as a player and man should live on through history.
[adinserter block="2″]
[adinserter block="7″]
9. Joe DiMaggio
While Joe DiMaggio missed three seasons due to World War II, his career numbers were still outstanding. His .325 Batting Average is 36th All Time while his .398 OBP is 56th on the All Time list. Even those sterling numbers do not do him justice as DiMaggio was one of the most feared hitters of his era that was an extremely difficult out. He is noted in the annuals of history for his 56 game hit streak in 1941 that still stands to this day.
[adinserter block="3″]
[adinserter block="8″]
His home field being Yankee Stadium handicapped his power numbers or he would have seen even more production throughout his career. He helped lead the Yankees to 9 titles during his 13 year career and is one of the best overall Center Fielders of All Time. The Yankee Clipper will never be forgotten.
[adinserter block="2″]
[adinserter block="7″]
8. Mickey Mantle
With 536 Home Runs Mantle sits 17th All Time. He won the Triple Crown in 1956 and won 7 World Series with the Yankees. His .421 OBP is 16th All Time and was a 3 time AL MVP, if there was an accolade to be had Mantle was able to achieve it during his spectacular career. His one Gold Glove came in 1962 a year after he and teammate Roger Maris dueled for Babe Ruth's single Home Run record.
[adinserter block="3″]
[adinserter block="8″]
Many other may have folded under the pressure of replacing Joe DiMaggio in Center Field, but Mantle made his name and was able to build an incredible legacy of his own. While DiMaggio was better with the glove, I'll make the argument that Mantle was able to slightly surpass him at the plate. Either way, Mickey Mantle and his talents will never be forgotten.
[adinserter block="2″]
[adinserter block="7″]

7. Jimmie Foxx
The power hitting First Basemen finished his career 18th All Time in Home Runs (534), 9th All Time in OBP (.428), and 8th All time in RBIs with 1,922. His outstanding 1.038 OPS ranks 5th All Time. No matter what metric you are looking at Jimmie Foxx was not only productive – he was devastating at the plate. Foxx won the Triple Crown in 1933, making it extremely obvious why he was dubbed "The Beast."
[adinserter block="3″]
[adinserter block="8″]
Very few First Basemen in history have put up numbers that can even compare to Foxx. His hitting prowess will never be forgotten, there is no doubt that he was one of the most respected hitters during his era. Talents like Foxx are rare and only Albert Pujols has been able to put up comparable offensive numbers at First since Foxx's retirement.
[adinserter block="2″]
[adinserter block="7″]
6. Willie Mays
The Say Hey Kid may perhaps be the best all around player that has ever played the game, a lot of that is due to his prowess at the plate. His 660 Homes Runs are currently 5th All Time and his 1,903 RBIs are 10th on the all time list. His 6,066 Total Bases is 3rd All Time, yet the numbers don't completely explain the offensive threat Willie Mays truly was.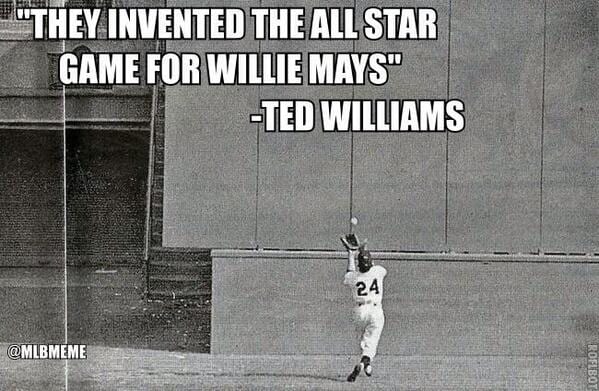 [adinserter block="3″]
[adinserter block="8″]
Mays was a Five Tool Player and his ability to hit for average, power, and his amazing speed put Pitchers in a very difficult situation.  His career was filled with highlights, All Star appearances, a 1954 World Series win, and moments that baseball fans will never forget. He was also the first National League player to join the 30/30 club which he accomplished in 1956 and 1957.
[adinserter block="2″]
[adinserter block="7″]
5. Stan Musial
Stan "The Man" Musial could hit. While that is the understatement of the century, his production at the plate is jaw dropping. His 6,134 Total Bases ranks 2nd All Time, his 1,951 RBIs have him at 6th All Time, and the 1,599 Walks have him ranked 13th. Whether is was Power (475 career Home Runs) or his ability to work the count, it was very difficult to keep Musial off base.
[adinserter block="3″]
[adinserter block="8″]
Arguably Musial was the best player to ever wear a Cardinals uniform, he wreaked havoc throughout baseball for 22 seasons. His 3,630 hits ranks 4th All Time and is a testament to the unbelievable consistency. His .331 career batting average ranks 25th All Time as well. There are few hitters that could match the production of Musial.
[adinserter block="2″]
[adinserter block="7″]
4. Ty Cobb
The Georgia Peach was one of the first real superstars of baseball, his career statistics are that of legend. .366 Batting Average (1st), 4,189 to 4,191 Hits (2nd), 724 Doubles (4th), .433 OBP (8th) are just tipping the iceberg of his numbers at the plate. His career spanned from 1905-1928 and left a legacy that younger fans are still familiar with today. There is no doubting his legendary status on the field.
[adinserter block="3″]
[adinserter block="8″]
A number of questions are raised about Cobb's personal character during his playing days, but he was praised for softening his attitude in later years. Cobb was also able to acquire 892 Stolen Bases (4th) during his playing career and his 4,066 Runs Produced remain a record to this day.
[adinserter block="2″]
[adinserter block="7″]
3. Hank Aaron
Hammerin' Hank simply produced throughout his legendary career. 755 Home Runs (2nd), 2,297 RBIs (1st), 3,716 Runs Produced (1st), 6,856 Total Bases (1st), 3,771 Hits (3rd), and 624 Doubles (10th) show just how consistent he was throughout his 23 year career. Aaron also holds the record for most XBHs with 1,477. He even joined the 30/30 Club in 1963 when he hit 44 Home Runs and Stole 31 bases.
[adinserter block="3″]
[adinserter block="8″]
The humble Hank Aaron is a pillar in the lore of Major League Baseball and how he conducted himself on and off the field will always be remembered. If Aaron had a career average of just 10 points higher it would have moved him to second place on this list, as if they were evenly distributed through his power numbers would have been an even greater accomplishment. Even with that, Aaron is one of the best hitters to ever step up to a Major League plate.
[adinserter block="2″]
[adinserter block="7″]
2. Babe Ruth
"The Sultan of Swat" or "The Bambino" needs no introduction. Not only was he an amazing hitter, he finished his career with 94 Wins and a 2.28 ERA. His 714 Home Runs (3rd), .474 OBP (2nd), 3,673 Runs Produced (3rd), 2,062 Walks (3rd), and his .342 Batting Average (8th) show offensive force Ruth was. His 2,213 RBIs are 2nd to only Hank Aaron. There's no way anyone can doubt the dominating presence that was Babe Ruth.
[adinserter block="3″]
[adinserter block="8″]
A number of famous stories are told of Ruth's career from the debate around the Called Shot in the 1932 World Series to his sale to the Yankees from the Red Sox – many historians have studied documents concerning the career of Babe Ruth to preserve his legacy.
[adinserter block="2″]
[adinserter block="7″]
1. Ted Williams
If you caught the number of hints I left throughout the list, you would have seen this coming at number 1. Ted Williams put up incredible numbers that would have been even more spectacular had World War II nor the Korean War ever happened. In 1941 Williams became the last hitter to record a .400 season win he hit .406 during his age 23 season. He holds the Major League record for OBP at .482, his 2,021 Walks are 4th All Time, and his .344 Batting Average is 6th in the record books.
[adinserter block="3″]
[adinserter block="8″]
While Williams hit an impressive 521 Home Runs, it's highly likely he would have hit well over 600 if again not for World War II nor the Korean War (Also would have likely easily crossed the 3,000 hit threshold). Baseball has not and probably will never see a hitter at the caliber of Ted Williams again. In my opinion there has not been a better hitter that has ever played the game of baseball.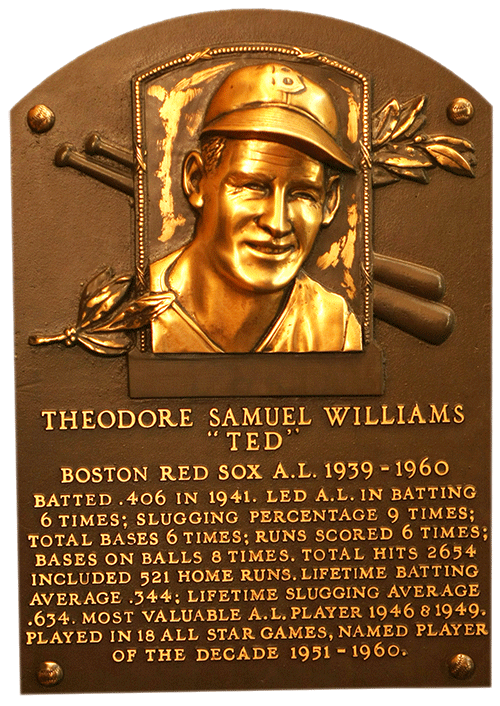 [adinserter block="2″]
[adinserter block="7″]