The Internet is now bombed with news of the purported confirmation of Banksy's real identity, thanks to a scientific study conducted by researchers from Queen Mary University of London and Texas State University. Banksy's camp is yet to confirm or deny – more likely to deny as usual – whether Banksy's identity has truly been caught this time, but it would be interesting to see what impact this supposed revelation would have on the reception of his artworks, not to mention the hefty price tag that comes with each. A Banksy artwork is among the most coveted urban art pieces of the 21st century due to its aesthetics, progressive use of satire in defiance of authority, pro-peace and pro-humanity messages, and of course, the guarded anonymity of the artist.
The cheapest Banksy artworks reported to be sold were a pair of postcards from when he setup a stall in New York in 2014 that an old lady was able to haggle for $30 apiece, 50% off the $60 price tag. After authentication from Pest Control, the market value for the art pieces has been estimated to reach $120,000. His Keep It Spotless piece, a collaboration with Damien Hirst, is the most expensive Banksy artwork ever sold by far, which went for $1.9 million at Sotheby's New York Charity Auction in 2008.  There are also reports of stolen artwork such as murals that were actually cut off from walls whose stolen status, which the artist stated to be "disgusting", hasn't prevented some art collectors from purchasing.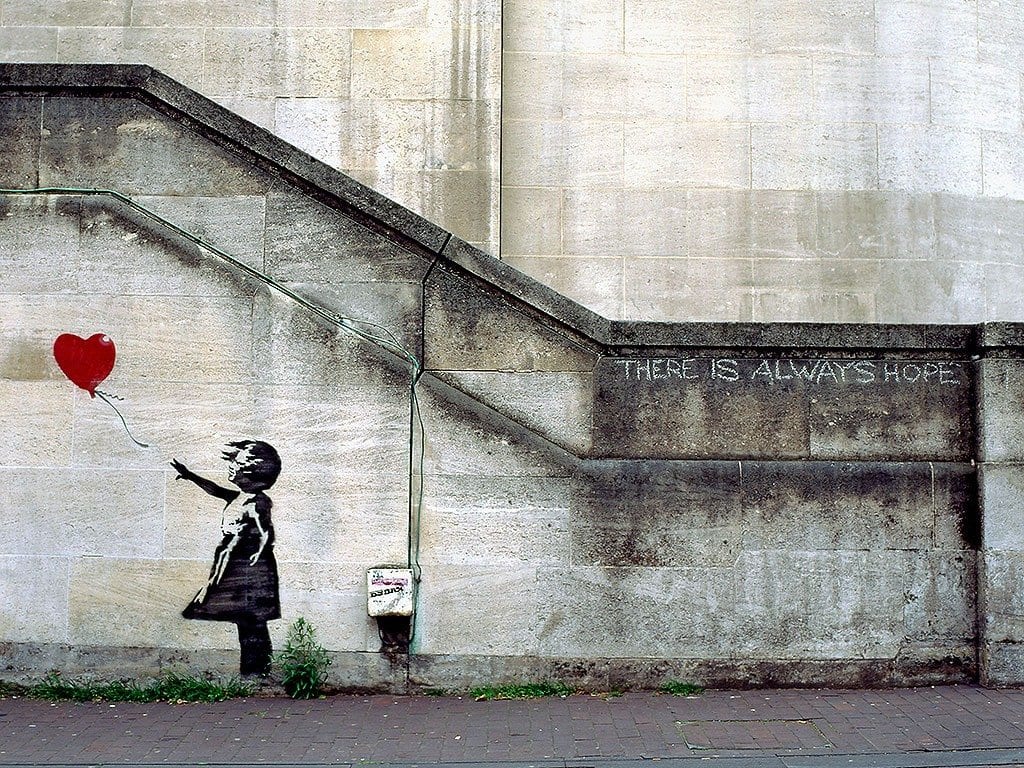 [adinserter block="3″]
[adinserter block="8″]
In honor of the artist whose identity may have – or may have not yet again – been unmasked, here are 31 of Banksy's most important artworks:
1. Because I'm Worthless
Found on the wall of a car park in Farringdon, London, Because I'm Worthless featured a Blak Le Rat-inspired rat, which he used as symbolism for being insignificant and unloved. The graffiti ended up being destroyed by the authorities.
[adinserter block="7″]
[adinserter block="2″]
2. Mild Mild West
Mild Mild West is reported to be Banksy's first known mural graffiti. Found in his hometown, Bristol, it features a teddy bear about to throw an improvised molotov at three riot cops. It symbolizes Bristol residents, which may appear too fluffy to care but can actually be roused to action when necessary.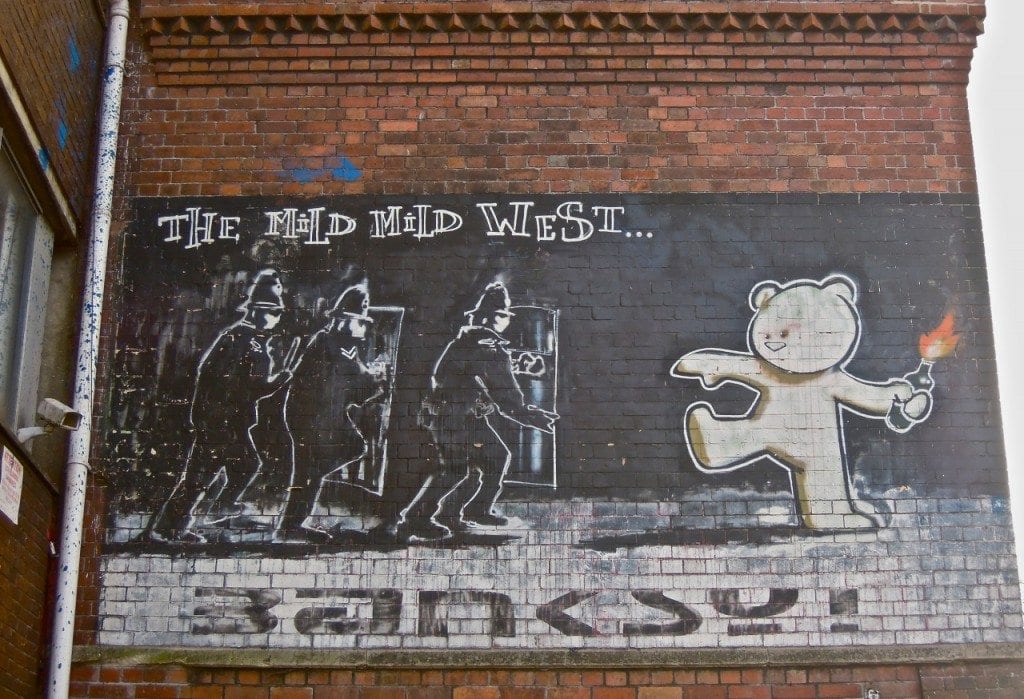 [adinserter block="3″]
[adinserter block="8″]
3. Man Hanging from Window
This is a depiction of a man holding on to his jeans as he hangs from the window as he is being searched for by his mistress' husband. What Banksy didn't know then was that he painted the mural on the wall of a Bristol sexual health clinic, the juxtaposition of which amused the artist.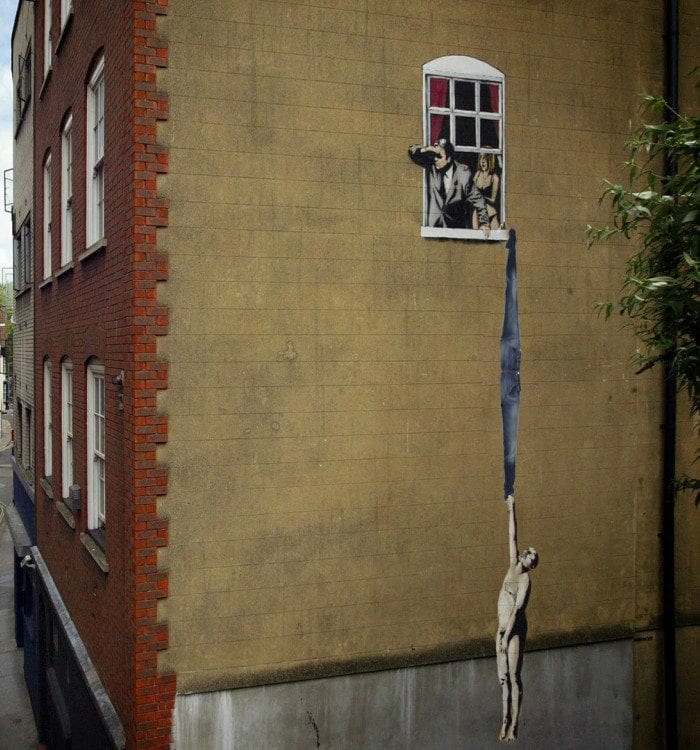 [adinserter block="7″]
[adinserter block="2″]
4. Police Sniper and Boy
Painted across the Bristol Royal Infirmary and Bristol Children's Hospital, the mural was that of a young boy about to surprise a police sniper with a blown up paper bag. Banksy's artwork was vandalized and eventually replaced by that of another local street artist, a David Bowie-version of Queen Elizabeth.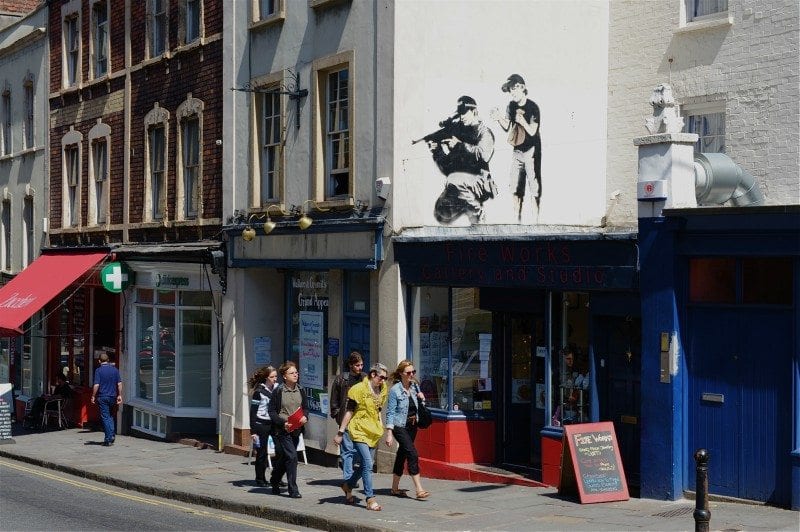 [adinserter block="3″]
[adinserter block="8″]
5. Graffiti is a Crime
Located on the Lower East Side in New York, this mural appeared to challenge authorities, especially as it incorporated a "Graffiti is a Crime" sign. Banksy posted a picture of his work to his Instagram account, and the sign was stolen after a few hours. Good thing that he was able to take a photo of it as it was painted over the next day.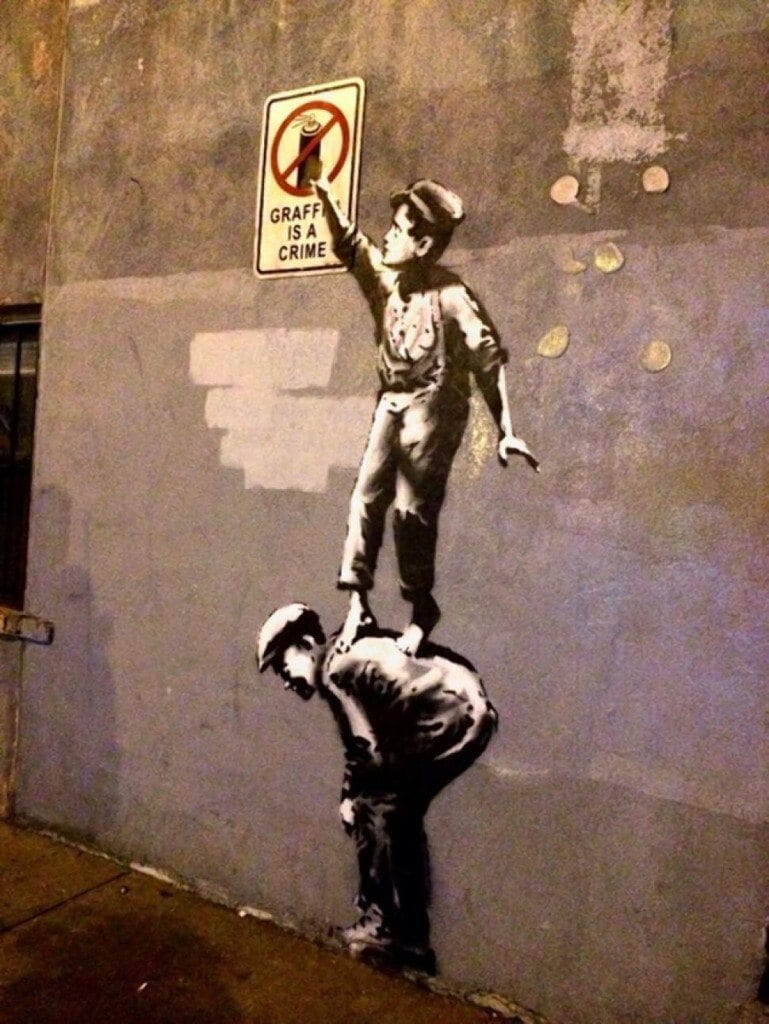 [adinserter block="7″]
[adinserter block="2″]
6. Ghetto Boy
Found in the London Borough of Hackney, Ghetto Boy was believed to be a reference to the growing gang culture in the area in 2009, which involved more and more younger children, hence the stuffed teddy in the kid's right hand. The artwork was painted over but not without arising controversy on its meaning.
[adinserter block="3″]
[adinserter block="8″]
7. One Nation Under CCTV
This 3-storey high mural was one of Banksy's most daring works, significantly considering the difficulty of setting up a temporary scaffolding to reach that high up the wall of the Post Office – with a CCTV camera only a few feet away. It was a protest to the government's move to erect surveillance cameras all over London. Shortly after its reveal, the Westminster Council had it painted over.
[adinserter block="7″]
[adinserter block="2″]
8. Snorting Copper
Several stencils of this artwork have appeared in different locations in London since 2005. It depicted a police officer crouched on the ground holding a straw-like instrument. It had a long trail of paint splatters leading from it to make what looked like a cop snorting an obscene amount of cocaine, presumed to be a representation of corruption in the police force.
[adinserter block="3″]
[adinserter block="8″]
9. Cash Machine Girl
Found in London, Cash Machine Girl was a reference to greed in a capitalist society, with big businesses and financial institutions preying on innocent consumers. The mural, which some argue as vandalism, was, ironically, painted over by vandals.
[adinserter block="7″]
[adinserter block="2″]
10. If at First You Don't Succeed – Call an Airstrike
This mural can be found at the intersection of Broadway and Columbus in San Francisco, one of the works he did when he went on tour in 2010. It is a reference to the culture of war that the U.S. government has perpetuated – at the cost of innocent lives.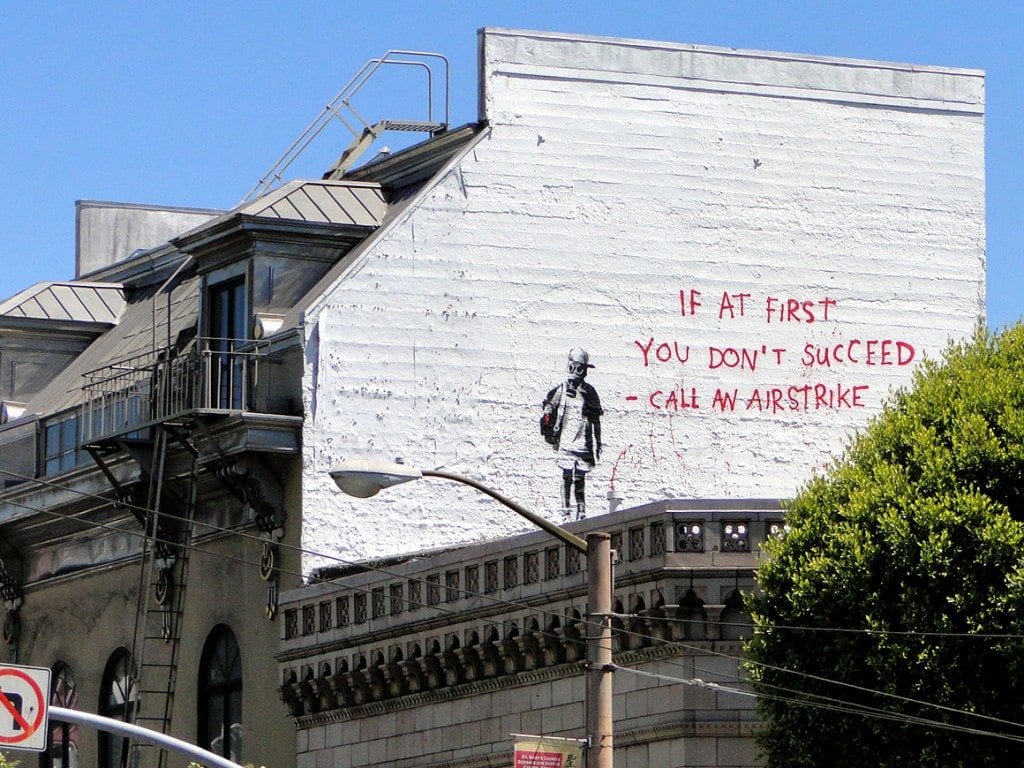 [adinserter block="3″]
[adinserter block="8″]
11. Consumer Jesus
Consumerism is a recurring theme in plenty of Banksy's artworks. Printed on canvas, Consumer Jesus references the commercialism of Christmas when people go on shopping frenzies. It is an image of the Christ on the cross holding 3 paper bags in each hand.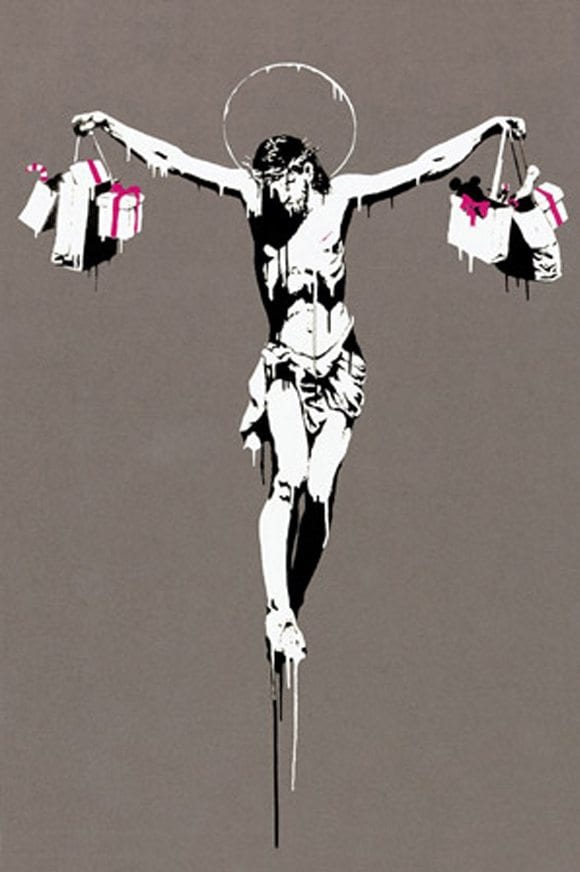 [adinserter block="7″]
[adinserter block="2″]
12. Kissing Coppers
Discovered on the wall of a pub in Brighton, England in 2004, Kissing Coppers depicts two male cops engaged in a passionate kiss. It is presumed to be Banksy's commentary on gay rights and homophobia. In 2011, the pub owner sent the mural to the U.S. to be auctioned off.
[adinserter block="3″]
[adinserter block="8″]
13. Hitchhiker Anywhere
Found in Archway, London in 2005, Hitchhiker Anywhere was an image of Charles Manson trying to hitch a ride. It was tagged by a group of street artists called Team Robbo, in which they replaced "anywhere" with "going nowhere" using red paint. The authorities tried to restore the artwork by painting over the red paint and just leaving the sign blank. In an act of defiance and, possibly, to enforce their territory, Team Robbo painted white all over the whole artwork in 2011.
[adinserter block="7″]
[adinserter block="2″]
14. Looting Soldiers
In the wake of hurricane Katrina, news of widespread looting broke in New Orleans. This mural is a reference to the desperation and opportunism that arise amidst major crises. It has repeatedly been vandalized and painted over despite the building owner's attempts at restoring the artwork.
[adinserter block="3″]
[adinserter block="8″]
15. I'm Out of Bed and Dressed – What More Do You Want?
This particular artwork, found in Los Angeles in 2002, is a testament to Banksy's impact in the art scene. Originally painted on stucco wall, it has weathered through time, significantly deteriorating its quality. In an effort to restore the Banksy artwork, it was moved to Brooklyn and then to Italy in 2013.
[adinserter block="7″]
[adinserter block="2″]
16. Sweep It Under the Carpet
Discovered in North London in 2006, Sweep It Under the Carpet is one of Banksy's most iconic artworks. This piece is interpreted as a commentary on the refusal to acknowledge problems such as the growing AIDS epidemic.
[adinserter block="3″]
[adinserter block="8″]
17. 0% Interest in People
Found on the wall of a clothing store in Toronto, this piece was another take at capitalism, specifically the businesses' apparent lack of interest in actually serving the needs of the people. Given its meaning, it was understandable that the store had it painted over after a few days.
[adinserter block="7″]
[adinserter block="2″]
18. Crayola Shooter
Children in war is another favorite theme of Banksy. In this piece, a child can be seen holding a gun that is loaded with crayon bullets, addressing the loss of children's innocence as they get involved in war and terrorism. This piece was stenciled on the wall of an Urban Outfitters store in Los Angeles.
[adinserter block="3″]
[adinserter block="8″]
19. Cardinal Sin
The Cardinal Sin structure, which was unmasked at the Walker Art Gallery in Liverpool in 2011, featured an 18th century bust of a cardinal with a pixelated face. It was an allegory on the controversial issue of sexual abuse in the Catholic Church.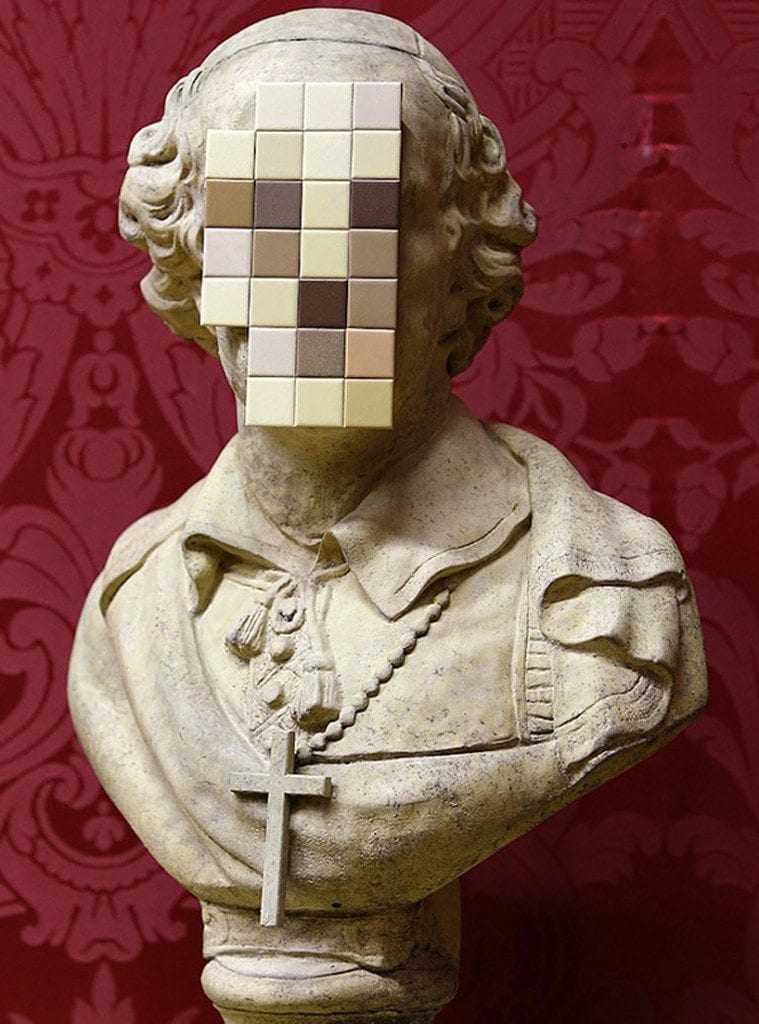 [adinserter block="7″]
[adinserter block="2″]
20. Di Faced Tenner
In 2004, Banksy defaced a million pound worth of tenner bills and replaced the Queen's face with that of Princess Diana's. He also replaced "Bank of England" with "Banksy of England". The bills were dropped like confetti into crowds at the Notting Hill Carnival and The Reading Festival. This artwork caused a commotion as there were people who tried to actually use the bills as currency.
[adinserter block="3″]
[adinserter block="8″]
21. No Trespassing
Found in Mission Hills in San Francisco, Banksy incorporated a "no trespassing" sign into his artwork. It showed a Native American dressed in traditional garb and holding the sign. It was a play on the irony of the natives – the actual founders of the country – being displaced by the "civilized" American.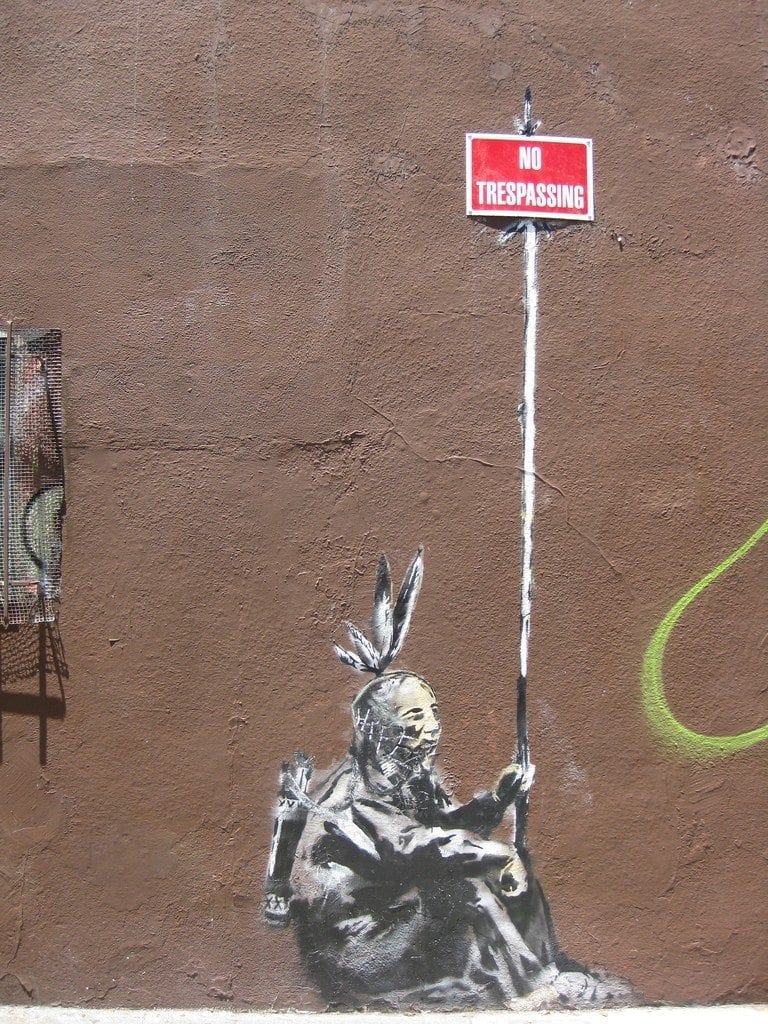 [adinserter block="7″]
[adinserter block="2″]
22. No Future
Stenciled in a residential area in Southampton, London, Banksy showcased the poignant juxtaposition of the balloon – commonly used as a symbolism of hope – and the "No Future" scribble. The piece didn't last long as it was whitewashed in just a week after its discovery in 2010.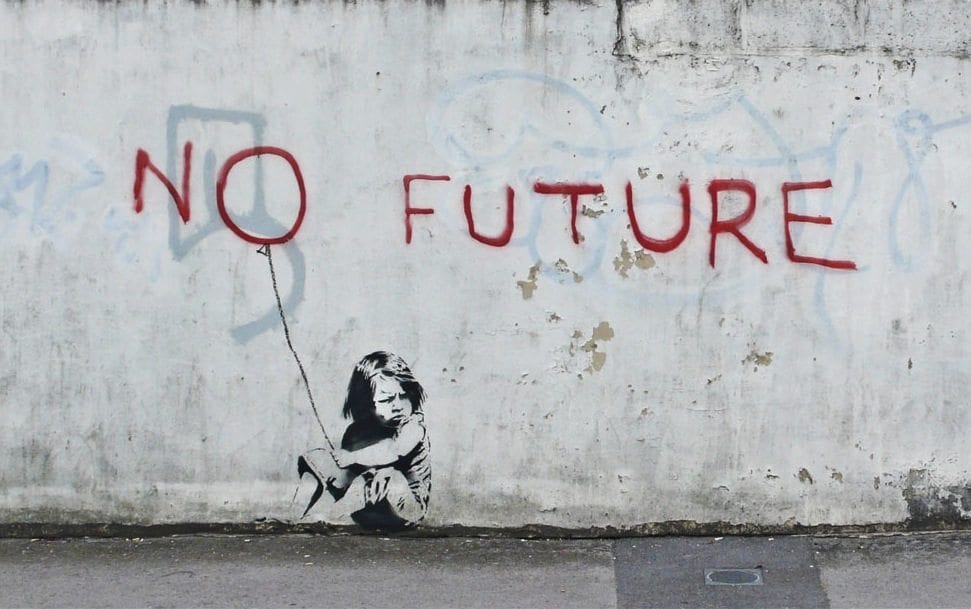 [adinserter block="3″]
[adinserter block="8″]
23. I Remember When All This Was Trees
Discovered in the ruins outside the Packard Plant in Detroit, Michigan in 2010, the piece featured a young child with what seemed like a dejected face of contemplation on the city's state of poverty. With Detroit suffering from a financial crisis, trees were replaced by illegal settlers and homeless people.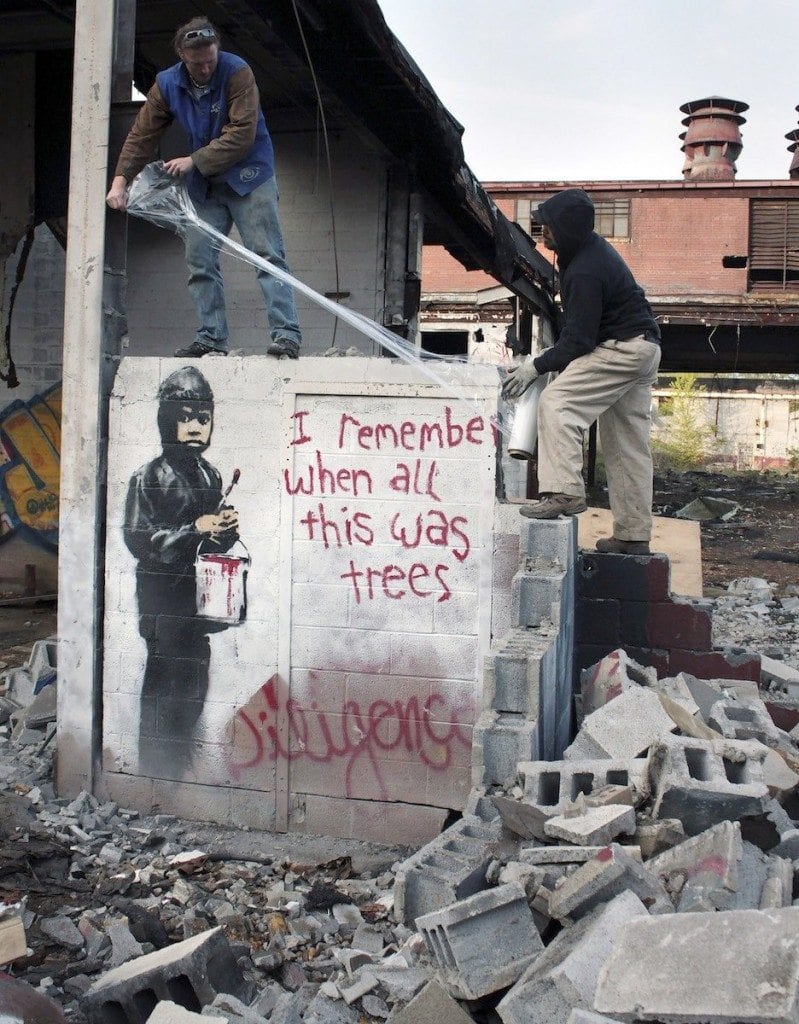 [adinserter block="7″]
[adinserter block="2″]
24. I Love You
This piece was significantly simpler in comparison with Banksy's other works, but it held a profound meaning just the same. The words "I Love You" were scribbled in red paint, with an hourglass that held red, heart-shaped sand. It was interpreted as love having an expiration period.
[adinserter block="3″]
[adinserter block="8″]
25. KKK
Discovered in the abandoned Chevron Station in 2008, the artwork referenced the end of the Ku Klux Klans' reign of terror in Birmingham, Alabama. Residents, however, didn't approve of it as it served as a reminder of those long, dark years when KKK terrorized the city.
[adinserter block="7″]
[adinserter block="2″]
26. Follow Your Dreams – Cancelled
Discovered in the low-income Chinatown district of Boston, Follow Your Dreams is interpreted by many as the lower class man being forced to let go of his dreams as he struggles to meet his basic necessities. It is an image of a forlorn painter holding a bucket of paint and a brush, appearing to have painted the words, "Follow your dreams", only to have it stamped "Cancelled" in red and white ink.
[adinserter block="3″]
[adinserter block="8″]
27. Laugh Now
Discovered in Los Angeles in 2002. Laugh  Now features a monkey wearing a sandwich board with the words, "Laugh now but one day we'll be in charge". There is a variety of this stencil with different accompanying words such as "Lying to the police is never wrong."
[adinserter block="7″]
[adinserter block="2″]
28. Napalm
Banksy's 2004 work on canvas, Napalm is his rendition of one of most iconic photographs during the Vietnam war in the 1970's. Shot by Nick Ut, the 9-year old Phan Thi Kim Phuc was shown running naked as her back was burning from a napalm attack. In Banksy's work, two of America's most recognizable icons are shown holding hands with the young girl. Some believe it is a reference to the powerful country's role in wars around the world.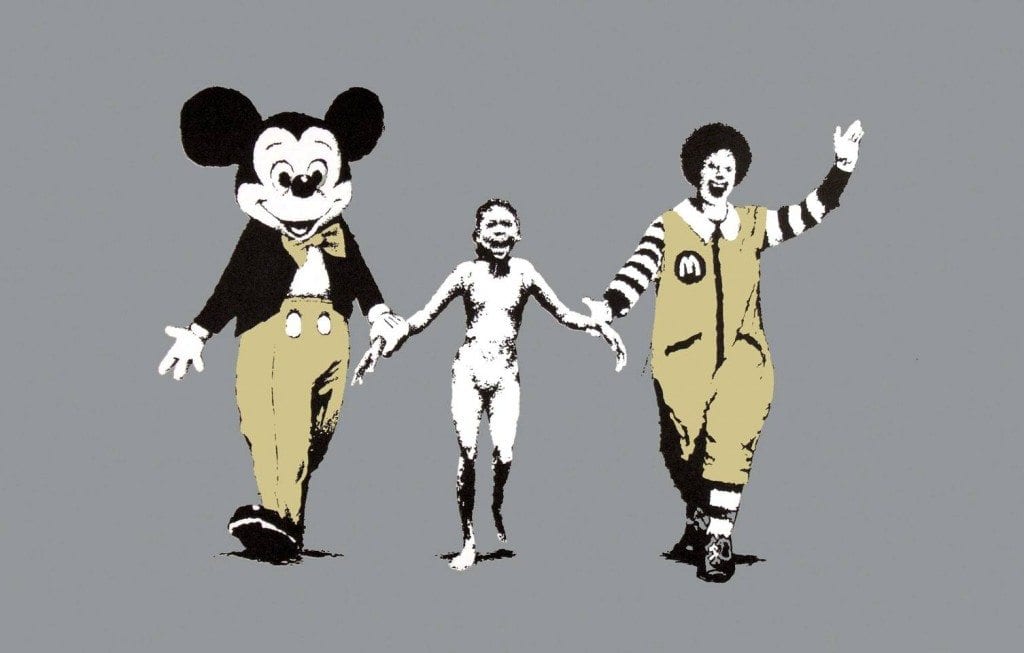 [adinserter block="3″]
[adinserter block="8″]
29. Flower Aerial
Found in Los Angeles, Flower Aerial features a young girl watering a TV antenna just as one would water plants. It is interpreted by the public as his commentary on the growing influence that TV has on the youth.
[adinserter block="7″]
[adinserter block="2″]
30. Let Them Eat Crack
Appearing in Wall Street in 2008, Let Them Eat Crack was Banksy's take on the greedy capitalism hounding Wall Street. It featured his signature black rat seeming to sneak away with a brief case from which bills were falling. Because of its subversive meaning, Wall Street authorities had it painted over.
[adinserter block="3″]
[adinserter block="8″]
31. Fridge Kite
Found in New Orleans, Fridge Kite showed an image of a young child flying a refrigerator kite. It was a reference to the issue of poverty where children are torn between living out their childhood and working for sustenance.
[adinserter block="7″]
[adinserter block="2″]