Today is May 4th, commonly referred to as May the Fourth. The day is also better known as 'Star Wars Day' to millions of fans because the likeness to the phrase, "May the Force be with you" from the Star Wars films.
Evidently, the first reference to May the Fourth comes from 197- when Margaret Thatcher became the first woman Prime Minister. A newspaper congratulated her on May 4th with the pun, "May the Fourth be with you". Since then, May 4th has been Star Wars Day.
How the Star Wars Team is Celebrating
Daisy Ridley who plays Rey in the new Star Wars films, is celebrating by appearing in a video with a slew of recognizable characters from the franchise. In it, she makes a call to action for fans to contribute to the Star Wars: A Force for Change.
Donations could give a lucky Star Wars fan a chance to  win a trip to Ireland. They would get the chance to see the infamous place where Rey meets Luke in the end of the film.
The light side of the force is not the only voice in the mix. In a bit of propaganda and fun, there is even an attack ad on the celebration, promoting the dark side from 2015.
Worldwide Celebrations
The franchise team are not the only ones to join in on the fun. Fans from around the world are celebrating in a variety of ways.
Countless fans are donning slave Leia costumes or her signature donut shaped hairstyle. They are sharing their creations on social media and various websites.
The police in Fife, Scotland posted this picture in celebration. The caption below read, "Whoever abandoned their vehicle outside our HQ this morning – please get it moved!"
NASA even joined in on the celebration. The frozen tundra planet of Hoth is not too far off in reality. Hoth was modeled after real-life planet, OGLE – 2005 – BLG – 390.
May the Fourth Celebration Ideas
If you are looking to do your own celebration ideas, consider throwing a May the Fourth party. You and your guests come dressed as your favorite characters. If you need any help with food and fun, the Stars Wars website is full of fun treats and activities.
There are Yoda inspired ice cream cones for a Star Wars ice cream party, pictured below.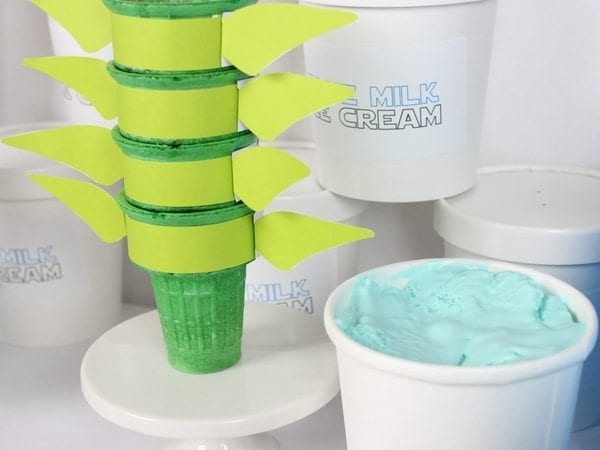 You can also make fun treats in the shape of your favorite characters and serve your guests.
The best way to celebrate May the Fourth is watching your favorite Star Wars films all day with favorite co-pilots by your side. May the Fourth Be With You!
[adinserter block="7″]
[adinserter block="2″]