At least 69 were killed and 300 were wounded in a tragic Easter suicide bombing at an amusement park in Lahore, Pakistan. A Pakistani Taliban faction claimed responsibility for the attack, stating that Christians were the target of the bomb blast.
Scores of unsuspecting families, mostly women and children, had planned to celebrate Easter Sunday at Gulshan-i-Iqbal Park, a park that is known to be frequented by Christians, when a bomb exploded a few feet away from the children's swings. Retired DCO Captain Muhammad Usman reported that they had located the head and some body parts of the suicide bomber, estimated to be around the age of 23 to 25, whose suicide jacket contained of nuts and bolts and at least 20kg of explosives. The explosion left at least 69 dead and 300 wounded, with victims comprised mostly of women and children.
Witnesses recount stories of seeing bodies flying in the air due to the explosion, and seeing tiny body parts scattered around the park when the moment was over. Stampede and total chaos ensued after the attack, with people crying in pain, confusion, and anguish; with people desperately searching for their loved ones. A young student narrates the haunting image of children's rides still functioning amid dead body parts.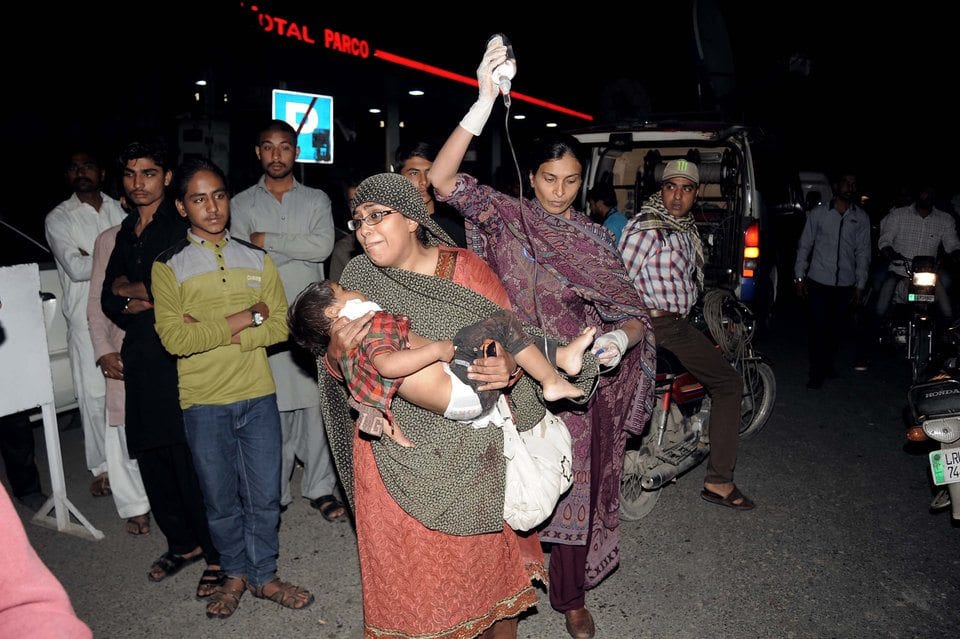 Witnesses no longer waited for cops and ambulance to get to the scene and instead unified to bring victims to the hospital in rickshaws and taxis. Locals immediately trooped to the city hospitals to donate blood to the injured.
Taliban Claims Responsibility
Jamaat-ul-Ahrar, a breakaway Pakistani faction of the Taliban, claimed responsibility for the Easter Sunday bombing. In a statement given by its spokesperson Ehsanullah Ehsan to the Associated Press, he said that the attack was targeted at Christians who were out to celebrate Christ's resurrection.
The group also wishes to send a message to Prime Minister Nawaz Sharif that they have already infiltrated Lahore, which, for the past years, had been spared from militant action. "He can do what he wants but he won't be able to stop us. Our suicide bombers will continue these attacks," the spokesperson said.
Three Days of Mourning
The government of Punjab announced three days of mourning for the families and victims of the Lahore explosion. India, the United States, and the Vatican have condemned the terrorist act and extended their sympathies and condolences to the people of Punjab.