https://www.instagram.com/p/BBsObavkTC7/
Without question, the conversation since the end of Superbowl 50 has been Cam Newton. Is either his critique or praise justified? Before diving into his off the field behavior;
which has gained the majority of the headlines, there was a specific play late in the 4th Quarter where Newton completely gave up on recovering his own fumble. The Panthers were losing 16-10 with a little over four minutes to  go, Von Miller created the fumble, and Cam Newton decided to not attempt to dive on the ball.
This baffling lack of effort was not cleared up by Newton who later responded to questions about why he didn't attempt to dive by saying, "I don't know." While his lack of accuracy and other turnovers can be excused (the Broncos Defense is really good), his decision to practically "give up" near the end of the game does show a lack of leadership.
On this particular topic he owed himself, teammates, and Panther's fans a better reaction than "I don't know." While nobody within the Panther's organization will come out publicly and criticize Newton after the team made it to the Superbowl after a 15-1 regular season, the Broncos definitely have.
That's the way he is. Playing for himself. – Danny Trevathan, Broncos Linebacker

…

He didn't want it. – Aquib Talib, Broncos Cornerback
Broncos Defensive Coordinator Wade Phillips and Superbowl 50 MVP Von Miller both took to Social Media to question the Panther's and Cam Newton's preparation for the game.
A little Dab with do you but too much Dab will undo you!

— Wade Phillips (@sonofbum) February 8, 2016
This was far from all the criticism Cam Newton has received.
Superbowl 50 Press Conference
THIS is why Cam walked out (listen to what's being said in the background). pic.twitter.com/6LdLFwv8tj

— br1àn (@bmweezy13) February 8, 2016
There is no denying the fact that Cam Newton abruptly walked out of the biggest Press Conference of his life. One can understand why he would not be in the best of spirits, yet when you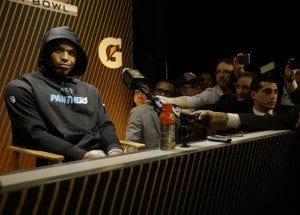 want to be a leader there are expectations of conduct. If you turn from "Superman" to "Sulkman" when times get tough, that  sets a terrible example for your teammates. Leaders are expected to set the on and off field tone for their team, walking out on a Press Conference is definitely not a good sign.
Newton's defenders were quick to use the video as an excuse for Newton ignoring the fact that his answers before this moment were extremely brief, and he spent the entire interview pouting. No one should look down on athlete for their desire to achieve victory, but when looking at the greater picture you have to wonder what is going through Cam Newton's mind. He should not be rattled so easily by criticism from a fellow competitor, he is a Quarterback that made $24 million just from 2015 NFL contract alone, he clearly is the face of the Carolina Panthers.
Cam Newton has the most lavish celebrations in the NFL, which has caused a stir among fans and opposing players. When a Quarterback is that expressive when he is riding a wave of momentum, it's expected he will handle defeats in a more candid manner.
Panther's fans and Newton supporters will still argue that isn't a fair expectation coming off the high the extremely disappointing defeat. His teammates have come to his defense, while not completely excusing Newton's behavior.
He is just hurting, he put in a lot of work. I've had the opportunity to work with him. I've seen the work he puts in. We all have areas we can grow. He has family and friends. They will talk to him and say whatever they need to, to help him. It was a tough night for us all. – Jerricho Cotchery, Carolina Panthers Wide Receiver
They also point to Peyton Manning walking off the field after Superbowl XLIV without congratulating the New Orleans Saints. While Manning did give a proper Press Conference, it's clear that wasn't the best moment in his illustrious career. However, he did handle the press well and those actions don't excuse Cam's lack of professionalism.
If we take a little time to watch Russell Wilson's Press Conference following the Seattle Seahawks defeat last season, we will see a completely different attitude than what we saw from Cam Newton.
Several days after the incident Cam Newton stated, "Show me a good loser and I'll show you a loser." He seems to be forgetting that Russell Wilson already has a Superbowl ring and is far from a loser. Handling a defeat with class is not an indicator that you accept defeat, it's an indication of your character and maturity.
A Pattern of Behavior
I'm not the playcaller. If I'm speaking for [offensive coordinator Rob Chudzinski], you gotta keep a balanced offense. When we run the football, it hasn't been exciting like we've wanted it to be, but you gotta call the plays. We gotta be more balanced. It's evident.

…

…I'm going to leave this room and I'm going to bring in a suggestion box, and I want your suggestions to be in that suggestion box, cause I sure don't know. I really don't – I wish I could tell you but, the only thing I control sweetheart is myself… – Cam Newton October 21, 2012 Press Conference after 19-14 loss to the Dallas Cowboys

thepigskinreport.com
As shown above Cam Newton has had other incidents at Press Conferences where he's responded with questionable comments. From publicly questioning his Offensive Coordinator, which can easily cause contention within a franchise. Not to mention calling a reporter sweetheart, while he pouted throughout the entire question and answer session.
I was very immature. I'll be the first one to tell you, the pouting and the moping, I kind of overdid it. I know that. I was a bad teammate. I shut off to some people who gave unbelievable effort. That's where I have to mature. – Cam Newton, 2012
Newton himself recognized this attitude as a problem back in 2012, however it unfortunately remains an issue today. Panthers officials had concerns about his attitude during the 2014 season as well. One went as far as telling Ross Tucker of NBC the following after a 45-21 Panthers defeat at the hands of the Eagles.  Newton had been showing negative body language, similar to those on display at Superbowl 50.
They insisted to me that there was nothing wrong with him physically…

…

I even had one guy tell me 'When things are really going well, he is so high, so upbeat, so much energy and he's going to make a lot of plays for you. But when things start to go poorly and start to roll the other way, he really struggles at times mentally coming back from that.' – Ross Tucker, NBC Analyst
Future For Cam
Cam Newton won the 2015 NFL MVP Award finishing with an impressive stat line, there's no doubting that he is a talented player whose arm strength, athleticism, and physical stature make him a headache for opposing defenses to prepare for. He has the physical tools to become the best Quarterback in the NFL and eventually leading the Panthers to a Superbowl victory.
Whether or not that will happen will depend on how he deals with adversity going forward. However, he will certainly remain defiant and true to himself.
Pretty much everything people say about us is fluff. They say 'Cam's a thug,' they say players on team are classless … straight up, we are professional athletes. Like I say, before you assume anything, what makes your way right? – Cam Newton
Cam Newton's way may be right, he could end up leading the Panthers to a championship without changing in the slightest. The one caveat is – he will remain a polarizing figure and at the center of criticism. Whatever the future holds for Newton, the story will definitely be entertaining to watch.
[adinserter block="2″]
[adinserter block="7″]