It seems that everyone knew that hoverboards spelled disaster – except for retailers and the federal government.
After the United States government announced that hoverboards were dangerous, the world responded with a resounding, "duh!" Hoverboards are not the awesome tech found in Back to the Future. This past Christmas, the hottest tech was nothing more than a segway without a handle. Still,  everyone wanted one. Now, many regret that decision.
Soon, the Internet became full of hoverboard fail videos. Parents regretted their decision as soon as they saw their child crash into a wall. Add alcohol into the mix and the results are disastrous. It seemed everyone knew they were dangerous except for people at the top.
Currently, a mass recall of hoverboards is underway. Retailers like Boscov's and Overstock.com have begun to recall hoverboards. In fact, the US Government is leading the biggest charge against the popular item. Today, the government announced a recall on about 501,000 individual hoverboards.
According to the United States Consumer Product Safety Commission, the ion battery overheats. In fact, consumers shared images of their burnt hoverboards online. Hoverboards are cordless. They run on batteries charged through a unit. Running the hoverboard for too long leads to overheating. It can also causes scorching, burns, or fires.
Which models are in recall?
As a result of the risk, the commission recommends retails recall hoverboards. Further, the commission warns consumers to only purchase certified hoverboards. Check with the commission to see if your brand passed safety precautions. For those without certification, it is recommended that consumers seek a full refund or exchange for a better brand.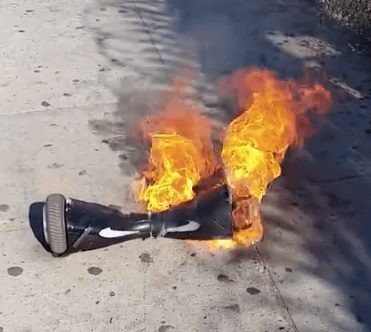 The commission recommends seeking a refund for the following brands:
Hover-way; Powerboard
Hype Roam
iMoto
Airwalk Self Balancing Electric Scooter
Hovertrax
Swagway X1
Boards sold by Yuka Clothing (Wheeli, 2Wheelz, Back to the Future, Mobile Tech, Hover Shark, NWS, X Glider and X Rider)
Orbit (sold from Boscov's)
All boards sold by Overstock.com.
With dozens of brands marketing hoverboards, it is no wonder that safety is falling to the wayside. Hoverboards incidences caused reported 2 million dollars in damage and injuries. Around 100 instances of hoverboard-related injuries have been reported to the commission.
Buy or beware your next hoverboard. To lodge a complaint on hoverboards, the commission can be reached online or at 800-638-2772.
[adinserter block="2″]
[adinserter block="7″]