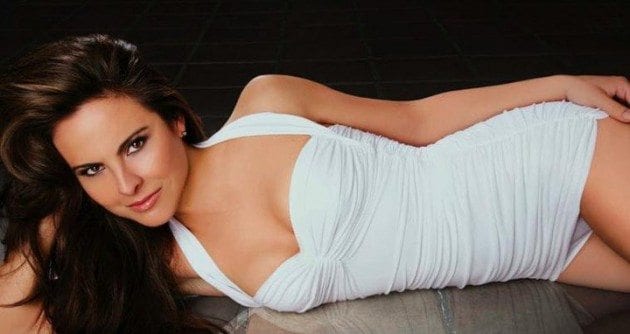 Everybody knows girls love bad boys. But, Mexican actress Kate del Castillo probably should've listened to mom. The star met her admirer and ruthless druglord Joaquín "El Chapo" Guzmán while he was on the run from Mexican authorities. Now, she's being investigated on criminal charges.
Like many bad decisions, this one started with booze and social media.
On January 9, 2012, Castillo logged on to Twitter with a glass of wine and proceeded to free write about life, politics, and El Chapo.
The Sinaloa drug cartel leader, who was on the run at the time, could be responsible for thousands of deaths. However, many Mexicans oddly admire him for his humble upbringings and defiance of government corruption.
Castillo wrote, "Today I believe more in El Chapo Guzmán than I do in the governments that hide truths from me … Mr. Chapo, Wouldn't it be cool if you started trafficking with the good? . . Let's traffic with love …"
Two years later, one of El Chapo's lawyers reached out to her.
Andrés Granados Flores told Castillo that his client was an admirer and diehard fan of "La Reina Del Sur," a massively popular soap opera where Castillo plays the lead role of, go figure, a queenpin. The lawyer told her El Chapo hoped she would make a film about his life.
Castillo jumped at the prospect.
By December 2014, she had producers Fernando Sulichin and José Ibáñez interested in the project. Flores relayed the news back to El Chapo. That month, the druglord sent Castillo a handwritten letter.
It read: "Thanks, amiga, I cannot pay you back for what you did for me … I love your acting, you really go for it. I congratulate you. I imagine acting can't be so easy, amiga. I hope to say hello to you in person someday."
On January 9, 2015, El Chapo signed off his story rights to Castillo via a notarized letter sent from Altiplano prison. By July 11, he had waltzed right out there.
Castillo was at a downtown L.A. bar when a friend broke the news via text. One of El Chapo's lawyers then texted her saying, "I'm celebrating!"
She replied, "Me even more."
Sometime after, Sulichin was discussing the jail break with actor, producer and Chapo-aficionado Sean Penn. When Penn found out Castillo was in touch with El Chapo, he requested meeting her. The three met for lunch and Penn asked Castillo if they could possibly meet the fugitive.
"That sounds really dangerous," she recalled saying in an interview with The New Yorker. "The guy's on the run, you know. But I can try."
Three days later, two of El Chapo's lawyers approached Castillo in Guadalajara, where she was celebrating a friend's birthday. They handed her a Blackberry, which she used to arrange a meeting with El Chapo in Sinaloa.
"You are the best in this world. . . . I will take care of you more than I do my own eyes," read one of El Chapo's leaked texts.
Castillo responded with, "It moves me so much that you say you'll take care of me—nobody has ever taken care of me, thank you! And I'll be free next weekend!"
By October 2, the three amigos were on jet to Guadalajara. There, they met El Chapo's son Alfredo Guzmán at a hotel, where they were told to leave their luggage and cell phones. They then traveled to a nearby dirt airfield where they boarded two small planes.
After landing, two S.U.V.'s drove them through a forest surrounded by mountains until they stopped near the city of Cosalá in Sinaloa.
El Chapo was waiting for them.
Over tequila and tacos, the group discussed the film project and had small talk. El Chapo spoke to Castillo of life on the run and asked about her family. Castillo also translated questions from Penn, who revealed to El Chapo that he was there to interview him for Rolling Stone. Whether the rest of the crew knew of his assignment beforehand is up for debate.
By nightfall, El Chapo accompanied Castillo to her bedroom.
'Amigo, you know why I'm here," Castillo said. "And you know what I wrote about you. You're a very powerful man. And you can do a lot of good. There's a good man inside of you. So let's do it.' "
"You know what, amiga?" El Chapo said. "You have a big heart."
After the crew got back home, Penn sent Castillo an encrypted email with 22 questions for her to translate and send to El Chapo.
She did.
A few days later, a courier delivered a package from Mexico to New York City. Castillo flew there to get it. It contained a cell phone with a video portraying El Chapo as he answered some of Penn's questions.
But before Penn's article even got published, El Chapo was back behind bars.
On January 8, 2016, Mexican President Enrique Peña Nieto took to Twitter and declared, "Mission accomplished: we have him."
The New Yorker's Robert Draper asked Castillo how she handled the news. Castillo answered, "I wanted to die."
Arely Gómez González, Mexico's attorney general, told reporters that authorities were tracking El Chapo for months and that his communications with people outside his drug empire had helped them nab him.
"He established communication with actresses and producers, which is part of a new line of investigation," González said.
The attorney general confirmed to El Universal on Jan. 19, 2016, that his office was investigating Castillo for money laundering. He even pointed to the film project as a potential financer. However, he told reporters that "The only person involved for the moment is her [Castillo], and the investigation will inform us if there are other persons."
Castillo remains home in L.A. as the investigation continues.