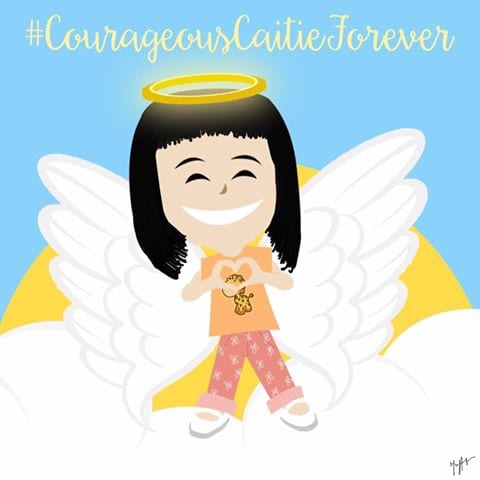 #CourageousCaitie has been used all over social media since January when news broke about this courageous 3-year old named Caitie who faced a rare life-threatening disease. On Thursday, March 31, after battling for more than six months, young Caitlin Soleil Lucas, or Courageous Caitie to the social media, passed away and left more than a hundred thousand fans mourning her death and celebrating her life at the same time.
Rare Disease
Caitie's parents brought her to 2 Philippine hospitals to have her checked after frequently getting bruises, which the little girl thought to be insect bites. Unfortunately, doctors were not able to get a conclusive diagnosis. On February 21, her parents Jayjay and Feliz decided to fly to Singapore for more extensive tests. On March 3, doctors at the National University Hospital finally came up with a diagnosis – Juvenile Myelomonocytic Leukemia, a rare type of blood cancer that affects 1 in 1 million infants and toddlers.
Outpouring of Love
Through social media, the Lucas family received an outpouring of love from family, friends, and strangers from different parts of the world wide web. A gofundme account was set up to support the medical bills of Caitie. A month after it was put up in March, it has already received donations of more than $150,000.
Filipino artists have also pitched in and donated more than 60 pieces of artworks to be auctioned off to raise funds for Caitie. Support came not only in the form of cash, but also in the form of words of encouragement, prayers, and inspiring artworks. Posts from the Facebook page have been shared and re-shared, which have been instrumental in forming an online prayer brigade.
Courageous Caitie
The hashtag #CourageousCaitie was chosen to accurately describe Caitie's disposition throughout her ordeal. She was often seen smiling in photos and videos, listening intently to the doctors and her parents as they explained to her procedures she had to undergo. Even with tubes and IV lines attached to her body, she tried to spend her days in the hospital like a regular 3-year old, painting, coloring books, and answering workbooks.
Homecoming
On Friday, April 1, Courageous Caitie and her family were welcomed by supporters who were keen to greet the little heroine and thank her for the inspiration she has given in that short time that they knew her. They wore kiddie band aids as they were a favorite of Caitie's when she was in the hospital, "calmed her anxieties" as her mom put it. The memorial service starts today and her parents are encouraging people to wear pink – her favorite color – or rainbow colors to celebrate her life, her courage.
[adinserter block="2″]
[adinserter block="7″]