A 19-year-old British national tried to kill Republican presidential candidate Donald Trump during a Las Vegas rally on Saturday, according to a federal complaint filed Monday.
The complaint states that Michael Steven Sandford tried to take an officer's gun at the Treasure Island Casino and use it to kill Trump. He reportedly approached the officer pretending to seek an autograph from the former reality-TV star.
According to the complaint, Sandford "further stated that if he were on the street tomorrow, he would try this again."
Sandford faces one count of attempting to commit an act of physical violence on restricted grounds.
Ongoing Investigation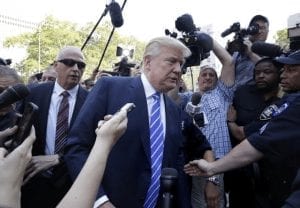 Trump is under Secret Service protection, but local police officers are often assigned to him as well during campaign events.
According to CNN, the Secret Service says it charged Sandford with violating two federal laws. Agents also said further charges are pending against Sandford who is part of an ongoing investigation. If convicted, he could face up to a decade behind bars.
Sandford appeared in federal court Monday.
Because he is considered a flight risk, the judge ordered him to remain in custody until his next court appearance scheduled for July 5.
Background
According to CNN affiliate KSNV, Sandford has been in the country illegally with an expired visa.
Sandford told authorities that he has been in the US for more than a year and had lived in Hoboken, N.J., before traveling to Southern California.
He was unemployed and living out of his car in California for more than a month. He reportedly traveled to Las Vegas on June 16 to kill Trump. On June 17, he visited a Las Vegas gun range to practice shooting a gun for the first time.
"Sandford claimed he had been planning to kill Trump for about a year but decided to act on this occasion because he finally felt confident about trying it," reads the complaint.   
According to the complaint, Sandford "revealed that he made a conscious effort to come to Las Vegas to Kill Trump," and that he expected to be killed during his assassination attempt.
The UK Foreign Office has been assisting following Sandford's arrest, according to the BBC. A federal public defender claimed Sandford suffered from autism and had attempted suicide.
A Violent Campaign Trail
Trump's unapologetic and his emotionally-charged speeches have captured the attention of devoted supporters and critics alike. Some of his rallies have seen the two pited against each other in altercations ranging from scuffles to riots.
As trump was delivering a speech in Ohio earlier this year, a protestor stormed the barricade and raced toward the podium as Secret Service agents rushed to Trump's side.
America is five months away from electing a new president on Nov. 8.
[adinserter block="7″]
[adinserter block="2″]