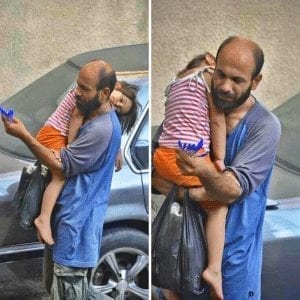 Abdul Halim al-Attar has been called many things in the past year. The refugee with pens. The pen-seller of Beirut. Father of the year. 
The refugee crisis in Europe is reaching an all-time high. The 'Brexit' decision came to be following an anti-refugee campaign by the Leave movement. With tensions running high between refugees and citizens, it is hard not to find struggle.
Abdul Halim al-Attar and his family are refugees from Syria who fled the country in 2012. Due to wars, power struggles, and a series of extreme Islamic regimes, many Syrian families fled the country. Finally, they settled in Beirut, Lebanon.
Last November, images of a man on the street appeared online. The man looked a bit ragged carrying his sleeping daughter over his shoulder. Also, the weather was extremely hot. The man was desperately trying to sell pens on the streets to feed his family. The man was Abdul Halim al-Attar.
A Better Life
Abdul wanted a better life for his children. He decided to sell pens "because everybody uses pens." Almost immediately, the pictures went viral.
An online journalist from Norway saw the picture. The picture instantly moved him. Gissur Simonarson created an Indiegogo in an attempt to raise $5,000 for Abdul's family. In a short time, Simonarson raised nearly $200,000. Abdul became overwhelmed once he found out about the donations.
He vowed to put the money to good use. Has he?
So far, Abdul kept his promises. Abdul gifted $25,000 to friends and family who are also refugees. He took the remaining money and bought three businesses: a bakery, a kebab shop, and a small restaurant. Now, he employs at least 16 refugees in his businesses.
Since the picture went viral, his life improved dramatically, all thanks to the Internet. Unfortunately, he and his wife separated. She returned to Syria. Still, Abdul remains extremely hopeful. He and his two children now live in a bigger apartment. Also, they have basic necessities and live more comfortably. Thanks to the Internet's generosity, Abdul and his family no longer need to sell pens on the street.
The Internet can be a terrible place. The world can be a terrible place. Abdul's story proves that faith in both the world and its people can be restored.
Check out more photos of Abdul Halim al-Attar's amazing story below.