There can be no denying that Donald Trump is a very capable businessman who has made himself very rich. He is a great showman who attracts attention wherever he goes and in whatever he does (albeit not always for the right reasons). From a business mogul to TV celebrity to Republican's presidential candidate – Trump has seen it all.
But the question remains; can he lead American and make it great again, like he so very often claims? Does he understand the true American problems? Does he have good policies to counter global terrorism and economic crises? – Apparently not.
[adinserter block="3″]
[adinserter block="8″]
Many of his critics say that Donald Trump is only popular because he is outspoken and often lays out 'over-the-top' plans that are not practical. During his rise to the nomination for Presidential run, he has made many enemies, and often needlessly. These enemies include even the extremely likeable Pope Francis.
Incoherent policies, rash public addresses, sidelining people of a particular faith and making enemies out of good people. These things point out to a very different future than the "American Dream" if Trump becomes president.
Many experts say that such a day will not dawn, but if it is does, and Trump actually wins the elections in September, things are not looking good folks.
Here are 15 terrifying ways America would be different under President Donald J Trump.
16. There will be a needless and expensive giant wall on US Mexico border
Let's begin with Trump's most famous campaign promise: to build a 50 feet tall wall at the US-Mexico border. This is the best idea Trump has in order to stop illegal immigration. While this idea appears outlandish to a 7 grader, Trump is actually very serious and passionate about it.
The craziness doesn't stop here. Who do you think would pay for the wall? – Trump says Mexico will pay (no, this is not a joke). How Trump will convince Mexico to pay $70 million for the gigantic wall only he knows.
The other question is even if we manage to build the wall, will it be effective? Instead of stopping illegal immigrants, don't you think a 50 feet tall wall will only create market for 51 feet ladders? – If you are a Trump supporter, apparently not.
[adinserter block="7″]
[adinserter block="2″]
15. Islamophobia would rise dramatically
Muslims in United States have suffered the brunt of hatred since 9/11. And to our dismay, things will go from bad to worse if Trump gets elected. He has openly stated that he will create a separate national database for Muslims only. He also says he will ruthlessly monitor and evaluate all mosques in United States, but that is not such a big deal since he says "we will be closing a lot of them down anyway."
[adinserter block="3″]
[adinserter block="8″]
Trump seems to think that all Muslims follow radical Islam and United States officially needs to recognize this fact. In November last year, Trump called for a 'Muslim ban'; barring all Muslims from entering United States. Two months later he 'acknowledged' one of his supporters' idea that Muslim women who wear Hijab should not be allowed to do government jobs. This caused an outrage amongst the Muslim community in United States.
[adinserter block="7″]
[adinserter block="2″]
14. Racism will be common practice
Apparently Muslims aren't the only people Donald Trump hates. He hates all non-white people. More so, he takes no trouble in hiding the fact. In fact his outspoken jibes against the African-Americans and Mexicans has earned him a lot of support, including 'love' from Klu Klux Klan (KKK) – the most notorious white supremacist group in the world.
[adinserter block="3″]
[adinserter block="8″]
Trump called Latino immigrants "rapists, drug dealers and criminals". If that wasn't enough, he further went on to accuse the Mexican government of sending "bad eggs" to United States because its people were becoming too much for the "smart and cunning government to handle".
It should come as no surprise that Donald Trump isn't overly fond of American-American people as well…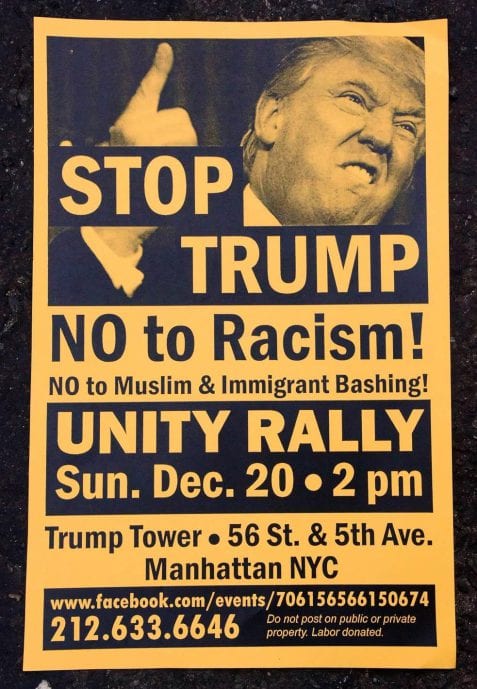 [adinserter block="7″]
[adinserter block="2″]
13. Republicans would see a lot of defectors
Ever since Trump became the frontrunner of the Republican Party, many republicans have been forced into an internal crises. Many party members spoke out against Trump and have threatened to vote for rival Democrats if Trump becomes presidential candidate.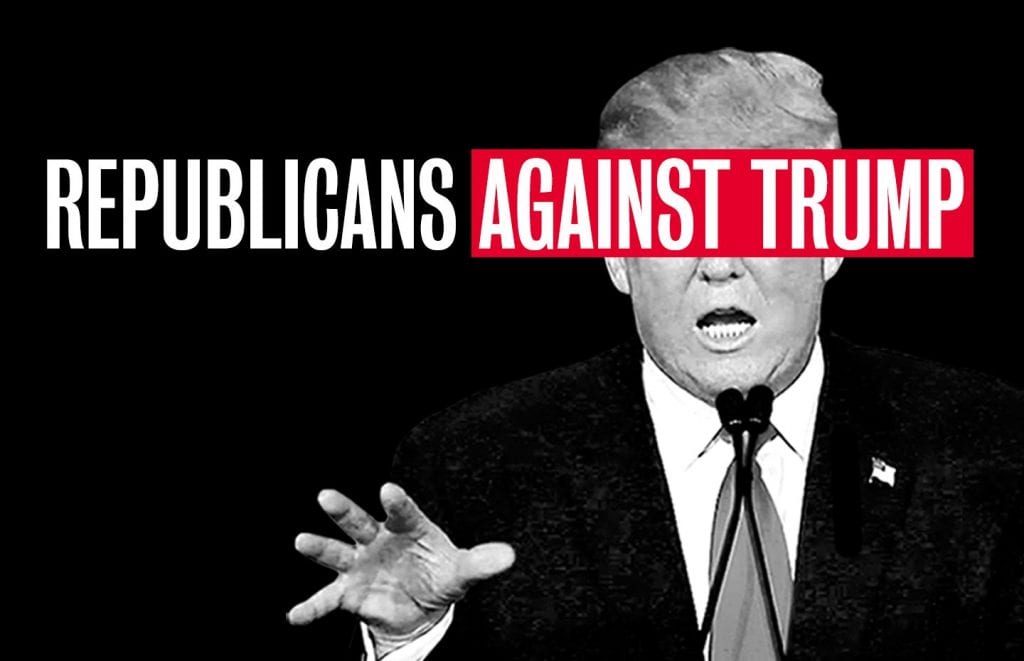 [adinserter block="3″]
[adinserter block="8″]
No less than 30 members have spoken out against Trump. And many party members have had to tone down their hatred for Trump! It seems that a united Republican party is a distant dream now. Many experts say that if the Democratic Party was doing better, they could easily capitalize but sadly they have civil wars of their own to tend to. It is like US voters are caught between a rock and a hard place.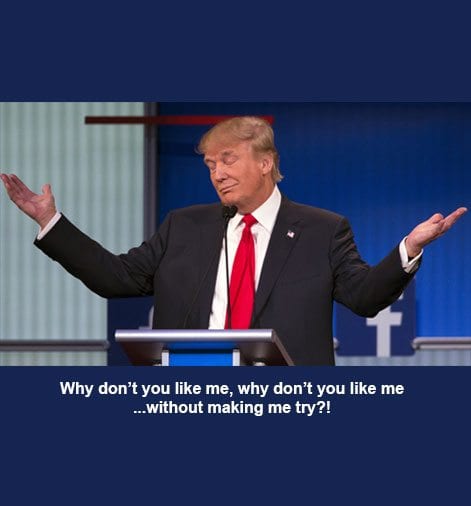 [adinserter block="7″]
[adinserter block="2″]
12. Cheap labor will no longer exist due to insane immigration laws, damaging businesses
You are told that immigrants are eating up on American jobs. That is not true. Immigrants and cheap labor are an integral part of United States economy. According to experts, immigrants work for lesser money and make more money for the business owners. In other words, immigrants make money, America makes more money and everybody wins.
[adinserter block="3″]
[adinserter block="8″]
Economists say that if cheap labor is not available during these trying times of inflation, many businesses will run to the ground, and the country's economy will collapse.  Owners simply won't be able to afford operation without cheap labor.
Ever wonder what all the panic about Brexit is? Why is United Kingdom already lamenting its decision? – The reason is immigrants are actually useful for a country's economy and not a burden like Trump claims. Trump says he will regulate immigration laws so there are no illegal immigrants. But what he actually means is that any non-white person won't be able to enter United States.
[adinserter block="7″]
[adinserter block="2″]
11. Freedom of press will be reduced
Donald Trump does not believe in freedom of speech – which is ironic since he takes 'freedom of speech' to an abusive level. He likes people submissive, inline and subjective to his views. He doesn't like explaining his views logically, he likes to passionately speak them and expects everyone to make sense of it. In January Trump asked his supporters to "punch" his critics in the face. That shows how tolerant the guy really is.
[adinserter block="3″]
[adinserter block="8″]
Speaking to a rally in February this year, he said that after becoming president he will ensure that "publication of purposely negative stories" stops through libel laws. In case you don't fully understand what it means, Trump makes it very very clear for you:
"When the New York Times or the Washington Post writes a hit piece, we can sue them".
[adinserter block="7″]
[adinserter block="2″]
10. More violence on US soil
This is a no brainer. When the head of the state is purposefully marginalizing ethnic and religious groups, you can be sure that there will be hate crimes and subsequently there will be retaliation. What does all this means? – In a nutshell you can be 100% sure that United States will see more violence through hate crimes, ethnic crimes and even terrorism.
[adinserter block="3″]
[adinserter block="8″]
And how does Trump plans to deal with this? – Through more violence. By tightening laws on all non-white people. If we have learned anything from Vietnam, Iraq and Afghanistan; violence only begets violence.
Trump also claims he will "quickly" solve the global terrorism problem. This is a dangerous territory to tread. Trump, like many Western leaders is under the illusion that he can curb terrorism through force. Which means more destabilization in Middle East and ultimately more violence on US soil.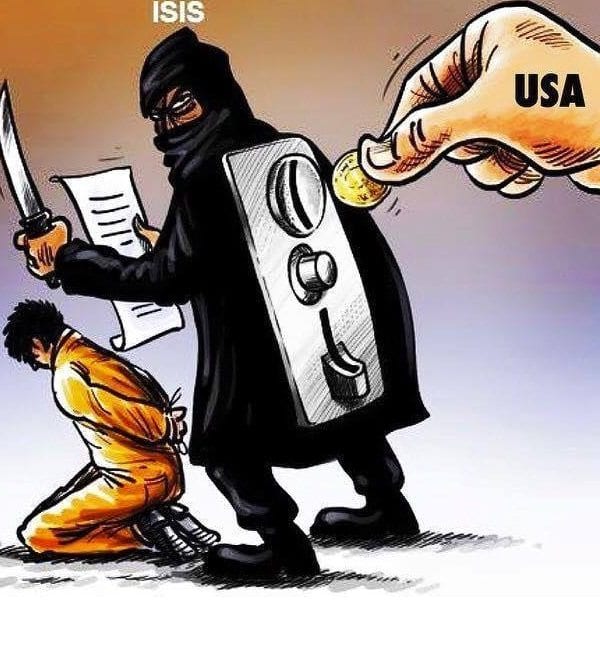 [adinserter block="7″]
[adinserter block="2″]
9. American women would be nationally degraded
On top of everything Donald J Trump is a sexist. From calling Angela Julie "not very pretty" to claiming "Hillary cannot satisfy his husband, how can she satisfy America?" Donald Trump is a walking talking misogyny. It would make a little bit more sense if you know Donald Trump is co-owner of Miss Universe – the worst way you can "legitimately" objectify a woman.
[adinserter block="3″]
[adinserter block="8″]
In order to see how Trump views women, you can check out his very elaborate statement regarding comedian Rosie O'Donnell in 2006. It goes:
"Rosie O'Donnell is disgusting, both inside and out. If you take a look at her, she's a slob. How does she even get on television? If I were running The View, I'd fire Rosie. I'd look her right in that fat, ugly face of hers and say, 'Rosie, you're fired.'
"We're all a little chubby but Rosie's just worse than most of us. But it's not the chubbiness — Rosie is a very unattractive person, both inside and out."
He also took a jab at her love life and managed to offend the LGBT community at the same time: "Rosie's a person who's very lucky to have her girlfriend. And she better be careful or I'll send one of my friends over to pick up her girlfriend, why would she stay with Rosie if she had another choice?"
[adinserter block="7″]
[adinserter block="2″]
8. Marriage equality would be a distant dream
Donald Trump has been a vocal opponent of homosexuals since early days. But since running for president, he has toned it down a bit – but only a bit. He says he believes in giving equal rights to homosexuals and won't tolerate discrimination against them. At the same time he says he doesn't believe in same sex marriage.
[adinserter block="3″]
[adinserter block="8″]
He says he is old school and that he never supported the idea of same sex marriage. After Supreme Court's ruling allowing same sex marriage, Trump says he made his peace with it and didn't support the movement for constitutional amendment that would allow states to re-ban same sex marriage. Too good to be Trump? – Yes, because he also said that once in power, he will consider appointing judges that will work to revive the ban.
[adinserter block="7″]
[adinserter block="2″]
7. No more pro-choice
Pro-life vs. pro-choice is a long debate and we are in no position to give a verdict on that. The matter curtails to human life and nothing is hard-coded. But we thought include Donald Trump views regarding the matter of choice and life anyway. Donald Trump is strictly against abortions. He has stated it very openly. He also thinks abortions should be a punishable, reason he gave (literally): "you know, because I am pro-life, I always have been." (Try and make sense of that).
[adinserter block="3″]
[adinserter block="8″]
The alarming factor is Trump's aversion to even discussing about the issue. In 1999, he said he even felt "cringed" debating about the issue. He then went on to say that he hates everything related to abortion and he would like to see people stop the practice and stop debating about the practice as well.
[adinserter block="7″]
[adinserter block="2″]
6. Stricter policing on people of color
Did you know that the Justice Department has twice sued one of Trump's companies regarding racial discrimination? Prior to early 2000s, Trump was very openly racist. After realizing that politics is his cup of tea, he toned down his views regarding African-Americans. "I have a great relationship with the blacks" he once casually remarked. But unfortunately, that sentiment only extends as far as statements go.
[adinserter block="3″]
[adinserter block="8″]
Trump has not given any policy regarding the  African-American population and indiscrimination against them. They constitute of 13% population of United States. Allegedly he once told a reporter that he doesn't think racism is a problem anymore, since "we have a black president".
We all know what that means, it means more police brutality and more marginalization of an already suffering community.
[adinserter block="7″]
[adinserter block="2″]
5. Horrific international relations
From angering Iranian Prime Minister by calling him names to saying Pakistan is a very big problem, Trump doesn't understand diplomacy. But it's not as bad as you think folks: it is worse! We may have a World War III if Trump becomes president. He has a seamless gift of making people angry and some of those people include influential politicians.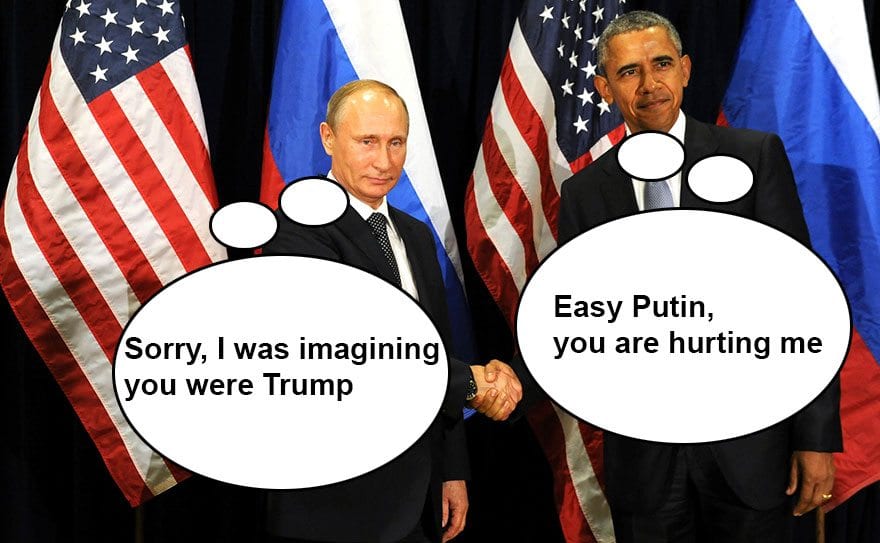 [adinserter block="3″]
[adinserter block="8″]
United States is already facing a global hatred for its controversial roles in Syria, Egypt, Pakistan and Middle Eastern insurgencies. To say Trump will make things worse is an understatement. Not to mention catastrophic relations with Mexico. Trump has already called their government "corrupt, liars, deceitful and cunning".
World politics will become a soap opera if Donald J Trump becomes US president.
[adinserter block="7″]
[adinserter block="2″]
4. But we'd be 'tight' with Putin
The phrase "at least it'll be cool with Vladimir Putin" can under no circumstances mean anything good. In case you didn't know, Putin has endorsed president Trump already. Putin says he is a "fan" of Trump. And hearing this Trump couldn't contain himself and said "the feeling is mutual". Some say Putin wants Trump to become president so he can capitalize on the situation.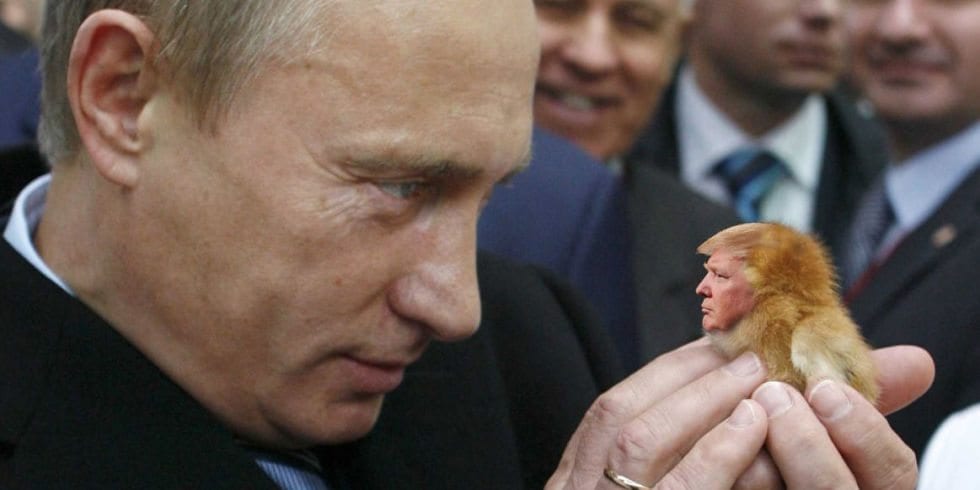 [adinserter block="3″]
[adinserter block="8″]
Let's face it Putin will eat Trump alive. His endorsement of Donald Trump is nothing but a clever ploy to make America weak.
In case you were thinking we are exaggerating Putin's desire to see a President Trump, this is his statement:
"Donald Trump is a really brilliant and talented person, without any doubt. It's not our job to judge his qualities, that's a job for American voters, but he's the absolute leader in the presidential race."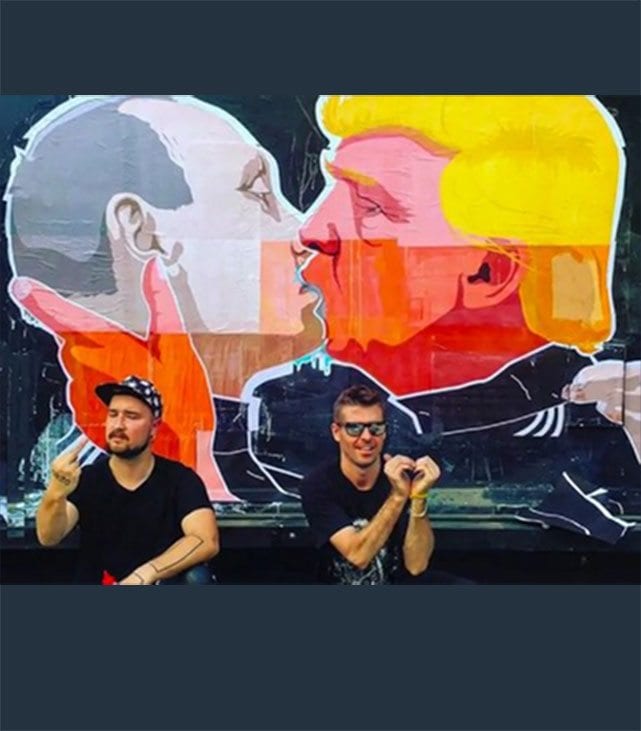 [adinserter block="7″]
[adinserter block="2″]
3. Instable economic planning
Many people think Donald Trump is an absolute master when it comes to business. While there is no denying that he has made himself very very rich in the past three decades, he has made some pretty bad decisions along the way. Four of his companies have filed bankruptcy over the years. His daughter revealed that once he was in so much debt that he pointed out to a homeless man and said, "He is $8billion richer than me".
[adinserter block="3″]
[adinserter block="8″]
Trump doesn't have a concrete economic policies. When asked compelling questions about policies, he is often abstract, even to the point of demeaning. He just states a wild theory with no solid foundation. That means extensive claims that may or may not work. Donald Trump says he will create more jobs for Americans by kicking out immigrants. But he fails to mention how he will control the higher wages American workers will demand. How will the business owners keep afloat with increased expenses? Will small and medium size business suffer greatly due to lack of cheap labor? – You bet they will. But how will Trump handle this? We haven't got a clue.
[adinserter block="7″]
[adinserter block="2″]
2. More blood on our hands, more hatred from the world
We have mentioned before that Trump is not very well liked by Muslims, Latinos, African-Americans and various world leaders. What happens when you have a hateful figure running the country while non-white communities get trampled upon? – The answer is vengeance and rebellion. Domestic violence is just the part one.
[adinserter block="3″]
[adinserter block="8″]
Part two is the global violence. Trump has indicated that he will become more severe on Muslim countries that "support terrorism". But we all know how that will turn out to be. More innocent people killed in drone and ground attacks. The image of United States will be detested further and we will have more blood on our hands.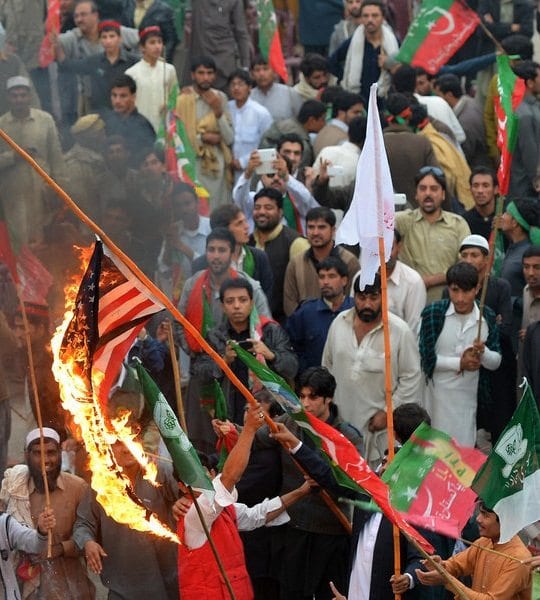 [adinserter block="7″]
[adinserter block="2″]
1. Make America divisive again…
Why is America one of the greatest nations of the world, if not the greatest? Because we have tolerance, respect, values that rise above race and nationality. We are a land of opportunity where all citizens are equal. Well, not so much anymore. We have some "mays" and "may nots" in this list but one thing we can be absolutely 100% sure of is: racism will run free in America under President Donald J Trump.
[adinserter block="3″]
[adinserter block="8″]
Donald Trump has done nothing but divide this great country of ours. White supremacist group Klu Klux Klan has already endorsed Donald Trump and that alone is enough as a warning sign. Trump is leading this country's future into chaos. He is against the very values we once proudly stood for.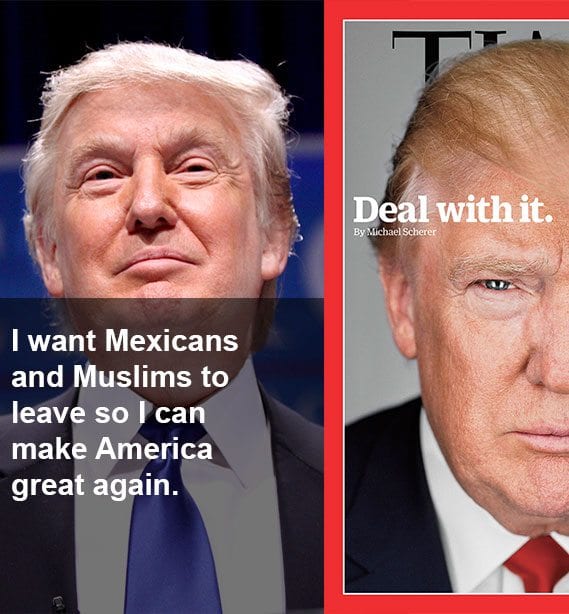 [adinserter block="7″]
[adinserter block="2″]