Say what you will about Donald Trump but the man hasn't wasted a single day of his life. Considering the number of front pages that feature his smug, golden-orange face every year, it's no wonder he published 14 auto-biographies. Apparently, the 70-year-young celebrity is just getting started but 'Presidential GOP Front-Runner' is hardly one of Trump's most memorable titles.
Aside from the tallest building in Central America, the Donald's surname made it into four 'Halls of Fame' and on six 'Forbes' lists. The two-time 'Republican Statesman of the Year' holds a 'Marine Corps Leadership Award', a 'Liberty Award' and a 'Key to the City' from Doral, Florida.
But even with the non-stop media attention the Donald received as the republican front-runner, most people know only a small fraction of his story. So, we chose among the most illusive facts to find 15 of the billionaire's greatest, worst and weirdest moments that you won't hear about in the news. Whether you're the Donald's biggest fan or you can't stand the sight of him, some of these facts are bound to surprise you.
Here are 15 things you probably missed about Donald Trump:
[adinserter block="3″]
[adinserter block="8″]
15 – He Has Been Winning Primaries Since 2000
(but, apparently, he forgot about that election)
In a 1999 appearance on 'Larry King Live', Trump announced his bid for the Reform Party presidential nomination. He named Oprah Winfrey as his ideal running mate, describing her as "someone who would be great. She'd be fantastic. She's popular, she's brilliant, she's a wonderful woman." Trump went on to drop out of the race days before the Michigan and California primary elections. Nevertheless, he received the highest number of votes in both states.
Here's what you didn't know…
During his campaign, The Donald described himself as "conservative on most issues". The only exception was his healthcare policy, which he called "quite liberal and getting much more liberal." Trump promised universal, affordable healthcare (now known as Obamacare) if he's elected.
But the fact that he strongly believed in the policy that he now promises to repeal is NOT why the billionaire 'forgot' about his 2000 run.
Here's the REAL kicker…
You see, his only real competitor for the Reform Party nomination, Pat Buchanan, was supported by David Duke – a known Ku Klux Klan member. The billionaire smeared Buchanan in multiple ads that depicted him as a white supremacist for having Duke as an adviser. In 2000, during his televised concession speech, Trump publicly called David Duke out on being "a Klansman," later adding that "Duke, who's a neo-nazi…" should be in jail.
FEB. 28, 2016 – Donald Trump declines to disavow an endorsement by David Duke (the very same), saying he never even heard of Duke! The 'amnesia-stricken' billionaire said this to Jake Tapper on  'State of the Union':
Honestly, I don't know David Duke. I don't believe I've ever met him. I'm pretty sure I didn't meet him. And I just don't know anything about him…You wouldn't want me to condemn a group that I know nothing about. I'd have to look. If you would send me a list of the groups, I will do research on them and certainly I would disavow if I thought there was something wrong.

staticflickr.com
[adinserter block="2″]
[adinserter block="7″]

14 – He Really IS a Self-Made Millionaire
That's right – the Donald wasn't (technically) lying when he claimed to have started with nothing. His father, Fred Trump, was a mid-scale developer. He built affordable housing in low-income NYC neighborhoods, accumulating $400,000,000 in assets by 1999 – the year he passed away.
Well, before Donald made his first billion, he bankrupted his father's Trump Hotel/Resort/Casino empire four times. So, technically, he started from less than nothing.
[adinserter block="3″]
[adinserter block="8″]
His first trips to bankruptcy court were over the 'Trump Taj Mahal' (in 1991) and the 'Trump Plaza' (1992.) After reorganizing all of his holdings into 'Trump Hotels & Casino Resorts,' the Donald borrowed even more from investors and defaulted on a total of $1.9 billion in 2004. Somehow, he get refinanced again, surviving until the housing bubble-crisis of 2009. When that happened, Trump walked away from his properties altogether, leaving investors with another $400,000,000 of debt.
As he does with most of his 'accomplishments', Trump wrote a book to brag about "winning with the lenders and winning with the banks and winning with the bankruptcy judges."
[adinserter block="2″]
[adinserter block="7″]

13 – His Hair Is a Family DIY Project
When the tycoon-turned-TV-star decided to turn into a politician, he spent an entire press conference proving that his hair is 100% real. He pulled it, told his press adviser to do the same on camera and even asked a woman in the audience to touch the mysterious golden flocks. After that was established, a reporter asked who styles his hair, to which the Donald had a 20-minute reply.
[adinserter block="3″]
[adinserter block="8″]
Each of his three wives were Trump's personal hairdressers. When asked about how she cuts it, Donald replied "She isn't trying to reinvent the wheel. She doesn't want to mess with 'the hair.'" To keep it in place, the billionaire used a $16 hair-spray called Helmet Hair. According to him, the 'key' is to let it dry naturally.
"I wait while the hair dries slowly. It takes about an hour. I don't use the blow dryer. Once it's dry I comb it. Once I have it the way I like it — even though nobody else likes it — I spray it and it's good for the day."
[adinserter block="2″]
[adinserter block="7″]

12 – Trump's Eldest Son is 30 Years Older Then His Youngest
The Donald fathered five kids with three wives over a period of 30 years. His firstborn, Donald Jr., was born in 1977 and has five kids of his own already. In 2006, Trump's current wife – former supermodel Melania Knauss – gave birth to the businessman's youngest child, Barron Trump-Knauss.
[adinserter block="3″]
[adinserter block="8″]
Barron is only a couple of years younger than five of his seven nephews. Melania was 37 at the time, while her husband was 61. Why would a supermodel marry a man who's older then her father? Obviously, she couldn't resist the hair. Although, having her clothing line, fashion magazine and fragrance collection financed six months prior to the marriage  might have had something to do with it too.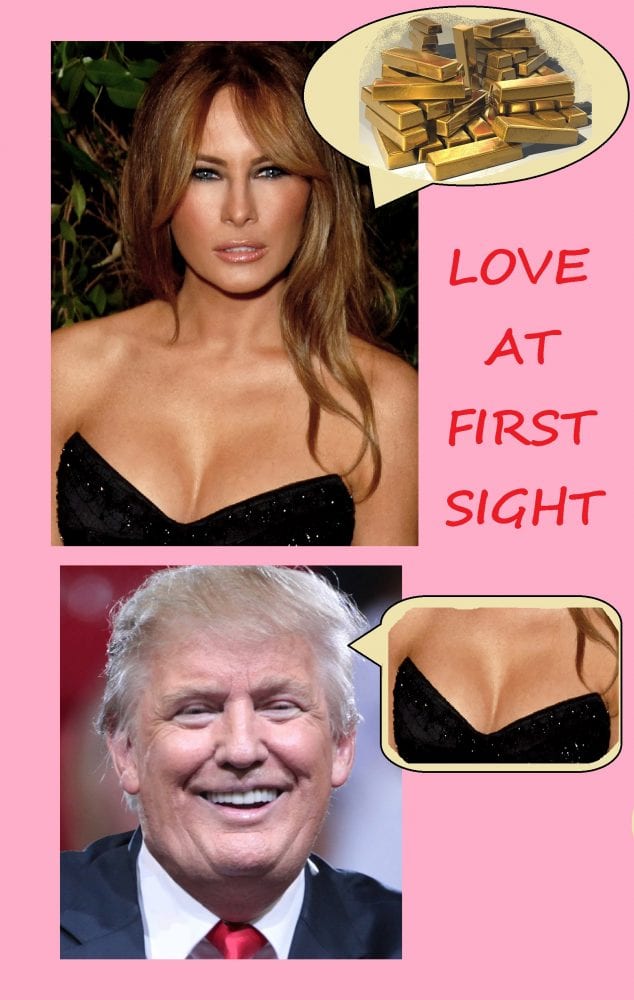 [adinserter block="2″]
[adinserter block="7″]

11 – He Made 2 Table Games & a Video Game (Now Available On Mobile)
'Donald Trump's Real Estate Tycoon' lets any mere mortal step into the businessman's shoes. The single-player business simulator was first released in 2002. Like most low-budget games by Airborne, it was only compatible with Windows PCs. But, shortly after Trump announced his candidacy, a mobile version became available. Just like everything with his name on it, the game has been selling like hotcakes ever since he became the Republican front-runner.
[adinserter block="3″]
[adinserter block="8″]
Trump was the subject of game-night before the digital age ever began. 'Trump: The gameplay is much like monopoly. Players take turns rolling dice to buy properties, pass "GO" and flip cards. But, instead of teaching skills such as math, money management and logic, "Trump:The Game" teaches kids (13+) to bluff, negotiate and blackmail in order to make the best deal.
Another version came out in 2004, though, ironically, both summed up to a financial loss for Donald.
[adinserter block="2″]
[adinserter block="7″]

10 – He Leads An Extremely Healthy Lifestyle
For someone who's about to turn 70, Trump has an unbelievable amount of energy. And for good reason – he has always kept to a strict daily routine and a healthy, non-alcoholic, low-carb diet. The billionaire told Us Weekly that he sticks to a meal schedule "like clockwork." Also, he never drinks caffeine-containing beverages or foods that are high in carbohydrates. According to his doctor, Donald never smoked a cigarette and never drank "a single drop of alcohol."
[adinserter block="3″]
[adinserter block="8″]
Since he claims to be born and raised in NYC, Trump says he loves pizza. Yet, instead of folding a slice over and biting into it like a true New Yorker, he used a fork and a knife to eat the toppings, throwing the rest away. If you don't see the big deal, you're obviously not from the Big Apple. Jon Stewart called the wannabe out a long time ago – during Sarah Palin's 2012 campaign – expressing a clear message on behalf of all the big city's residents.
[adinserter block="2″]
[adinserter block="7″]

9 – He Has a 'Walk of Fame' Star & Still Gets Paid By Hollywood
Donald Trump's TV persona never involved much acting. He's best known as the 'Heartless Corporate Executive' for NBCUniversal's 'The Apprentice', which he hosted, co-produced and/or co-starred in for 14 seasons. At the height of the show's popularity he was making $3,000,000 per episode. Trump even filed a patent on the phrase "You're Fired" in 2004. Ironically enough, he was publicly fired on national TV by NBC execs.
[adinserter block="3″]
[adinserter block="8″]
However, as a member of the Screen Actors Guild, he still receives a pension of $110,000 a year. Donald Trump also guest-starred (as Donald Trump) on multiple all-time favorite TV series, including 'Money Never Sleeps', 'The Nanny', 'The Fresh Prince of Bel-Air' and 'Days of Our Lives'.
If he's elected, the former TV sensation will be America's second president to have his name on a Hollywood Star. Conservatives may have called Trump's celebrity persona inappropriate if it wasn't for Ronald Reagan. The 40th U.S. President received his star in 1960 and is widely hailed as a Republican hero.
[adinserter block="2″]
[adinserter block="7″]

8 – His Behavior As a Teenager Landed Trump in Military School
With Trump, what you see is what you get. But the trademark dominant, egocentric behavior he so proudly displays was viewed as an issue by his parents. At 13, they sent young Donald to the New York Military Academy (NYMA), in hopes of teaching him humility, respect and discipline.
[adinserter block="3″]
[adinserter block="8″]
The plan backfired when he became captain of the school's varsity baseball team, while also being a varsity football and soccer star. In the end, it became painfully clear that his aggressiveness wasn't just a teenage phase. By his senior year at NYMA, Donald Trump reached the rank of "Cadet Captain." He even received two medals – one for sportsmanship and another for just being neat.
[adinserter block="2″]
[adinserter block="7″]

7 – He Avoided The Draft FIVE Times
The idea of his political success is quite difficult to fathom. But it's also hard to imagine a better candidate for the U.S. Armed Forces then an 18-year-old Donald J. Trump. He was a military school graduate in prime physical condition. He displayed a remarkable talent for team sports. And, to top it off, he was even more aggressive and obnoxious then he is today. However, despite being of age during the Vietnam War, Trump was never drafted for it.
[adinserter block="3″]
[adinserter block="8″]
According to the presidential candidate, his "number was too high," until he, apparently, fractured his heels. In reality, his number was among the first in American history. Draft numbers weren't even used until late 1960's – long after Trump received his first call-to-action from the Army.
In 2010, The Smoking Gun published a full, detailed report of the billionaire's life as a young adult, complete with documents proving the fallacy of his claims. He has four consecutive student deferments, followed by another one granted due to a questionable medical condition.
[adinserter block="2″]
[adinserter block="7″]

6 – He Has a Complicated Relationship With Alcohol
For someone who doesn't drink alcohol, Trump sure tried to sell a lot of beer, wine and vodka. Trump Vodka, one of his many failed business ventures, was sold under the slogan of "Success Distilled." It upheld the image of luxury, the brand of wealth and the taste of mediocrity – all for the price of any established, world-famous vodka.
[adinserter block="3″]
[adinserter block="8″]
Chicago Trump Towers had a private brewery to produce house beer, which became a favorite for visitors to his chain of bars, called 'Donald Trump's ReBar.' The brewery cut ties with the billionaire after his announcement speech. Its Hispanic owner didn't appreciate hearing him refer to Mexican immigrants as "the murderers and the rapists." Trump's house beer is now called "Chinga Tu Pelo" – Spanish for "F*ck Your Hair."
The tycoon also ventured into the wine-making business. After failing at that too, he sold "Trump Winery" to his brother, who turned it into a success. The winery now produces a number of highly demanded Virginia wines.
[adinserter block="2″]
[adinserter block="7″]

5 – He Owned Miss USA, Miss Teen USA & Miss Universe
Trump has held a stake in the national beauty pageants since 1996, when he became an NBC shareholder. When both NBC and Univision publicly denounced their relationship with the candidate, he filled a $500 million lawsuit against them. As a result, the Donald became sole owner of the world-famous pageants. It's unclear whether he received it as settlement from NBC or just purchased full ownership of Miss Universe, Miss USA and Miss Teen USA.
[adinserter block="3″]
[adinserter block="8″]
A few days later, the celebrity candidate sold the Miss Universe Organization to WME/IMG. Financial statements later revealed that he received $25 million for the pageants, though he claimed to "give" them into good hands as a long-time fan.
"I have truly enjoyed owning the Miss Universe, Miss USA, and Miss Teen USA pageants. When I purchased the pageants many years ago, they were in serious trouble. The pageants are now in the hands of a great company that will shepherd them to even greater levels of success."

wikimedia.org
[adinserter block="2″]
[adinserter block="7″]

4 – He is One of The Most Powerful, Richest & Famous People in The World
The Republican front-runner is regularly featured by Forbes Magazine, the global authority for accurate, objective Top-Lists. In 2013, Donald Trump earned his highest rank – #30 – in the Top 100 Celebrity category. He's currently #324 among the world's richest billionaires (#104 in the USA.) Somehow, the Donald moved up almost 100 places, from #405 in one year.
[adinserter block="3″]
[adinserter block="8″]
However, the real surprise was seeing him named the 72nd Most Powerful Person in The World – a list usually reserved for politicians and global leaders. Trump even topped Margaret Chan, Chief of the Global Health Organization.
[adinserter block="2″]
[adinserter block="7″]

3 – He Made Over 20 Different Consumer Products Branded With His Name
As if putting his name on every building he owns (and some that he doesn't) wasn't enough, Donald branded as many products with his surname as he possibly could. The airplanes, 'high fashion' collections, 22 published books and now-infamous Trump Universities are the obvious ones. But, if all of his products were still available, the billionaire would literally be able to eat, drink, wear, drive and live Trump.
[adinserter block="3″]
[adinserter block="8″]
Trump Vodka and Trump: The Game don't seem like long-shots when you consider the Donald's other ventures. Here are a few of our favorites:
Trump Home Decor
Trump Magazine
Trump Steaks
Trump Ice Water
GoTrump.com (Flight booking website)
Trump Fragrance
[adinserter block="2″]
[adinserter block="7″]

2 – Donald Trump Is a WWE Wrestling Hall of Famer
The Donald was inducted in 2013, for his contributions to Wrestlemania, which was hosted at Trump Towers twice. In 2009, he 'bought' WWE from his fellow billionaire Vince McMahon as a promotional stunt. He stepped into the ring to announce that the show will air commercial-free and give the audience a refund. This made TV ratings double, forcing McMahon to buy it back.
Trump was also inducted into the NJ Boxing Hall of Fame. The honor was Presented to him in 2015, for his promotional efforts and for being an adviser of Mike Tyson during the height of his boxing career.
[adinserter block="3″]
[adinserter block="8″]
Back in 2007, the real estate mogul really did double WWE's ratings. The story line was that Trump crashed McMahon's 'Fan Appreciation Night' speech, by dropping "tens of millions of dollars" on the crowd. McMahon challenged the intruder to a 'Battle of the Billionaires.' They picked a wrestler to compete for them and the winner would shave the loser's head. Millions of viewers tuned in to see one billionaire give a haircut to the other.
Trump won and McMahon spent 10 minutes of Live air-time to mourn his hair and chug a can of beer.
[adinserter block="2″]
[adinserter block="7″]

1 – He Has Closed Ties With The KKK
The first hints of Trump's involvement with white supremacist groups could be seen in his August Bloomberg TV interview. When asked about the fact that neo-nazis, white nationals and others of their ilk overwhelmingly support the Donald, trump didn't deny it. He avoided denouncing his ties with a few specific groups, by saying "Honestly, I'd have to read about them. A lot of people like me."
During the New Hampshire GOP primary, voters reported promotional phone calls from white supremacists, who said Trump would "make America white again." In this instance, the billionaire also avoided to comment.
[adinserter block="3″]
[adinserter block="8″]
Furthermore, reports suggest that Frank Trump, Donald's father, was a full-fledged KKK member. In 1927, klansmen marched through the Jamaica neighborhood of NY, resulting in a confrontation with NYPD. The brawl made headlines on the following day and revealed the identities of the people who attacked police officers. Frank Trump was the only millionaire and the only one to be discharged.
[adinserter block="2″]
[adinserter block="7″]