Teaching dogs tricks is a great way to have fun while helping your pooch build its strength and athleticism. And dogs can do so much more than the typical "sit," "play dead" and "roll over." They can learn how to skateboard and shoot hoops.
Beyond impressing your friends, some tricks can also make your life easier. What if your dog could use the toilet or pick up his own toys? It can be taught. And you don't need help from a super-expensive dog trainer. These tricks can be taught at home. All you need is a bit of drive and a bag full of doggy treats.
Read on to learn about awesome tricks you can easily teach your dog.
1. Dancing
Crank up the tunes, because it's time for your doggie to bust some moves. Teaching your dog to dance would help him develop balance and build his leg muscles.
Start by commanding your dog to sit. Then, hold a treat in front of its nose. Slowly raise it above and over your dog's head. Repeat a command such as "up" and raise the treat higher until it raises its hind legs. Once your dog has good balance, hold the treat in front of his nose and turn it around his head until he moves in a circle.
This trick is not ideal for larger dogs or those who suffer from their hind legs. Also, be careful as your dog may fall forward while trying to balance. If you're not too quick on your feet, you may be in for a tackle.
2. Kissing Without Saliva
This next trick would make for some awesome Facebook or Instagram photos. But even if you're not into that, who doesn't want to be kissed by a doggie without the slimy aftermath.
Start by holding a treat in front of your face and repeating a command like "kiss." As your dog approaches you, turn your cheek toward the dog and provide the treat after its nose touches your cheek. Don't offer the treat if you get licked instead. Also, provide the treat before your dog has a chance to lick you after its nose has touched your cheek.
Eventually, your dog will learn that it needs to touch your cheeck with its nose to get the treat. In time, you may be able to teach him to kiss friends and family members. Start by giving the command and pointing to another person holding a treat.
3. Handstand
How many people know how to handstand? Better yet, how many dogs can do it? Yours could be among the select few.
Start by getting your dog to stand in front of a wall. Raise its bag legs and rest them on a book or small block. Gradually add more books or blocks. This exercise will strengthen the muscles needed to maintain a handstand. After your dog has stood on as many objects as it can resist, gently place its back legs on the wall.
When he's ready to maintain his feet on the wall, hold a treat in front of him and call him to move forward. Put a hand at his belly during the early stages to improve his balance.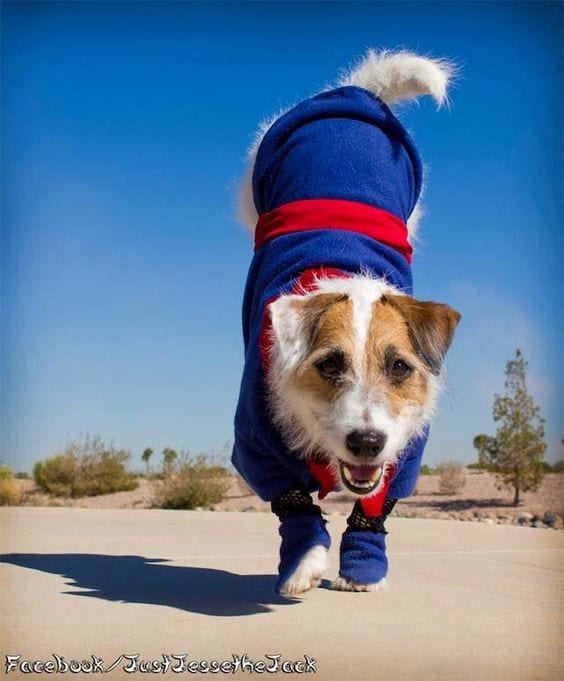 4. Army Crawl
This trick can come in handy if you like to take your dog hiking into the mountains, where it'll use it to crawl between tight spaces. Your dog would look pretty cool doing it at home too.
Start by teaching your dog to lie on his stomach through a simple command-reward technique. When he gets it, hold a treat firmly between your fingers and slightly afar from your dog. Start dragging it along the floor. If your pooch crawls toward it, reward him. Otherwise, put it away and restart the process.
At first, it may help to keep your hand on his back to keep him low.
5. High Five
Ever wanted to high five your dog? Of course you have! Believe it or not, it's as easy as 1-2-3.
First, teach your dog to sit on command. Every time he obeys, reward him with a treat. After he's mastered sitting on cue, hold a treat in front of him but a little out of reach. Hold up your free hand in high-five motion. Repeat the command "high five" while tapping your dog's feet. Your dog should raise its paw toward the treat. If it doesn't gently tap the inside of its knee until he bends his legs.
When he reaches out, smack his paw with your hand and deliver the treat. Repeat these steps until your super-chill pooch reaches for a slap as soon as you put up your hand.
6. Singing
Everyone loves music. So do dogs. You just have to help them find their tastes. Start by playing them different songs, tones and instruments. You'll know when you've found your dog's jam when it starts to howl along to the sound. Go ahead and howl along with him to let him know it's ok. As he sings along, offer him a treat.
Don't forget to play him more of the kind of music he likes and invite your friends over for his performances. Tickets can be redeemed with doggy treats.
7. Opening Doors
You don't want your dog to become a total locksmith who can walk through the front door anytime it pleases. That's why we won't teach your dog how to turn knobs. Instead, this trick involves opening a door with a handle and a rope tied around it. This trick would make your dog extra helpful if you have limited mobility.
Encourage your dog to open the door by tugging at the rope. You can slightly open a door with a knob and tie a rope to it as well. Reward your dog every time he tugs the rope. Encourage it to open the door wider until you provide treats only when it pulls the door fully open.
This trick is a great first step toward teaching your dog to fetch you a drink from the fridge.
8. Fetching a Drink from the Fridge
It's easier said than done. But if you can teach your dog to control himself before a box full of food, you're ready to teach it how to fetch you something from the fridge.
First, attach a rope or tug toy to the handle of your fridge. Encourage your dog to tug at the rope and reward it as soon as he opens the door. Next, hold the treat on the outside of the open door and encourage your dog to jump forward so its paws could push the door closed. Provide the treat when it's done.
Train your dog to perform these steps on command. Eventually, place its favorite toy inside the fridge in a spot where it can easily see it. After he opens the door, encourage him to bring you the toy. In time, replace the toy with a drink. Start with a plastic bottle and gradually move up to aluminum as most dogs dislike the material.
9. Picking Up Toys
If your dog has tons of toys, he could leave a huge mess behind after playtime. A huge load would be taken off your shoulders if the dog picked up its own toys and returned them to his toy chest. And now, he can.
Start by sitting next to the bin with his favorite toy and a treat in your pocket. Toss the toy across the room. When he chases after it, hold the treat over the toy bin and command him to fetch you the toy. If he drops it along the way, put away the treat and command him to fetch the toy again.
When he brings the toy, hold the treat above the toy bin and command him to release his toy into the bin. When he does so, offer him the treat. Repeat the process while slowly moving farther away from the toy chest. Eventually, you'll be able to point at the bin and deliver the command.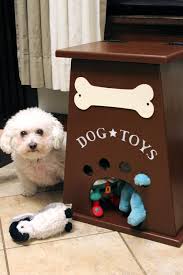 10. Recycling Bottles
This next trick is perfect for all you environmentally-conscious dog lovers out there. It's easier to teach your dog how to recycle bottles if you've already taught him how to drop his toys into his bin. The trick involves a similar learning process. Simply replace the toy with a plastic bottle and the toy chest with a recycling bin.
Gradually move over to cans as most dogs don't like the texture of aluminum. Designate different bins for aluminum and plastic. Train him separately for each bin. When your dog has mastered these techniques, mix up the plastic bottles and aluminum cans onto the floor. Teach him that he won't get a treat if he drops the wrong piece into the wrong bin.
11. Go Settle
This trick will come in handy when you have guests over, are working on a project, or simply need some alone time.
Start by placing your dog's bed or mat in a stress-free environment with no distractions. Command him to "go settle," or "go to your mat" with your finger. He might need a little extra guidance, but he'll figure it out. When your pooch has all four paws on the mat, reward him. If your dog sits or lies down on the mat at any time, rearward him and give him extra praise. At first though, you just want to teach him to go to his mat on command.
Afterward, teach your dog to sit or lie down on the mat. Then, gradually increase the time it takes for you to deliver the treat after your dog has lied down on his mat. Next, begin to move farther from the mat while commanding your dog to stay on the mat. Don't offer the treat unless he obeys. The point of this exercise is to teach your dog to lie on his mat for increasing periods of time.
Every few minutes he is on the mat, go back and treat your dog. Gradually increase your distance from the mat and the amount of time it takes you to deliver the treat. In time, your dog will learn to head to his mat to cool off on command.
12. Skateboarding
Want to turn your pooch into a skater pup? It'll take some time, but how awesome would it be to see your dog on wheels?
Start by gradually getting your dog accustomed to the skateboard. Place it upside down on a carpeted surface and let your dog inspect it. Give it a treat every time it goes toward the board or expresses interest. Afterward, slowly spin the wheels and gradually increase the speed to get your dog used to the noise.
Turn the board up and roll it away from your pooch. Take the board outside and repeat the last step. Reward your pooch every time it walks toward the moving board.
Eventually, lift your dog onto the board and offer it a treat as he perfects its balance. Build its confidence by slowly moving the board back and forth. When your dog is ready, push the board forward while gradually increasing speed. Make sure these steps are carried out in a safe environment away from moving cars and other distractions.
In time, your doggie may become the next YouTube sensation.
13. Playing Basketball
Your dog may not become the next Air Bud, but it'll turn a lot of heads at the park when it starts shooting hoops.
Start by getting your dog accustomed to a small beach ball. Put it on the ground and reward your dog every time he shows interest or touches the ball with his nose. Then, throw it in the air so that the ball lands near him. If he approaches it, reward him. Next, start bouncing the ball off his nose.
When he's used to bouncing the beach ball off his nose, graduate him to a basketball. Bounce the ball back and forth with your pooch until he gets accustomed to bouncing it up off his nose. Repeat this process near a hoop until he starts making baskets.
14. Using the Toilet
This next trick will take some time and effort, but who doesn't want a dog who can relieve himself in the toilet like his two-legged friends?
Start by giving a command such as "Go to the Toilet" every time your dog relieves itself. Eventually, your pooch will associate the command with the act. After your dog learns to go on command, bring a small litter box outside. Gently push its paws into the litter box while repeating the command.
After your dog learns to do his business only in the litter box, bring the litter box back inside and place it close to the bathroom door. Gradually move it to the toilet. Afterward, teach your dog to jump onto the litter box on the toilet. Eventually, you'll be able to remove the litter box and let your dog relieve himself in the toilet.
15. Taking a Bow
After your dog learns all these tricks, you can bet it's going to have an audience. And after his performance, your pooch can send away his fans with an Oscar-worthy bow.
Here's how you teach your dog to bow.
Begin by holding a snack on the tip of your dog's nose before moving it downward. This move should encourage your pooch to bend down until his chest and elbows touch the floor, while its rear remains up in the form of a bow. Hold him in the bow position for a few seconds while repeating the command. Then use the treat to raise him back up. Finally, deliver the treat.
If your dog has trouble keeping up its rear end, put your hand underneath its stomach.